Having access to a pool can be a luxury! However, irregular upkeep can significantly decrease its lifespan.
A vinyl pool liner has several benefits. Not only do they cover the entire pool structure, but they also help retain water and ensure a neat appearance. Furthermore, those with above-ground pools can significantly benefit from a liner, preventing the metal edges from rusting due to continual exposure to the pool water.
Although most pool liners are designed to last for years, extraneous circumstances may cause them to wear out earlier than usual. Don't worry if you've ever wondered how long a vinyl pool liner lasts and whether it's time to replace it.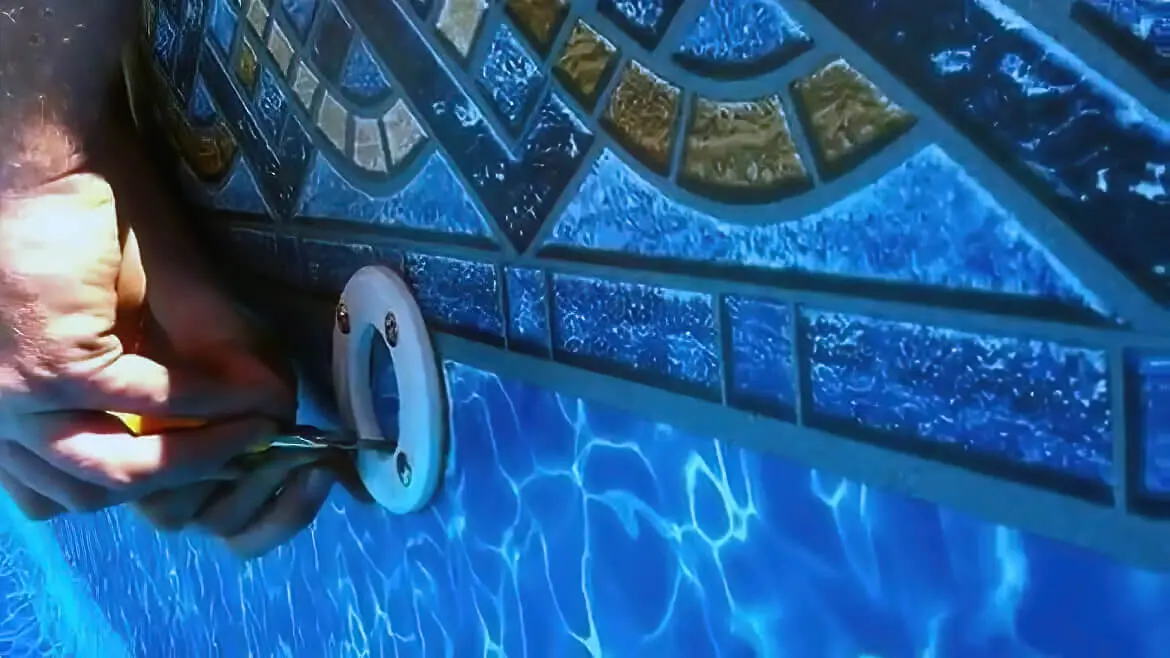 We have curated a short guide to help you understand all of this. Also, we will tell you about the process involved in replacing swimming pool liners.
How Long Do Pool Liners Last?
Ideally, pool liners are vinyl, which provides a barrier between the structure and the water inside. Although vinyl liner has been advertised for two to three decades, they can be misleading. In reality, several factors can contribute to your vinyl pool liner wearing off much earlier.
Depending on your pool type, a liner may last anywhere between 6 and 12 years. In the case of above-ground pools, vinyl liners are expected to last for 6 to 10 years. However, with regular pool maintenance and care, you may be able to increase its lifespan by five more years.
On the other hand, in-ground pool liners may be expected to last for 6 to 10 years, depending on several factors. Remember that incorrect specifications could also cause the liners to deteriorate earlier than usual.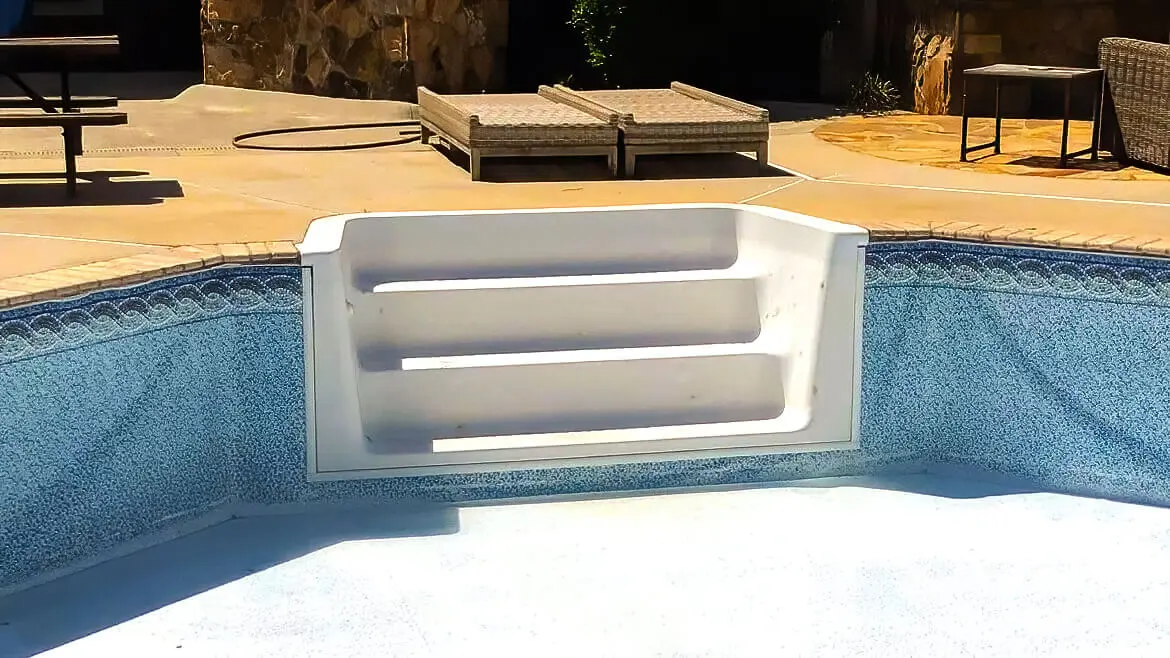 Signs That Your Pool Liner Needs Replacement
You may wonder what signs to look out for tell you it's time to replace the pool liners. Take a look at our list below to find out more about it.
1. Leaks
The primary purpose of a vinyl pool liner is to form a barrier between the underlying structure and the pool water. Water can erode the walls and edges without a liner, causing tremendous damage. The corrosion can lead to the structure's walls slowly washing away the sand underneath and causing dangerous sinkholes.
The structural integrity of your pool can be sacrificed over time. Not only does this damage its look and appeal, it can also be hazardous to those using the pool.
If you notice any leaks in the pool liner, it may be possible to patch it up on your own or with professional help to avoid a replacement liner. However, if you see leaks but cannot find their source, replacing the entire pool liner with a new one is best.
2. Cracks & Tears
Most vinyl liners are designed to last for at least a decade. However, constant exposure to pool water, chemicals and UV rays can cause it to deteriorate rapidly.
It is imperative to constantly observe the pool liner to look for cracks and tears. Although they may seem insignificant initially, they could lead to more significant problems, such as leaks over time. If you notice any of these, you should keep a keen eye on the pool's water level.
If the water level is fluctuating, that pool water is likely leaking out — and you should get it checked immediately by a professional. Furthermore, if the water levels decrease by an inch, you may deal with more than one leak or tear.
It is best to consult a pool service expert about these problems. Although you may patch certain smaller liner sections, it may not solve the problem entirely. Over time, vinyl liners become brittle and break down. Hence patching it up may only be a temporary solution.
3. Wrinkling, Slipping Or Stretching Liners
The symptoms mentioned above can often be hard to detect unless you are keenly observant. However, you may notice certain areas of the pool liner wrinkling over time. Although this is mainly age-related, other factors like the chemicals used, the sun's UV rays, or how much the pool is used can also affect it.
Pool owners tend to replace the liners to update their pool design or enhance its look. Cracked or wrinkled liners can damage the aesthetics and overall value.
Issues like a slippery liner can be hazardous to those using the pool. Several pool-related accidents occur due to worn-out liners. To avoid this problem, get it replaced right away.
It is common for pool liners to lose their elasticity over time — so don't worry. If you notice the liner beads slipping out from specific areas or loose fittings in some places, the liner may be overstretched. Replace it at the earliest to avoid costly repairs and maintenance later on.
4. Stains & Fading
Over time, you may also notice algae and rust stains on the pool liner. Again, this is very common and will naturally occur with almost all pool liners. It is possible to clean the areas and make them look new again; however, it will not entirely solve the issue.
Replacement Pool Liners
If you notice any (or all) of the above signs, it may be time to replace the pool liner. If you installed the current liner about 6 to 10 years ago, it is due for a replacement anyway, so you should go ahead.
We recommend calling a professional pool service expert for this job. Although it's not uncommon for a pool owner to attempt it themselves.
Moreover, we recommend asking the following questions to help you better gauge their abilities and competence:
Where are the pool liners manufactured?
Does the company use sub-contractors?
How much experience do the company and its service experts have?
Asking for a written estimate of the service
The process of replacing the pool liners entails the following -
Choosing the appropriate pool liner pattern for your in-ground or above-ground pool
Taking the correct measurements of the pool size
Preparing the pool surface for installation of the liner
Cutting holes for the jets, stairs, and skimmer
Installing the pool liner carefully, keeping a slight amount of stretch (but not too much)
Testing and balancing the pool water after installation
What Is The Best Time To Replace Your Pool Liner?
This is an essential and common question asked by most pool owners. Typically, most people use their pools during the hot summer months. However, it remains relatively unused during the spring, autumn, or winter.
Consider your pool usage when deciding the best time to replace its pool liner. Also, remember that spring and autumn are the most common reasons most pool owners will replace the liners. This can immediately cause the cost of services to rise.
You may have difficulties booking an appointment with a company due to the number of service requests it may receive. As such, we recommend contacting a company of your choice and pre-booking your appointment. Also, ensure that you ask for a written estimate beforehand so you are not troubled by a sudden inflated bill.
How Long Does It Take To Replace A Pool Liner?
Typically, the entire process of replacing and installing a new pool liner may take about 5 to 7 days. However, this may vary depending on your chosen company, booking time, or pool size.
We understand that pre-booking an appointment may not always be possible. However, it is best to begin researching before the summer months to use your pool during that time fully.
Can You Place A New Pool Liner Over The Old One?
It is not recommended to place a new vinyl liner pool over the old one, as it can cause further damage and quicker deterioration of your pool and the new liner. It would be best if you redid the bottom of the pool before installing the new liner to ensure optimal results.

Summing It Up
Although your pool liner does not require widespread replacement, keeping an eye on it can help you avoid costly repairs.
Keep in mind that several factors contribute to its deterioration. As long as you regularly clean and maintain a pool liner, it will last for at least a decade. Minor stains, tearing, and cracks can be temporarily kept under control by patching.
As such, we recommend always calling a professional pool service. You can check for references online to find the best services in your area.
Till next time, stay safe and happy swimming!