Concrete or Fibreglass?
You've taken the first step and decided to build a pool – great!
Now it's time to decide what type of pool is right for you – concrete or fibreglass?
As builders of both fibreglass and concrete pools, we often get asked what's better?
The truth is that there is no simple answer as this varies from person to person based on a variety of factors.
The question to ask is 'what pool is right for you?'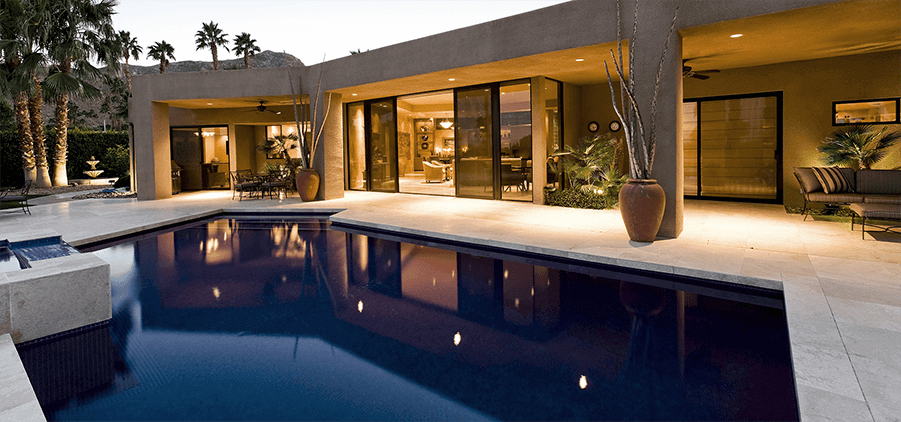 Concrete Pools
Advantages
Concrete pools are completely custom built to suit your specific requirements.
They are adaptable to the space that is available providing solutions for all designs, lengths, widths and features.
This includes colours, finishes, built-in spas, water falls, water features.
---
Disadvantages
Require more maintenance.
Do not have the same insulating properties as fibreglass and therefore are more expensive to heat.
Are more expensive and take longer to build than fixed, fibreglass solutions.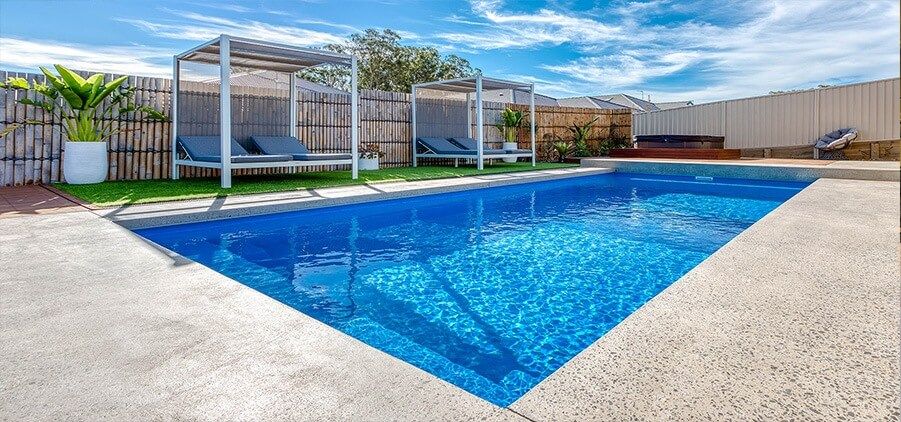 Fibreglass Pools
Advantages
Less expensive and quicker to build than individual concrete designs.
Fibreglass pools resist algae growth and require less maintenance and chemicals due to their smooth surface. The smooth surface also resists scratching and damaging the skin.
Fibreglass has good insulating properties meaning it's easier and less expensive to heat than concrete pools.
Do not require resurfacing.
Warranty – there is a lifetime structural warranty with our fibreglass pools.
---
Disadvantages
While there are a large range of shapes and sizes, you can't have a custom shape to suit your block which can limit your options.
Everybody loves having a swimming pool. It doesn't matter whether you like relaxing by the poolside or prefer getting some exercise by swimming multiple laps.
With summer approaching again, now would be a great time to decide what kind of pool you want to install. It becomes immediately clear that there are two types of pools that are most popular among homeowners - fibreglass and concrete.
Each option has its set of upsides and drawbacks which might have left you visibly confused about the one you should get. Don't worry, because we have got a detailed guide which pits the two side by side.
We will walk you through various factors that you need to consider, and you can see whether concrete or fibreglass variants come ahead in this. So, let us dive in deep without further delay.
Why Install A Swimming Pool?
Even before we get into what kind of pool you need, some users might wonder why they need a pool in the first place. Here are some reasons to help you make up your mind.
Fitness And Health
Swimming is a great exercise for people of all ages and your entire body gets a workout. It relieves pressure points, which is why it remains a popular choice. Naturally, having your own pool reduces costs of travelling to community pools and you can work out whenever you get the time.
Great Family Time
Since a pool is suited for everyone, your family can actually socialize through games or fun activities in the water. It is a great opportunity for bonding amidst everyone's hectic schedules.
Occupying Kids At Home
Normally, most pools have safety features involved and if your child isn't too small then they can make full use of the pool to keep themselves occupied. It is relaxing and fun to be in the water, so leave your kids with some select pool toys so you can get some quality time for yourself.
Cooling Down
Those living in warmer climates should always have a swimming pool since it is the quickest way to cool down. After a hard day at work, there is nothing more refreshing than taking a dip in cool waters, and having your private space to do the same is truly a privilege.
Future Investment
Trips to entertainment parks or resorts can end up being quite expensive. But, if you have a pool with fancy features and customizations, then you can save costs here because all the pleasures of such places become readily available in your own backyard.
Simple Pool Maintenance Tips
Now that you're surely convinced to get a pool for yourself, here are some basic tips that you can apply, no matter whether you get a concrete or fibreglass option.
Scrub And Skim Frequently
A clean pool is a beautiful pool. But there will be dirt, dust and other undesirables accumulating on a daily basis. Putting in the effort to skim and scrub the surfaces will leave you with an aesthetically pleasing pool to hang out at, and even squeeze in some work out in the process.
Shock Cloudy Pools
If the bacterial levels become too high your pool water will turn murky. While shocking is usually reserved for public pools, your pool might need it too after you've hosted a party. Drastically increase the chlorine levels to help your pool regain the blueness it had previously.
Use Tennis Balls For Oil Absorption
Tennis balls in swimming pools usually mean that people are having a fun time. However, a lot of homeowners leave them in the water so they can absorb unwanted oils. Once you've taken a dip, some residual body oils might get in the water, which affects clarity and quality over time. Using tennis balls can handle the situation in a cost-effective manner.
Comparison Based On Factors
Initial And Lifetime Costs
Normally, we don't recommend DIY-ing a fibreglass pool on your own, but some people still choose to do it. Installing the pool has some costs which might go up depending on whether you want additional features as well as what kind of landscape it is installed in.
The total installation and manufacturing costs can easily run to anything between $45,000 and $85,000. Obviously, this budget is just an estimate and will vary based on how fancy you want the structure to be. In the long-term your expenses include electricity and chemicals when it comes to maintenance.
On the other hand, concrete pools can cost anything between $50,000 and $100,000 right upfront. However, you'll find long-term maintenance costs are much higher here, with acid washing, use of energy and refinishing.
Thus, while there isn't a lot of difference in the initial costs for both, in the long run concrete pools end up costing a lot more. Thus, fibreglass would be a more viable option financially.
Customisation Options
Fibreglass pools are usually created from pre-designed moulds and shapes. Hence, you're limited in your options when it comes to establishing new patterns or going with different sizes. But outside this basic structure, you can customize the pool however you want, with tanning ledges, water features, colourful lights, tiles, and different finishes.
In case you're in the market for an enormous pool that is as long as it is deep, a concrete variant is the way to go. It will cost you more per square foot, but you'll still have the option to customize it in any way you see fit.
Time For Installation
Fibreglass pools are constructed off-site and then installed where you want it. Once it is transported to your backyard, this pool is almost ready for use. Though there isn't any fixed time, usually you can access the pool in about two days.
Decking and patio take a couple of weeks, so the entire process gets capped at three to five weeks.
On the other hand, concrete pools take anything between three and six months for construction. Obviously, this takes place on-site and you have to look at your torn-up backyard all this while. Therefore, when it comes to minimizing user hassle and discomfort, fibreglass pools are much more preferable.
Texture Of Interior Surface
Fibreglass pools come with an interior texture known as gel coat which is extremely smooth against the skin. Though tanning ledges and steps are specially designed to have anti-slip textures, you'll find these aren't rough either.
Comparatively, concrete pools have a wide variety of rough interiors. Plaster is the roughest choice and can scrape your skin badly if you're not careful. There are exposed aggregates like pebbles available. These aren't as rough, but there are still some hard bumps which make walking uncomfortable. Polished aggregates can remedy this situation.
Tiling is the smoothest surface you can get for your concrete pool but it is by far the most expensive as well. Therefore owners have to go out of their way to make these pools comfortable while no additional expense is required for fibreglass variants.
Durability
Fibreglass pools are incredibly durable and the gel coat finish lasts for a long time too. Even if users opt for salt chlorine generators to ensure silkier water needing lower maintenance, there aren't many problems. Fibreglass shells are impervious to the harmful effects of salt, so your pool stays as good as new.
Now, concrete pools are extremely sturdy and long-lasting too. Though all kinds of interior finishes are resistant to basic wear and tear from branches, pets, and toys, you'll still need regular maintenance to be sure your pool retains its initial ease of use.
This includes replastering and replacing the tiles along the waterline. If you're going with salt chlorine generators, then tile finishes are safe, but plaster finishes dramatically witness a reduction in life expectancy.
Regular Maintenance
Every pool needs maintenance but hands-on approaches can get tiring for users. Therefore, they all prefer variants where minimum care assures optimized results. Comparing fibreglass and concrete pools, it becomes evident that the former comes out miles ahead.
You'll see the water pH level unaffected by gel coats and thus you don't have to put in acid to balance this. But, you'll need to check water chemistry every week instead. On the other hand, concrete is alkaline, which has an effect on water pH levels. Thus, daily addition of muriatic acid is a must.
Even the pool surface should be cleaned with steel brushes to prevent algae growing at the bottom. If concrete pools aren't regularly maintained with the strictest vigilance, you'll notice how the water colour changes and your pool starts to look like a pond.
Presence Of Algae
Fibreglass pools come with gel coats that are algae-resistant and smooth. Even the pores are microscopic, so there's really no chance of algae burrowing into the bottom of the pool. In contrast, concrete pools have several cavities and pores which invite algae. Thus, you should brush the pool at least once each week.
Electrical And Chemical Energy
There's no need for additional electricity or chemicals to keep fibreglass pools in great shape. Hence, the time, energy and money spent by users is much lesser, which tends to be a major point in favour of this option.
As concrete is alkaline-based, the water pH levels get affected too. Accordingly, you need to add acid at set intervals to maintain a balance. Both money and time have to be put aside for extra chemicals to kill algae which grows regularly in such pools. So, in terms of maintenance costs, concrete pools outstrip fibreglass ones.
Heating
Concrete pools don't heat up as quickly or retain heat like fibreglass variants. Since the liner and shell are made to ensure that heat absorption is lower, you'll find that the water heats up quickly and stays warmer for a longer time as well.
As concrete absorbs heat, you need a pool heater to not just keep the water warm but to maintain the temperature of the concrete. Naturally, this process is more expensive and time-consuming.
Lifespan
When it comes to the ultimate lifespan, the durability of these pools comes into play. Concrete options are more long-lasting and you'll find your pool working well for around 40 years without needing major changes.
However, fibreglass options remain properly serviceable for 15 to 20 years. In both cases, we might add that lifespan is only improved and drawn out by regular maintenance.
Value Of Resale
Realtors hold the opinion that fibreglass and concrete pools can increase resale values of homes if they are maintained properly. There has been much discussion about whether an inbuilt pool is preferred among buyers.
But, you'll notice how homeowners view it more as an investment for a better quality of life than a mere financial expense. To that end, depending on the location of the house and the climate in that area, a pool could be a very useful feature that drives up your property valuation.
Which Is Better Suited?
Now that we've run you through the factors that you should consider while choosing between a concrete and fibreglass pool, you might be wondering which is better suited based on your individual needs. Go over the characteristics carefully and see whether your pool needs to fit your aesthetic senses or just provide utility.
Some people like to customize their pools a lot as an accessory to their luxurious property. In specific cases, these pools also invoke a tropical feeling in the compound. Others merely want it to fulfil the basic utility of relaxation and exercise. If that's your case then low costs of installation and maintenance become more important than customization options.
Still, we will give you a quick rundown of the factors here. For concrete pools, you need to start with a budget that is a little higher. But, you can customize its shape as you see fit. In the end, however, you'll end up spending more time and money when maintaining the pool.
If you want a completely natural design and don't mind rough surfaces against your skin, then this is right for you.
Coming to fibreglass options, your budget is lesser, but your pool size will be medium or small at most. You'll have to find a design that suits you rather than creating a pool based on your specific design. Obviously, installation and maintenance costs are rather low, even when we see the long term picture.
However, you need to put in a flex strength to protect the pool from constant vibrations in the ground. Notably, if you now feel a fibreglass pool is better but already have a concrete variant, you can always install the former inside the existing structure.
Are Vinyl Liner Pools Good Choices?
Although we have focused on concrete and fibreglass options, there is a third variant that is quickly becoming as popular. Before installing your pool, it is only fair that you know all choices you have. Thus, acquaint yourself with vinyl liner pools.
They help keep the pool clean and free from algae as well. Further, they are quite customizable too. You'll find this pool type to be the ideal compromise between getting a concrete and fibreglass option. When it comes to sizes or shapes, there are as many choices as concrete pools.
But, considering algae growth and how it feels against the skin, vinyl liner pools can match up to fibreglass choices.
Like all things, there are some drawbacks too. When it comes to initial costs, these pools are light on the pocket, but heavy maintenance is required over the years. Vinyl linings only last for five to nine years, so it becomes a lifetime expense maintaining the pool.
Since these aren't as durable, you have to be extremely careful during usage too. A hard thump might end up causing damage to the surface. Every few years, you'll have to shell out nearly $4,500 to refill and reline the pool.
Final Words
Ultimately, your pool choice depends on what you expect and how much you're willing to spend. Most users want simple installations that are easy to use and don't need too much maintenance. After all, getting a pool for relaxation only to spend more time keeping it clean and spending on utility bills is hardly the smart choice.
Hopefully, our guide here will help you understand what kind of lining is best for your house. Each choice understandably has its pros and cons, but fibreglass pools eventually stand out for their overall ease of use.
Having a swimming pool is a fashionable choice for homeowners nowadays, and we hope you can spruce up your backyard too. If you have any queries about the installation process, do feel free to reach out to us.
Until then, we take your leave.