Are you considering having a pool built on your property? Pools are necessary for many families to cope with the heat on those hot sticky days when the air-con isn't enough.
Choosing a pool from The Pool Co is easy, as all our pools have stunning designs perfect for a family home. Every pool shell is crafted in Sydney to high levels of quality assurance.
What's harder is choosing the perfect glass fence for around your pool.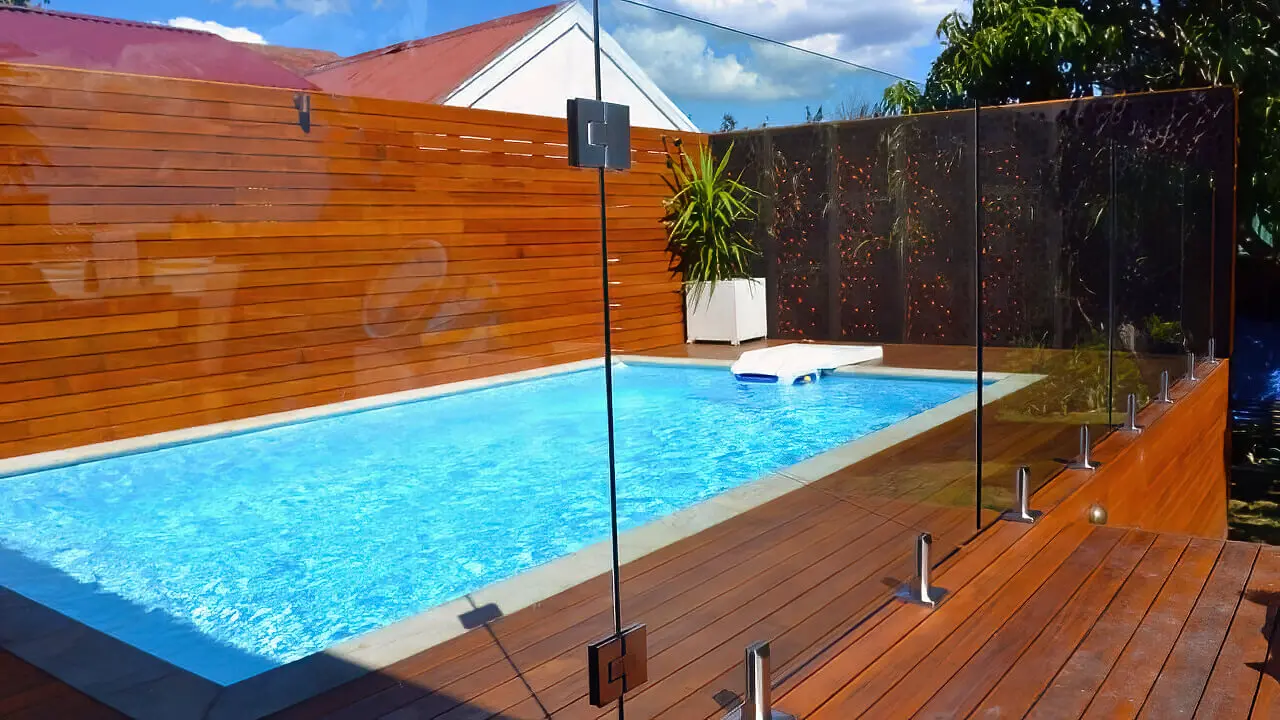 People love adding a glass fence to their pool because of the flawless look and feel. Other fences section off your pool so guests won't even be able to see it, and these fences also block the view of the lovely landscaping of your yard.
Rather than having a sizeable blocky fence around your pool, glass pool fencing is a sleek and modern alternative.
Because you can see through glass fencing, you can spend every day admiring your fabulous new concrete or fibreglass pool. And, because nothing is blocking your view, you will still have a fabulous view of the backyard from your house.
What Is the Purpose of Pool Fencing?
Pool fences are required in Australia for safety reasons. They prevent people, especially kids and infants, from walking and accidentally falling into your beautiful pool.
If you follow the pool safety regulations, you can let your children play outside without the anxiety of worrying about whether they can get into the pool away from your supervision.
The gates on pool fences are required to be self-closing. So, you don't even have to worry about whether someone leaves the gate open as if they do. It will just close on its own.
Pool fences in most states need to be at least 1.2 metres high so that children and animals won't be able to climb or jump over them to get into the pool area.
Gain peace of mind and keep your kids, guests, and animals safe by having glass pool fencing that meets regulations.
What Type of Glass is Used in A Glass Pool Fence?
Pool fences don't just contain any glass. They are constructed from tempered glass, commonly known as safety glass. This glass is also in your windscreen, shower door, and sliding doors.
Think about what happens when you drop a water glass on the floor — it smashes into shards. This is highly dangerous as these sharp pieces can cut you and cause severe damage.
The idea behind safety glass is that it is far more substantial to break as easily. However, if it does happen to break, it doesn't shatter in the same way as regular glass.
If it breaks, it crumbles but will usually remain in place.
Safety glass is created by heating the glass, adding pressure, and compressing the surface. Then the glass is quickly cooled off, which intentionally creates tiny fractures in the glass, making it safer for you!
Because it is already 'broken', this is why toughened glass doesn't smash into shards when it faces impact.
The glass fence panels can come in an array of thicknesses from 6 – 18 mm.
More extensive panels need to be thicker to ensure their safety. When you obtain quotes for installing your glass pool fencing, note how thick the panels are.
A quote may be cheaper because they are using thinner panels. After all, the thicker ones cost more. Pool gates can be made of more delicate glass, but it's recommended that the main fence sections are at least 12 mm thick.
Types of Glass Pool Fences
Frameless Glass Pool Fencing
Homeowners often choose frameless pool fences for their elegance and subtlety. They provide a modern effect that you will hardly even notice is there. This is due to their lack of framing; glass pool fencing panels can be purchased from most local glaziers as a DIY kit as well.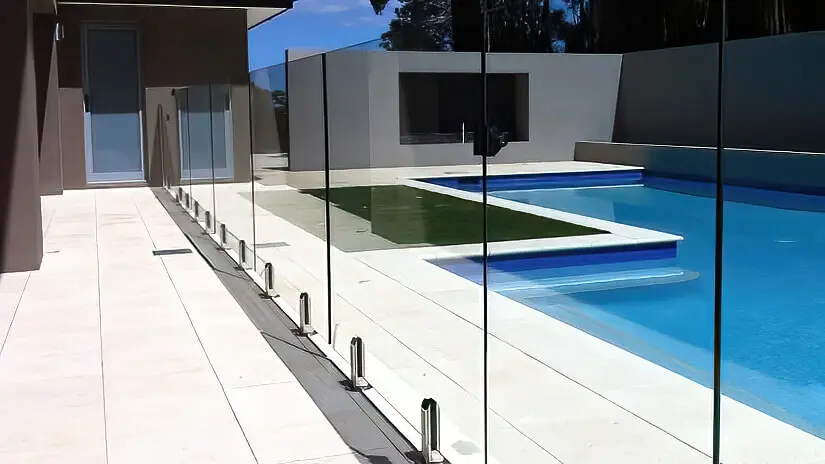 As you may have guessed from the name, these fences are constructed from glass panels without a frame. This creates a highly inconspicuous look while still offering excellent pool safety.
They stay in place thanks to spigots holding them up from the bottom. The spigots are made of highly durable aluminium, so they are extremely strong and can withstand most climates.
These are perfect if you want to keep your carefully landscaped backyard in full view without being blocked by the glass
Remember that while the main benefit is the seamless look, this can also be a drawback. You might find that people don't even notice the fence and could walk into it. Young children, especially, may struggle with noticing transparent glass.
If you install a frameless glass pool fence and have this issue, you can always add some stylish stickers to it to see where the fence is.
Semi-Frameless Pool Fence
Semi-frameless could be the way to go if you're looking for a sleek and fashionable glass fence to place around your pool.
The partial frame offers more support to the glass so that these super-strong fences can withstand impact in any weather. They are also easy to install to have one up in no time.
This beautiful compromise meets right in the middle of a frameless pool fence and a framed one. They are more unobtrusive than a framed fence but far easier to notice than a frameless one to avoid people bumping into them.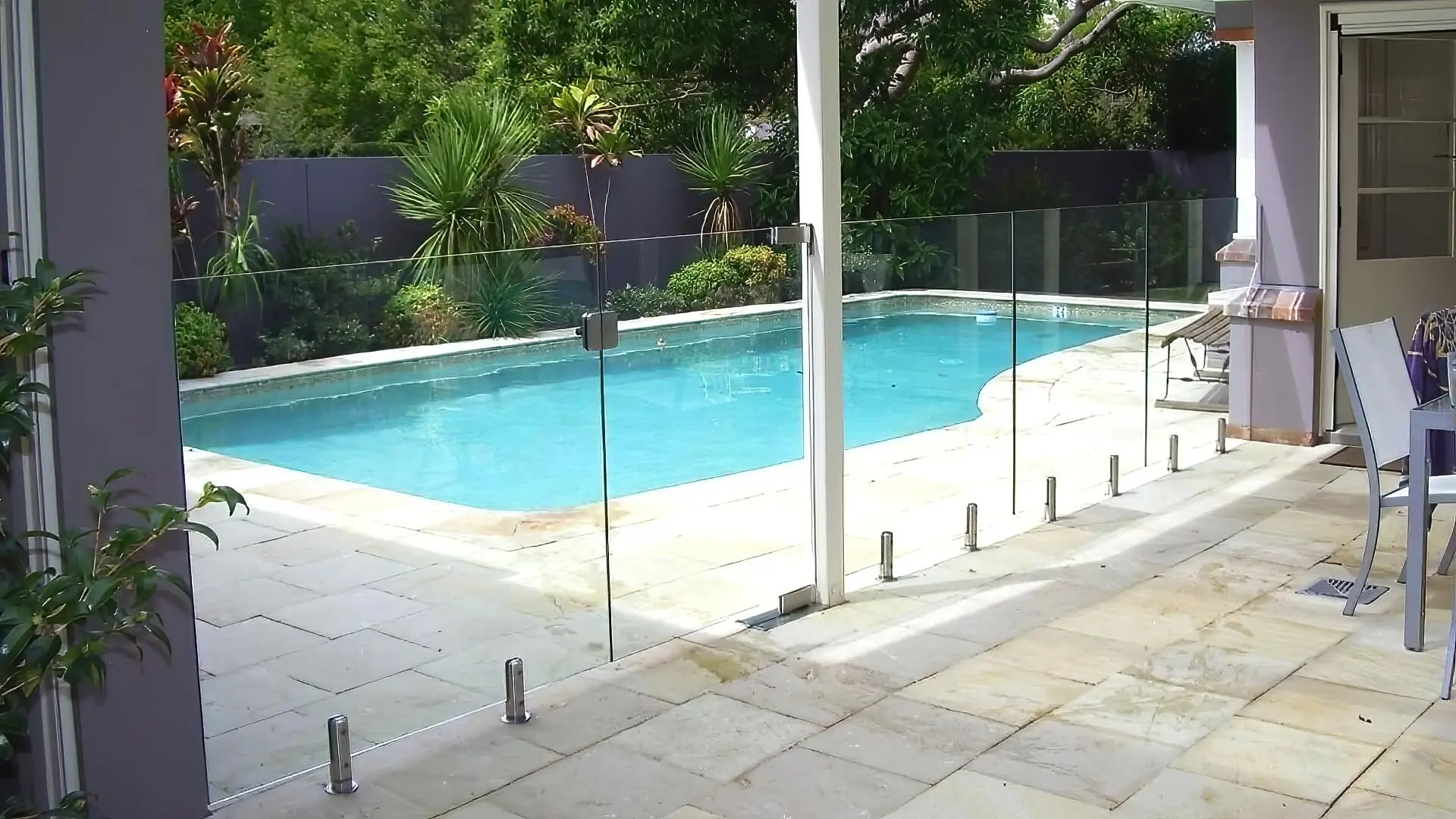 Framed Glass Pool Fence
Framed fences contain glass surrounded by a frame. These are sturdy options that favour safety and strength over the seamless appearance of frameless fences. They can still have a great look and feel to them — it all depends on what type of design you want to go for.
Glass Balustrades
Do you have an outdoor staircase leading down to your pool?
Glass balustrades could be the ideal solution when unsure what type of fence to add for safety. They are constructed from A-grade safety glass for optimal security for you and your family.
Take some time choosing your favourite pool from The Pool Co Sydney. Once you've done this, you won't want to hide it from view, so no doubt you'll be looking at a glass pool fence to show off your new pool. The first step is to choose your new pool so call us now to discuss your options.