Having a pool on the property can be a blessing or a curse, depending on how regular you are about maintaining it.
A properly maintained pool and deck can increase the valuation of the property and make the backyard space more attractive. Similarly, a neglected or deteriorating swimming pool deck will result in costly repairs time and again, which isn't feasible.
The only solution is to prevent issues in the first place and solve whatever small problems arise quickly. Today's guide details some simple techniques you must know to maintain the quality of pool decks.
How To Maintain Pool Deck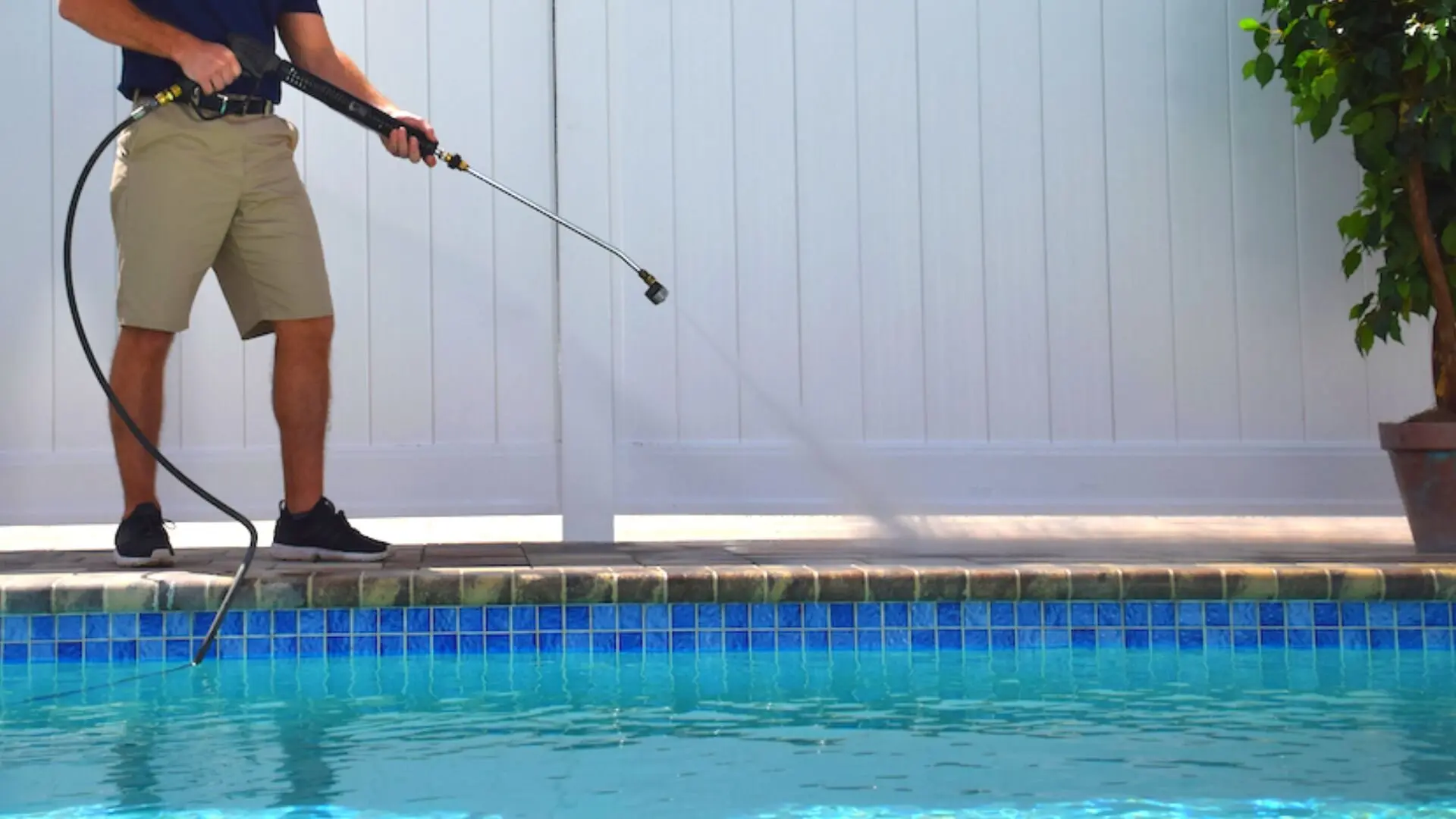 To maintain backyard pool decks in proper condition and enjoy a refreshing dip in summer, you will first need several pieces of equipment. But all these are easy to procure and make it convenient to engage in concrete pool deck cleaning without much hassle, or you can hire professional power washing services.
A. Equipment You Need
Garden hose
Cleaning solution - either homemade or a mild commercial cleaner
Pressure washer
Chlorine detector
Skimmer basket
Pool deck vacuum cleaner
Brush
If you don't have one already, use a chlorine detector or saltwater system to keep a tab on the chlorine levels. When the chlorine concentration is right, it prevents bacteria and algae growth on the pool walls, helping keep the water hygienic.
You must also frequently test the pool's alkalinity, hardness and pH while using a vacuum cleaner to remove debris from the pool deck surface. As for other floating objects in the pool area, use the brush and skimmer to clean the water.
B. Steps To Follow
We have shortlisted four steps in this section to help you quickly clean a pool deck without opting for expensive cleaning solutions.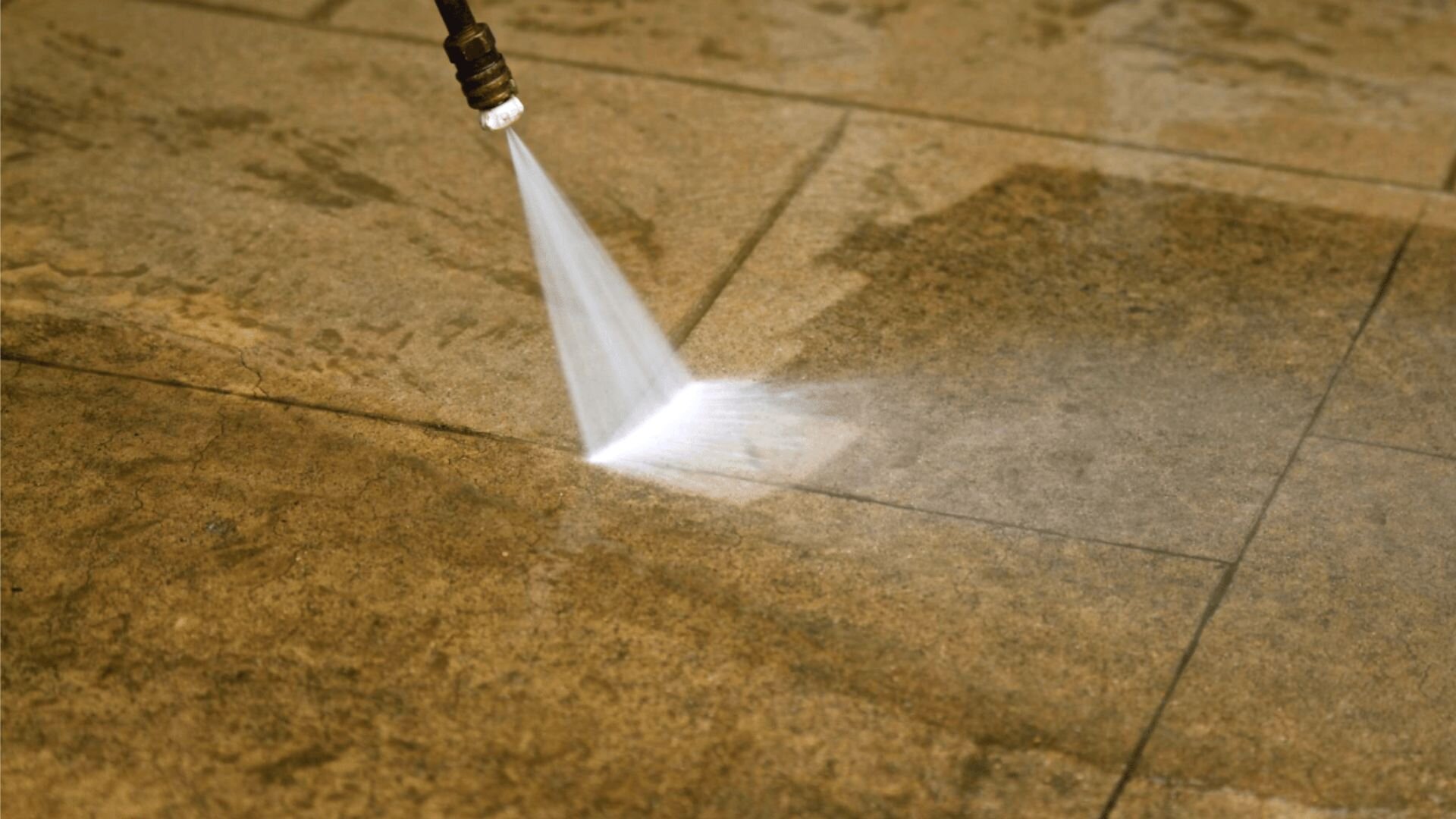 1. Pressure Wash A Concrete Pool Deck
An effective way to help a cement pool deck last longer is by pressure washing it to remove unsightly stains. Additionally, when there's vegetation surrounding the swimming pool, dirt, fallen twigs, branches, mud and other elements are bound to make the pool deck surface dirty.
We have also seen that dampening a pool deck leads to algae and mould growing along the pool walls or on the pool decks, increasing the chances of slipping. That's why pressure washing proves convenient and quickly removes all the debris from the pool area.
It doesn't take more than a few hours to complete pressure washing, or you can hire a professional service for annual cleaning.
2. Pool Deck Sealant
Any pool deck surface is fragile because of exposure to natural elements and water, even more so when you have a concrete pool deck. If you have left your pool deck untreated for a long time, you will see that concrete stains easily, undergoing significant physical deterioration and surface damage.
While mildew, moss, algae, mould, dirt and a pileup of leaves result in stubborn stains of a different kind, installations like a metal diving board can cause rust stains. In fact, man-made stains from elbow grease and fertilisers are common, reducing the property's valuation and decreasing the safety of the pool deck.
You will even notice that a pool deck experiences flaking or spalling, where certain areas peel away owing to the lack of regular cleaning. This degenerative process is further accelerated in cold conditions when moisture is trapped on the pool deck and freezes.
In such instances, cracks appear on the surface and must be fixed ASAP before the problem worsens further. Hence, we suggest spraying a pool deck sealant and pressure washing the surface for added protection.
If you are experienced in DIY tasks, you can do this as a weekend project or contact a professional pool deck cleaning service. Trust us; the sealant will amplify the beauty of the pool deck, prevent water seepage and reduce the chances of damage.
3. Small Cracks
Sometimes, the biggest problems emerge from the smallest issues, so you can't afford to be negligent. When you are down on all fours and scrubbing the ground, keep an eye out for tiny cracks, which could spiral into a major issue.
No matter how hard you try, even several coatings of paint will peel, and cracks will appear on the surface due to natural elements. The same is seen for driveways and patio furniture, so you might already know how to repair them.
With the right tools and pool deck materials, filling small cracks won't be an issue but make the repairs quickly because such cracks are a tripping hazard. Additionally, if water seeps into the cracks, the soil composition shifts, causing the pool deck surface to sink and compromise the structural integrity.
If you are unsure about fixing the problem, the first step is finding a reliable servicing company. The best organisations grind the cracks before sealing the edges with a silicone-based caulking agent. Then it's essential to let the caulk set, preventing further seepage or shifting while offering protection from UV rays and dryness.
4. Levelling The Pool Deck
During pool deck cleaning, you might notice the ground has shifted, and there is a 2-3-inch difference between the coping stones and the deck slab. In such instances, get to work levelling the pool to prevent accidents, especially considering the high chances of tripping.
Also, pool decks are already wet and filled with installations like a diving board, ladder and curves that can seriously injure someone if they fall. That's why for an in-ground pool, you can use the following methods to level the pool deck -
Mud-jacking
Demolition and replacing the pool deck
Sand-jacking
Grout filling
Poly-jacking
Most of these techniques involve significant construction and structural changes, particularly when there is extensive damage to the pool deck. But if you are lucky, you can repair the pool deck with modern techniques like a polyurethane injection system.
But it's important to let the sealant settle and dry for durable results.
Shine Up Your Pool Decking- A Guide To Keeping It Looking New
The bottom line: regular pool deck maintenance is essential for pool deck cleaning to have the desired effect. You can create homemade cleaning solutions by combining baking soda with lime juice to scrub the pool deck surfaces before rinsing the area with warm water from a garden hose.
Some people also prefer mild dish soap to remove stubborn stains and prevent paint peeling. Most importantly, during the off-season, cover the pool deck with durable material to ensure dead wood, branches, leaves, insects, etc., don't fall into the water.
This will also reduce maintenance costs and make it easy to clean a pool deck before summer. And no matter what, never ignore the small problems to protect the concrete surfaces in all conditions.
Need help with your pool or decking? Speak to our professional Sydney pool builders at The Pool Co today! We can help you easily install, repair, or maintain your pool decking!