Your idea of chilling might differ from many, and you may prefer installing a glass-walled swimming pool.
When you sit and relax by the edge of a glass wall pool, you feel like sitting by the windows. This would enable you to view the natural beauty outside without leaving the safety of your house.
This type of pool is very similar to an acrylic panel pool or spa and has recently gained popularity. Here, you must install one long transparent glass to connect the pool area inside and outside.
These pools are great for a spa session after a long and tiring day or for exercising. And today, we will tell you all you need to know before installing a glass-walled swimming pool.
So, without further delay, let's dive right in!
What Is A Glass-Walled Swimming Pool?
A glass-walled pool is like a swimming pool that has an underwater window. It will render the feeling of the water freely floating in a transparent, enclosed space. The glass windows are mounted on all sides to give the impression that you are swimming in a void.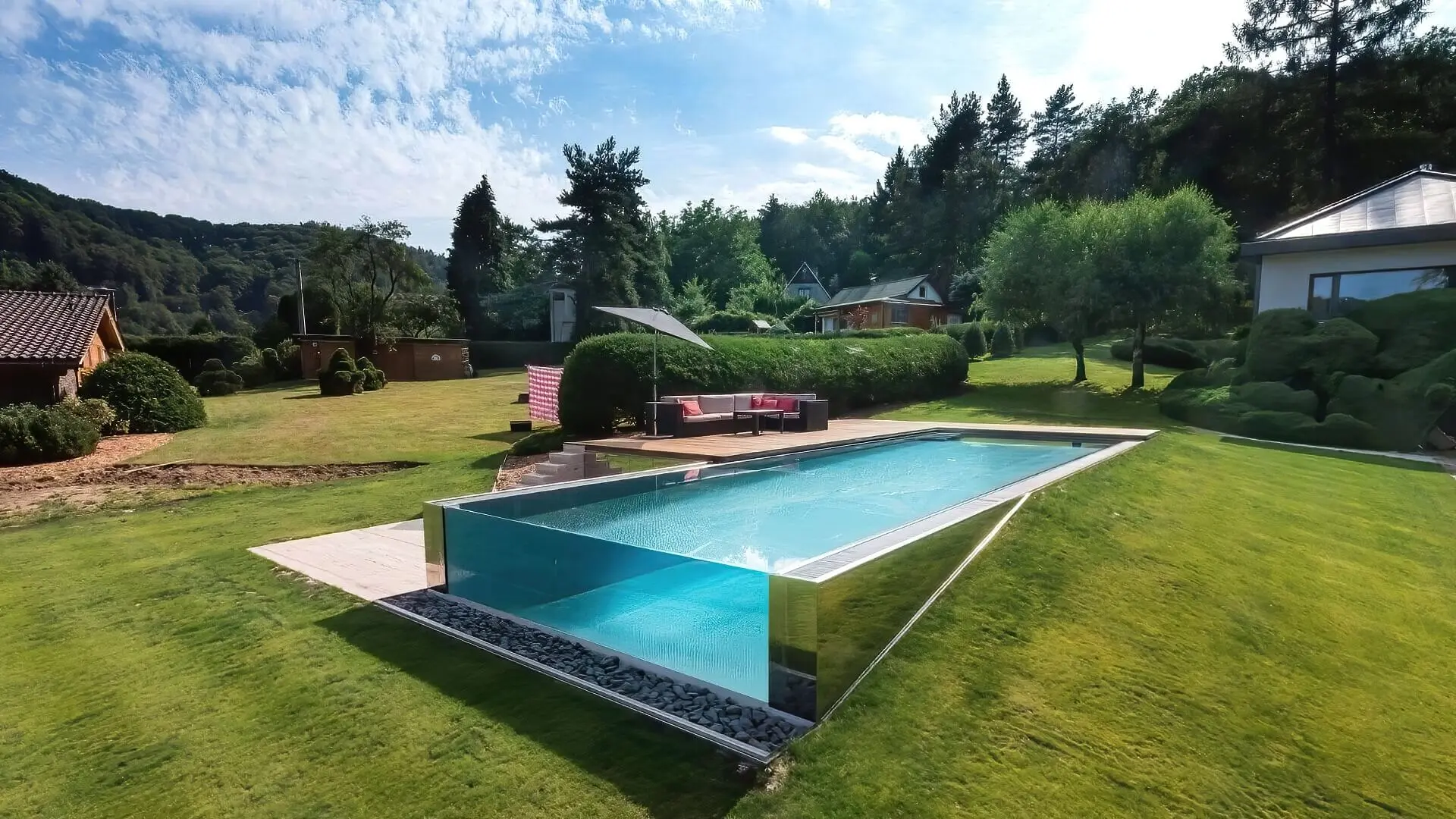 And because there are no beams, you will get a visual impression that there's no wall at all. So, you can look at it from any side and see the inside of the pool without any distortions. Understandably, a lot of effort goes into installing such a pool and requires trained architects with good engineering skills.
But without any doubt, you will be able to take great pictures from all sides of the swimming pool. You can even have yourself photographed half inside the pool and half on the outside, emerging right out of the water!
However, you should make sure that the side of the pool is built to prevent the water from overflowing during swimming. When you have a glass-walled swimming pool, you must stay extra cautious about maintaining it well.
Things To Know When Selecting A Glass Walled Swimming Pool
1. Take Help When Needed
A pool with glass walls or panels can easily accommodate all the features of a regular swimming pool. You can always go for a custom-made installation if you want something extra. And we won't be surprised if you would like to add some 'fun' features to your pool.
If you are not familiar with the technicalities of the installation, hire a professional service who can do it for you.
When done right, glass-walled pools will start looking like an infinity pools. You can create a spot of unique beauty and experience right in your home.
When you contact the best architects, they will design the pool according to your requirements and install it practically anywhere around the house. If you choose suitable materials and accessories, the possibilities are many.
2. Indoor And Outdoor Glass-Walled Swimming Pool
Before installing a glass-walled swimming pool, you must know that you can put it above and below the ground.
If you want to install it below the ground, you must use concrete to construct it, but projects like these will be a little more time-consuming. Once done, you can use the glass pools to sit in the water and enjoy the view. You can also experiment with various shapes and designs instead of using common shapes like rectangles.
In this regard, you can have round, elongated, or even a combination of different shapes. Your pool is bound to look great if the glass is clear and transparent.
3. Possibilities
You can use it for various purposes when you put all the right features in the glass-walled pool. It can provide you with a significant amount of relaxation and a good round of swimming.
If you have more space, you can even consider arranging pool parties in the indoor area for neighbours, friends and family to celebrate the end of summer. There's hardly any reason why anyone would not want to enjoy the unique beauty of the glass walls.
4. Heated Glass For the Pools
Heated glass pools are preferred by many homeowners today, so you can consult with the architects to see if you can install one. While at it, don't forget to ask them if the wirings in your house are made safely to handle projects like these.
If you wonder why a heated pool is a great idea, let us break it down. When a special metal oxide coating is applied to the glass used to build the pool, it gets heated every time electricity passes through it.
As a result, it will feel like sitting by the window in a spa, and you will feel relaxed in no time. Sit by the pool's edge and enjoy a cold beverage after a long workday.
Many people prefer going for this design because this feature keeps the glass condensation free. Long story short, it's one of the best solutions to maintaining clear visibility of the walls.
Pools With Glass Bottoms
If adventurous, you can even opt for a swimming pool with a glass bottom.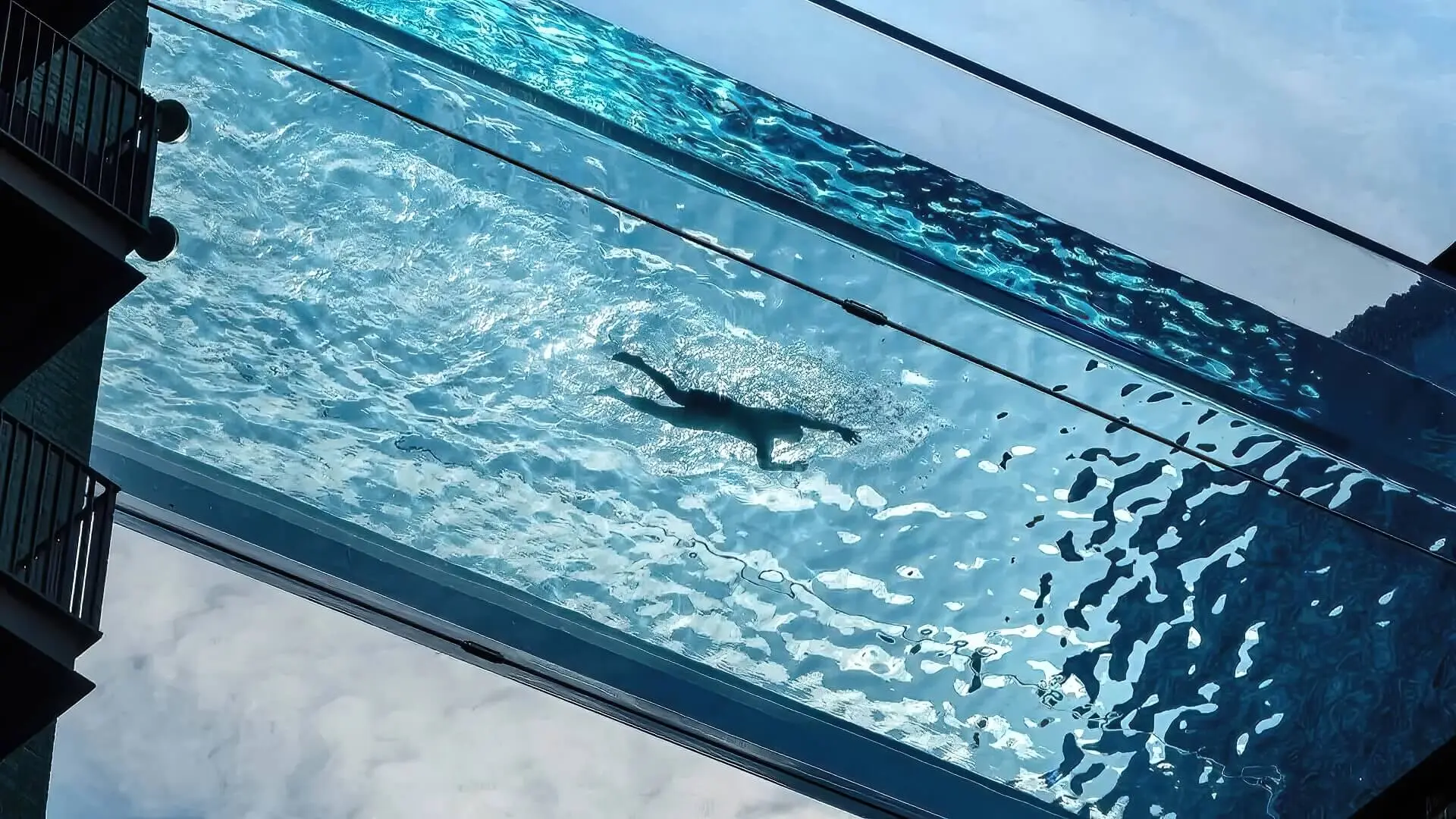 Instead of making just the walls from glass, putting a glass bottom will make you feel like you are swimming in infinity. Not only will it enhance the look of your house, but it also adds considerable value to the overall property. Sure, it will be one of the most ambitious projects you will undertake, but it won't be much of a challenge with the right architects.
It would help if you kept in mind that this is not one of those projects with a one-size-fits-all solution. The design has to be custom-made, and the solutions to the challenges will have to be unique. So, contact an expert to get the plans and execution right.
Glass-Walled Swimming Pools
That's all we have for you today on glass pool walls!
As we have mentioned, a glass-walled pool can become your backyard's ultimate spot for relaxation and fun. But for that to happen, you need to ensure that the glass is of good quality and the panels are installed correctly.
Once the pool is ready, you won't see the frames as the water will make them invisible. So, sitting by the edge of your pool will feel like it is getting extended into the horizon.
Want to know more about glass walled swimming pools or are interested in installing one? Speak to our professional Sydney pool builders at The Pool Co today. Our experienced team can ensure your swimming pool exceeds your expectations!
And until next time, fare thee well!