Swimming pools, with their sparkling waters, already act as a welcoming, fun-filled centrepiece to your property.
Why not kick it up a notch by adding a water feature to your pool area? Not only will the suitable water feature be a great addition and make your swimming pool even more attractive, but it also turns the area into a relaxing haven – your very own home spa.
Additionally, you can amp up the style factor of your backyard with landscaping and stone walkways for a contemporary and modern look. Perhaps, you prefer a tropical beach-like ambience, complete with a tan-tiled pool entrance, straw umbrellas and lounge chairs. Or, you can add other elements, such as natural rocks and sound machines, to create a jungle vibe.
The design opportunities are endless – all you need to do is plan and ensure that each element in the backyard complements the other. And, of course, the swimming pool is possibly the most crucial part of it all.
So, if you are looking for a suitable water feature to feature in your outdoor space, read on for some clever design ideas.
Best Water Feature For Your Pool
1. Waterfall
No discourse or compilation of diverse water features is comprehensive without the inclusion of captivating pool waterfalls. Rightly so, as this versatile pool water feature delights the entire family – no matter their age.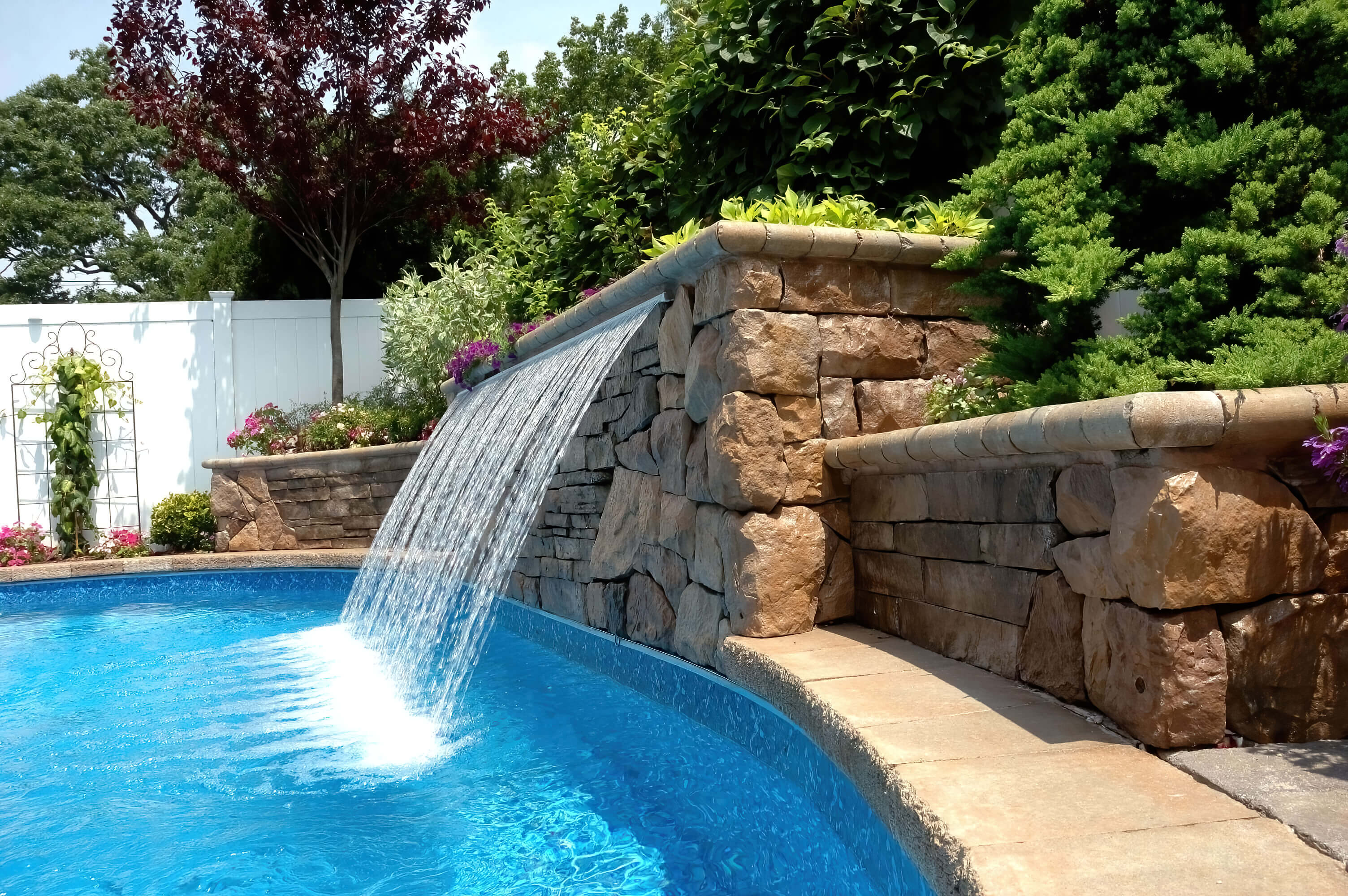 That said, any kid in your house will love watching the cascading waters as much as they enjoy playing with them during a fun afternoon of pool games and poolside snacks. At the same time, waterfalls may be installed alongside elements, such as ferns and rock features, to create a sophisticated and contemporary look.
The design of waterfalls draws undeniable inspiration from the natural setting, making it unsurprising that these water features effortlessly bring a sense of nature to your pool. Adding this feature to your swimming pool will transport you and your guests to a serene waterfall amid a tropical rainforest.
And this works even better with pools having a unique and freeform shape than conventional boxy swimming pools with rectangular ratios. Nevertheless, you can close your eyes and let the gurgling waters put all your troubles at ease – even if just for a while.
2. Rainfall Curtains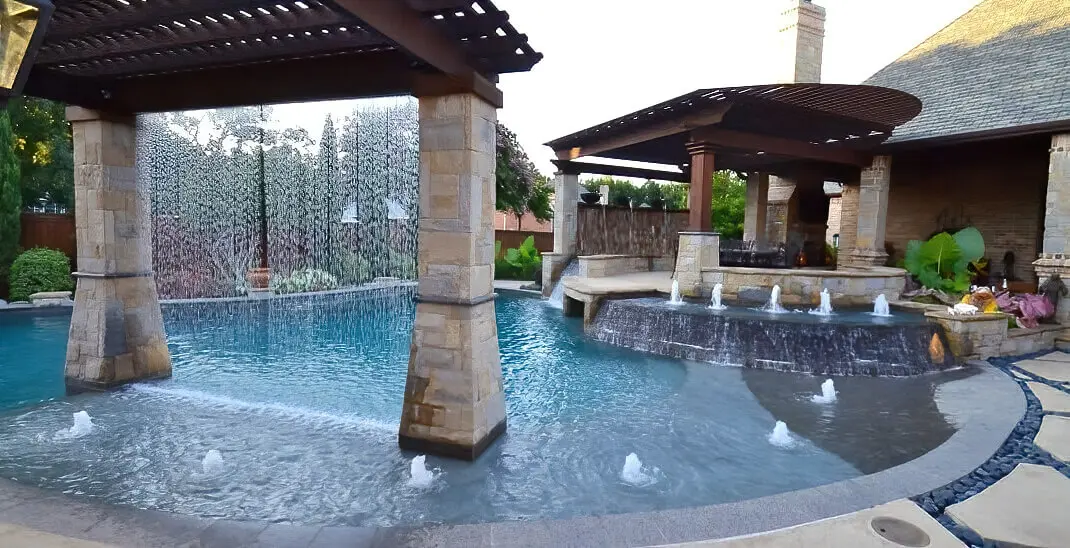 Emulating the sublime rhythm of nature, a rain curtain serves as an exquisite water feature that imbues the landscape with elegance and serves as an entertaining spectacle. A rock display for a natural setting or beach-themed decor complementing this addition can turn it into a style statement.
3. Water Wall
A close cousin to waterfalls, water walls are just that – they consist of a backsplash on one side of the pool with a wall blade through which water cascades out. And while waterfalls are closer to nature, the water wall is well-suited for pools with geometrical shapes and clean accents.
The construction material of the wall itself can enhance the seamless and polished look of water walls. For instance, you may use concrete or steel for a subtle, minimalistic look. Or perhaps, if you want to pack some opulence, adding colourful lighting to the design may give it that glamorous edge.
This is the convenient water feature for a contemporary pool design if you want to be creative and retain a classy appearance around your pool area.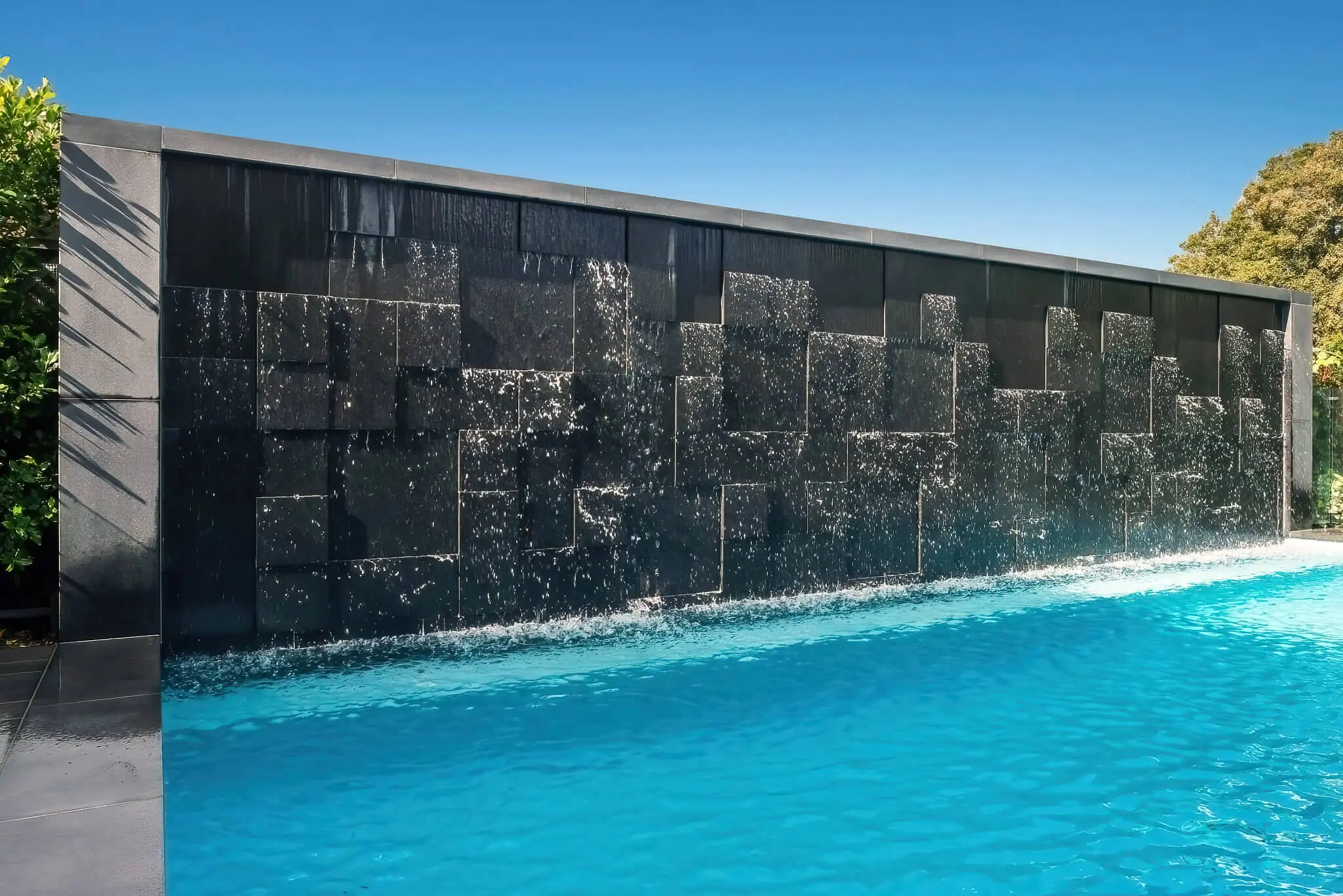 4. Fountains
Fountains are yet another classic – at the same time, they allow endless opportunities for customisation. From a custom-made statue emitting a gushing stream from a water bowl to simple floating fixtures, fountains represent an engaging pool water feature to pique the interest of your guests.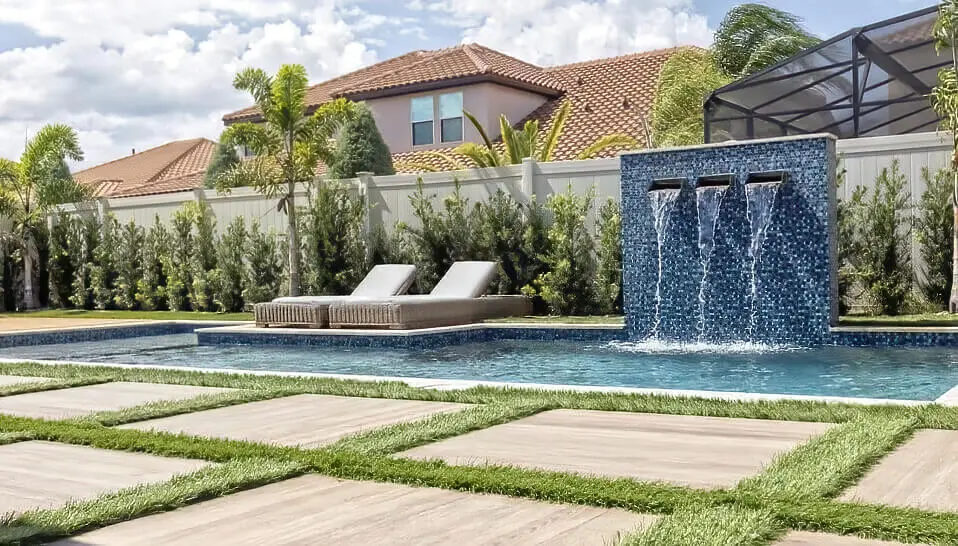 What's more, if your property is large enough, consider lining up several pumps and lighting fixtures that are timed to create a dancing fountain show. While these are ostentatious and dramatic water features, even simple designs around the pool creating a relaxing ambience will be as much of a people-pleaser. Plus, the kids will love playing in it!
5. Deck Jets
Nothing says family fun, like sprinklers and deck jets that shoot up water for a refreshing splash when you are not in the mood for a dip. Not to mention how these festive additions instantly bring about cheer and make your backyard a much more attractive space.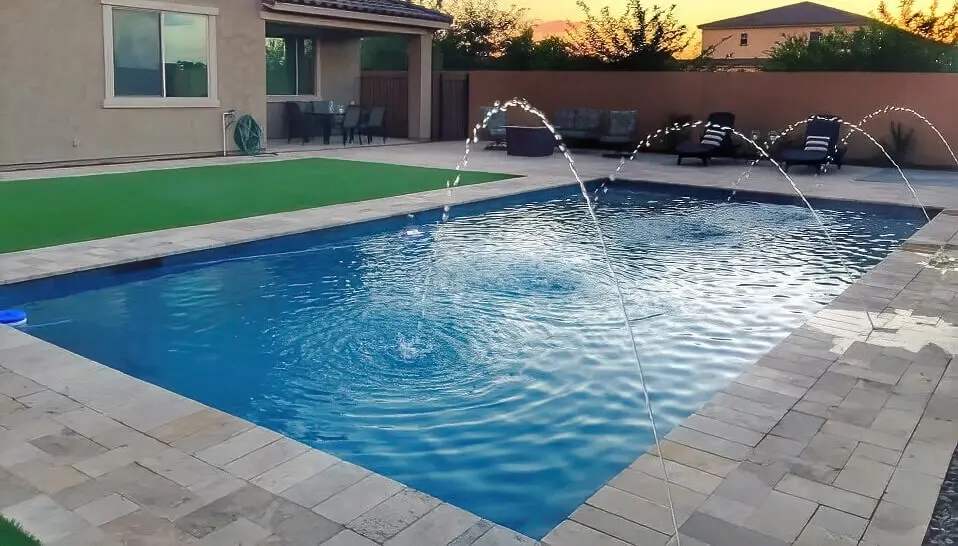 Desk jets are small features expertly fitted onto your pool deck, seamlessly integrating with the existing structure. These are designed to shoot up narrow water arches into the swimming pool. They don't take up much space, so it is a design piece worth considering if you are renovating a small backyard or a raised spa.
6. Splash Deck
Splash decks offer a built-in shallow kiddie pool and design value simultaneously.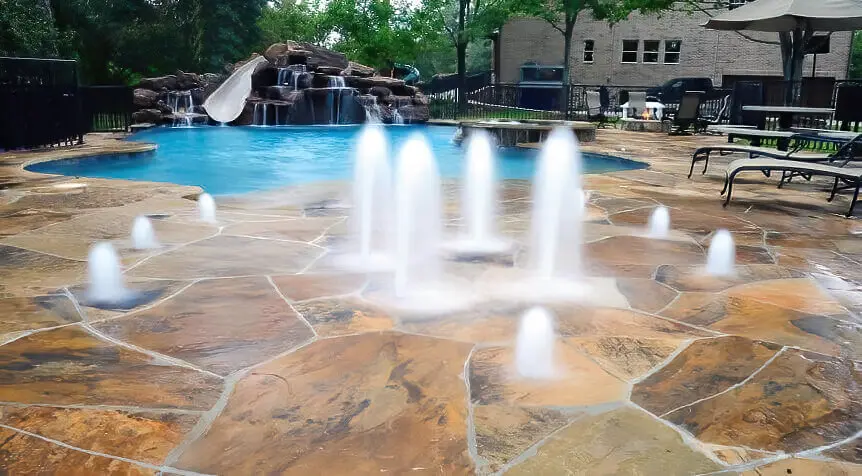 Generally, splash decks refer to a small area adorned with mosaic tiles that run along the swimming pool's perimeter. However, you can use these shallow accents in different ways. Perhaps they can work as a demarcation line between the pool and the spa, or you may fit them in the centre of the swimming pool.
Moreover, you can add more water features to the splash deck by adding bubblers and small fountains for added style. Not just the kids but even the adults can take a breather by lounging on these raised platforms as they listen to the calming bubbling of water.
This pool design not only charms onlookers but also has practical benefits.
7. Scuppers
Scuppers placed strategically around your pool can take the waterfall experience to the next level. That said, most scuppers are designed around raised platforms and backsplashes to spout water into the swimming pool.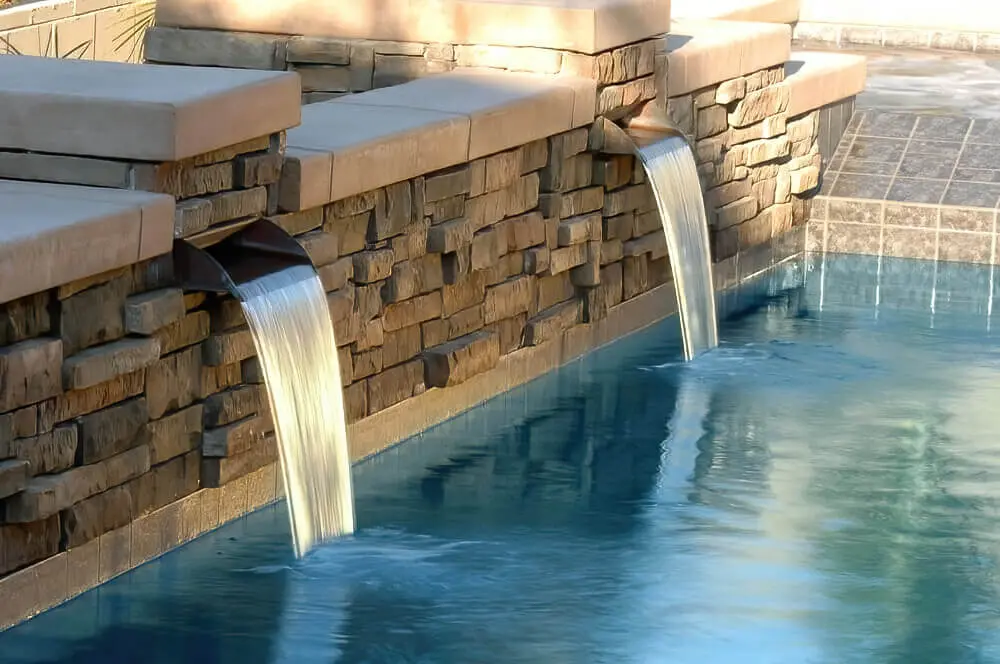 These slots or spouts can be customised to release water in the shape of your liking. These flow styles include trough, chute and sheet. At the same time, the placement of the water features can also enhance their effect on the landscape.
Some nifty ideas include installing triple scuppers on a wall step-like fashion or placing an overhead scupper on an adjoining building.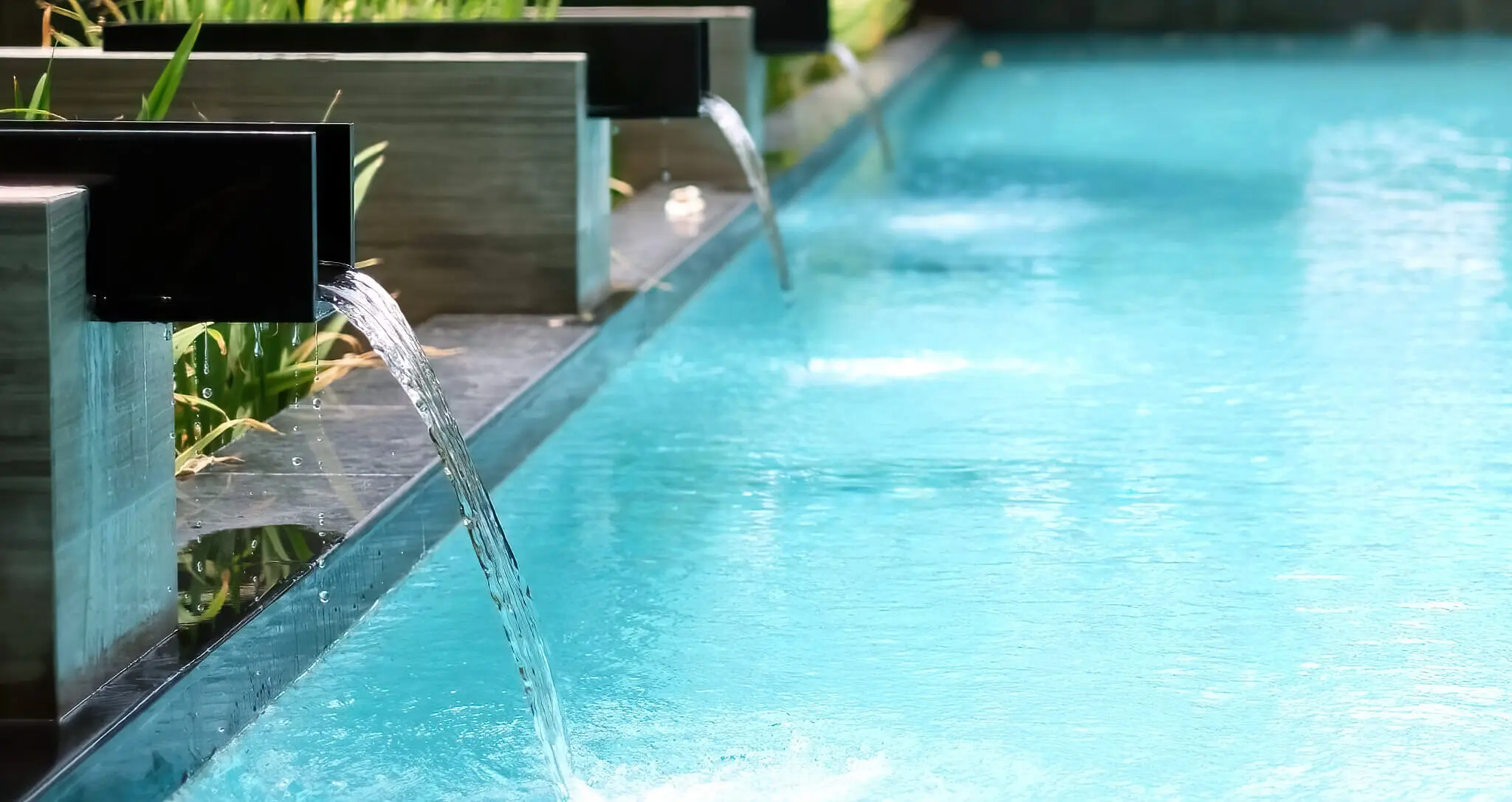 Pool Water Features
Whether a plunge pool, a lap pool or an infinity pool with a specially designed catch basin, a water feature can be a striking focal point. Consider each element's location, size, and shape before jumping on to your design project and selecting a spa or swimming pool water feature.
For starters, ensure that the additional water features are not overwhelmingly large for your pool or property. Bear in mind that some water features, such as waterfalls, work better with curvilinear pools that are more naturalistic in shape. Adding a rock display and greenery around it may also enhance the natural appeal of the swimming pool water features.
On the other hand, minimalistic pool water features, such as scuppers and jets that spout narrow streams of water, work well with a geometrical pool design. Additionally, a seasoned DIYer can even install some of these basic features.
For more complex jobs, be sure to hire a pool builder or a technician as you sit back and unwind– after all, your pool area should be a place for relaxation.
We look forward to seeing you in the next guide, and we hope you select the suitable water feature for your pool!