What's a better way to beat the summer heat than to let your hair down at a pool party?
Undoubtedly, everyone loves some splish splash from children to adults. Australia's unforgiving summer heat significantly calls for a cool down at the nearest pool area or water park.
But what if we tell you that you don't have to travel to any fancy locations or spend a lot of money? With a dash of creativity, you can transform your pool and backyard into a Moroccan Riad or a sophisticated white party (think Real Housewives).
So, without further ado, let's dive right in!
Four Amazing Swimming Pool Theme Ideas For Your Home
1. Vintage Vibes
The latest trends in fashion have time-travelled to the '60s and '70s, so why shouldn't your party decor? Get your hands on some bright neon floats, balloons, sunglasses, and more. If possible, throw in colourful towels and bold, printed mats for that extra retro kick!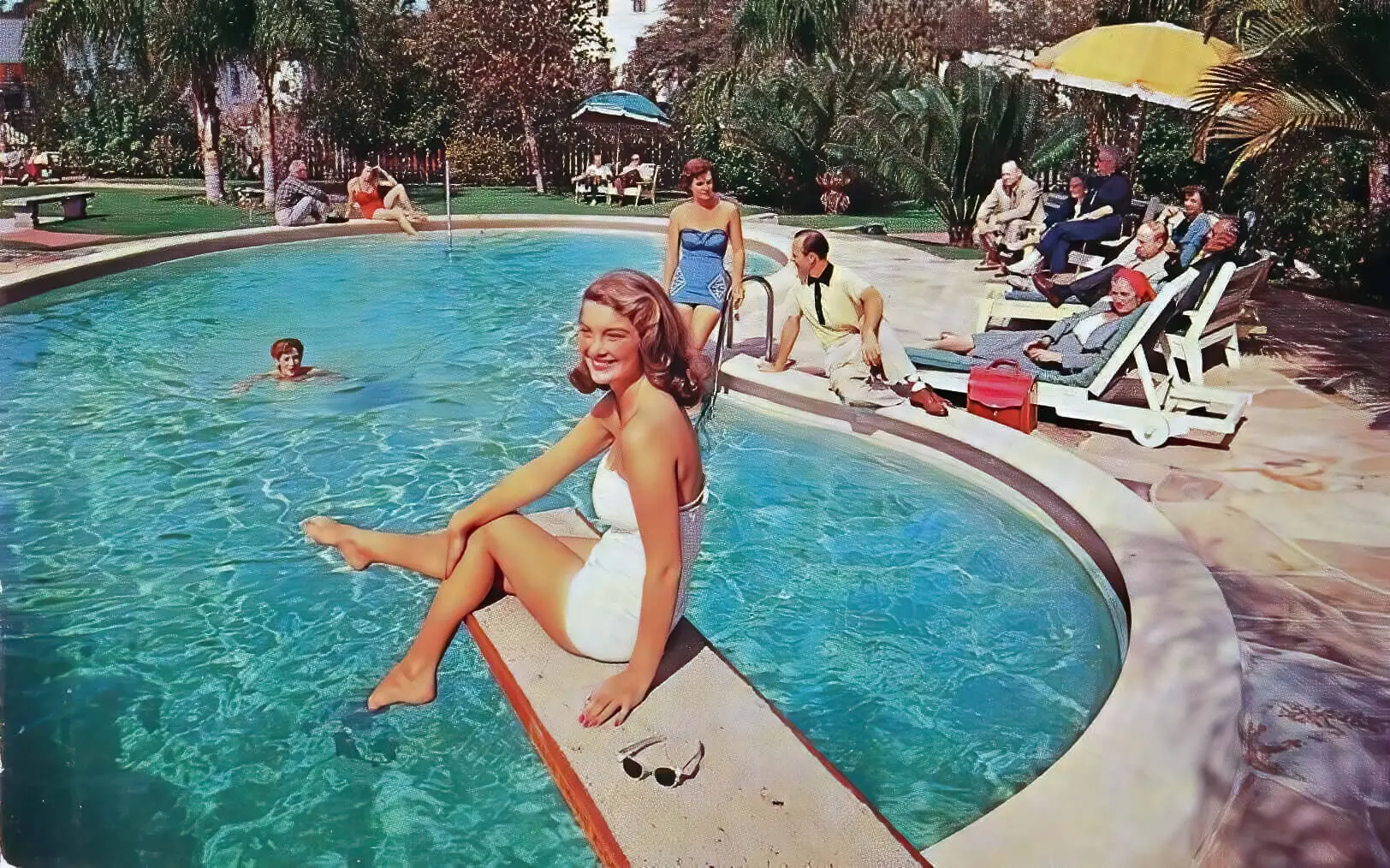 When it comes to food, besides the all-time favourite BBQ, try incorporating some candy canes and other gummies that are reminiscent of the era you're trying to recreate. Colourful drinks with quirky straws will also add to the overall aesthetic. How about freezing some fruits into ice cubes and adding them to drinks to retain the colour and flavour?
Although everyone will put their best foot forward in stylish swimwear, try to stick to the retro swimming pool party themes. Pick a dress code like neon colours, gingham prints, oversized scrunchies, etc. Think about all the cute Instagram posts that will follow #OOTDgoals!
Speaking of which, if you've got some extra cash to spare, invest in a Polaroid camera. There are tons of budget-friendly options to choose from. Not only will you be able to capture the fun moments, but it'll also act as a cute decor piece in a retro-themed party.
Lastly, don't forget to blast some groovy tunes of the era. If you want to party till the sun sets, adding a sparkly disco ball and wearing accessories made of glow sticks will be the perfect way to light up the night sky!
2. All-White Party
Who says all-white parties are only for celebrities? All of us have the right to enjoy an elegant and posh get-together. Plus, an all-white outfit is the easiest to pull together at the last minute!
As the name suggests, keep the decor all-white. Bring out white bedsheets, tablecloths, mats, curtains, and more. Add some texture with flower bouquets, balloons, macramé hangers, and beach balls to ensure the monochrome setup doesn't look too bland. Or you can throw in gold and silver streamers, sequins, or glitter to break the monotony.
By now, you may have guessed- the food should also be white! For drinks, you can opt for white wine, Ginger Ale, or plain old lemonade… anything that can pass as white. Additionally, sandwiches, white sauce pasta, sushi, and a meat and cheese platter are popular 'white' food options.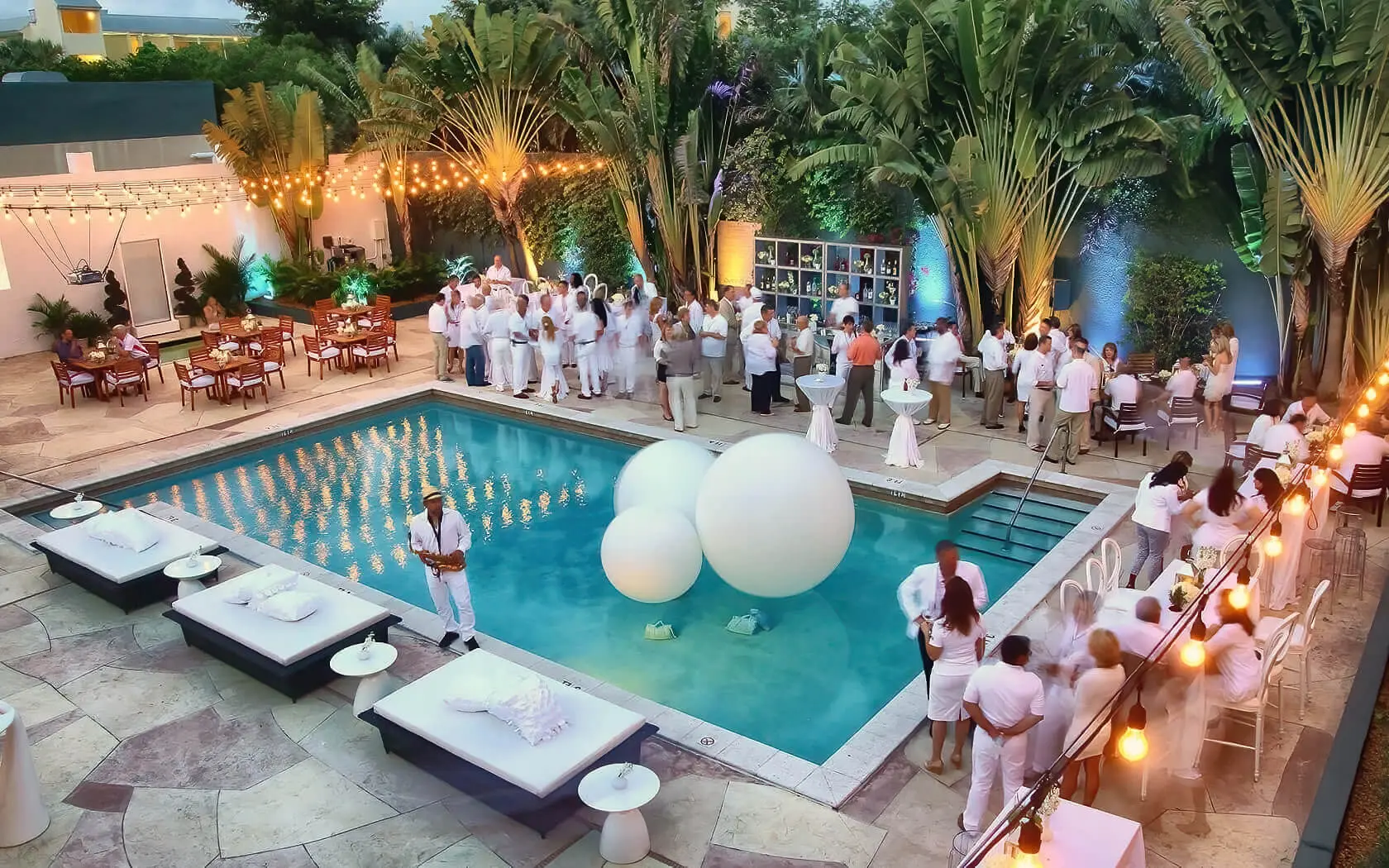 On the other hand, you get more flexibility on desserts as you can top them with whipped cream or dip them in white chocolate. Deliciousness guaranteed!
Make sure you use white serving pieces too. While a white dish served on a white plate may not look very appetising, it's a small compromise for the aesthetic!
3. Casino Royale
Throw a larger-than-life pool party for those who live for all things fancy!
We suggest organising this pool party at night and limiting the guest list to adults only. The darkness of night will act as the perfect backdrop for some flashy lights and chandeliers because nothing screams Vegas than some over-the-top decor and outfits. Neon signs and fake palm trees adorned with balloons will further enhance the vibe.
Speaking of outfits, sticking to a dress code may be challenging because nothing matches the casino vibe as much as a classy tux and a cocktail dress. And no one wants to wear that to a pool party. So, how about creating a photo booth with accessories like wigs, bow ties, and some placards with quirky quotes? After all, if you didn't gram it, did it even happen?
Another crazy idea would be to dress up your pets (if any) with pool floats or DIY outfits, which can double up as Halloween costumes later!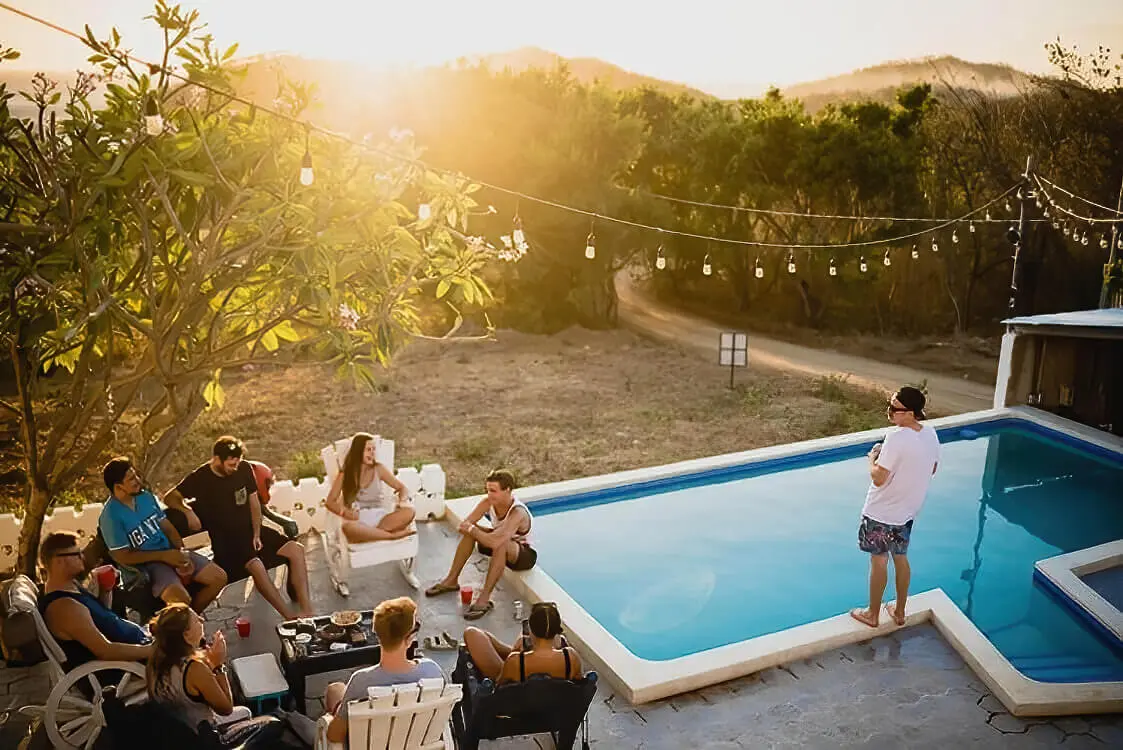 Moving on, keep the decor as bold and loud as possible. Think of lots of reds and golds with a dash of black and white. If the budget allows, splurge on some casino-inspired decor like dice-shaped seating and pool or poker tables.
Some cocktails and finger foods will make the perfect refreshments for your Las Vegas pool party. You can even hire a catering service and have the waiters or waitresses dress up according to the pool party theme.
Lastly, a light-up dance floor or a movie screening in the backyard can add that extra oomph to your party!
4. Pack A Picnic By The Pool
Who says you should go to the park for a picnic when you can create the vibe right at home? That too with your entire family and friends. Also, this theme calls for the most effortless food prep, so you'll get to host the hottest pool party minus the effort.
For instance, simple sandwiches, chips, vegetable and cheese-loaded nachos, fresh fruits, and anything that's fuss-free and bite-sized make the perfect picnic snacks. The food items should be easy to prepare and eat and should not weigh you down. After all, you'd want to dip into the pool again.
Drinks can also be simple fruit juices, how you'd like in a picnic. But if you want a kick, you can opt for a fruit punch with some soda and vodka. Just make sure to include foods and drinks that will cater to guests of all ages.
A pro tip would be to buy multiple picnic baskets to keep all the food and distribute them among the guests. Don't worry; most nearby thrift stores should have a wide variety of such baskets at affordable rates. And don't forget some colourful cups and tissues.
Stick to comfy cushions, carpets, and blankets for a cozy picnic spread for decor. We suggest asking your musician friends to carry their guitar or ukulele for an outdoor jam. You can even add a mini bookshelf for the bibliophiles to steal a few reads between their swimming sessions!
A perfect way to end the party would be to light a campfire and roast some marshmallows. The kids are going to love it!
Time To Throw Your Fun Pool Party Theme!
So, those were the top four unique pool party ideas for your home. Although some of these ideas may require spending, some planning and creativity go a long way in organising the best pool party ideas in the neighbourhood.
However, if you're tight on budget, we suggest sticking to a simple colour scheme that's easier to recreate with things you have at home. And instead of ordering food, whip up some quick snacks with whatever is in the fridge. Regarding the menu, pool parties are quite forgiving since no one wants to hog on a heavy meal before swimming.
And that's all we've got for you today. Let us know your favourite pool theme idea in the comment section below, and we'll be back with more exciting guides.
Until then, party hard!