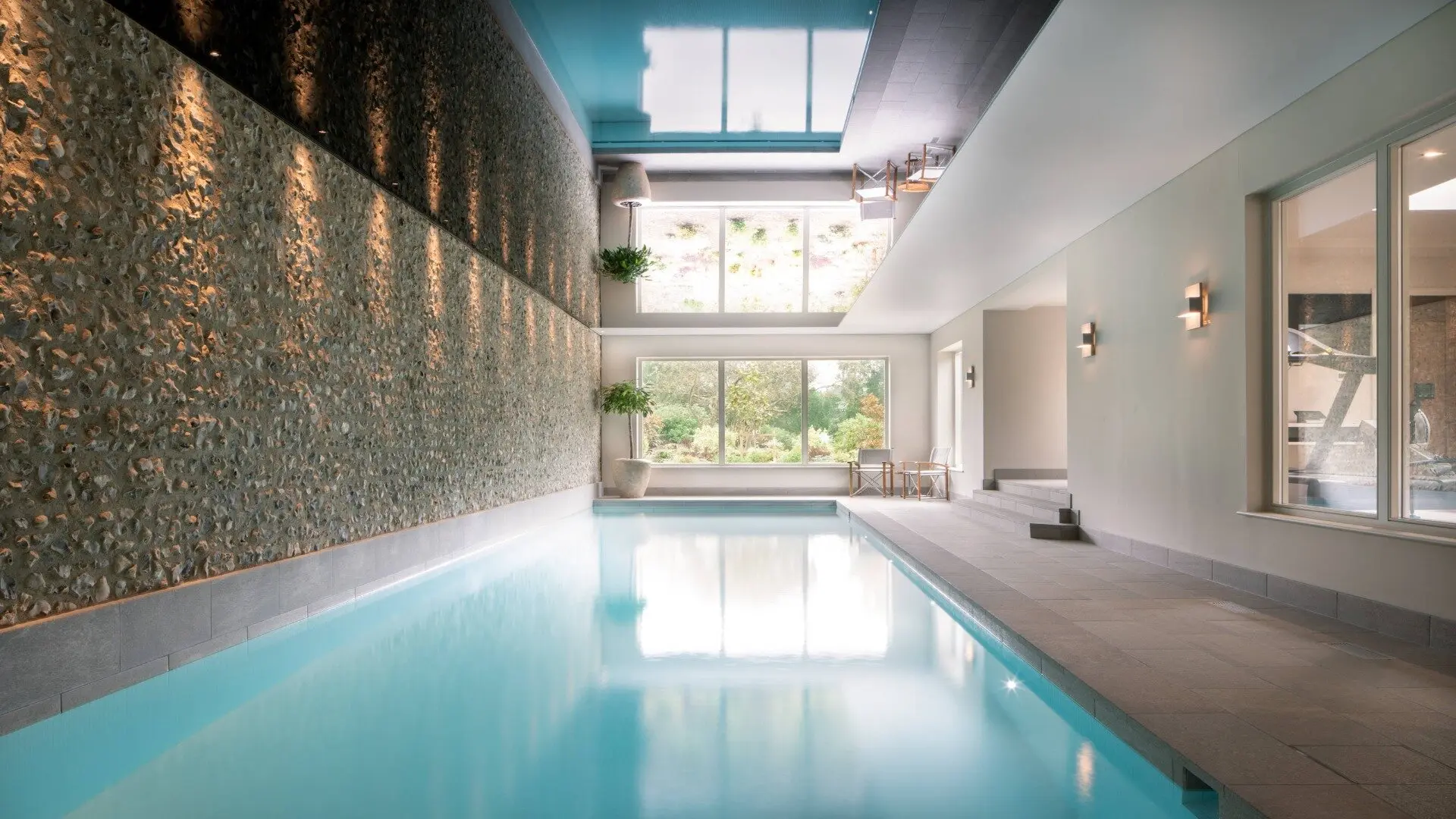 As indoor pool designs continue to become more innovative and luxurious, it's no wonder many homeowners are investing. After all, who wouldn't want their own tranquil aquatic sanctuary tucked away in their home? Whether for serious laps, family fun, or just relaxing in the hydromassage, an indoor pool is pleasurable all year.
Unlike outdoor pools that are strictly seasonal, an indoor version means you can take a refreshing dip no matter what the weather is doing outside. Wake up to a morning swim or unwind after work without battling Mother Nature. And with privacy and security from being enclosed within your home, you don't need to worry about unwanted guests dipping in unexpectedly!
Having a pool indoors gives you much more flexibility to host guests whenever the mood strikes. Invite friends and family for an impromptu pool party without the stress of setting up and taking down temporary equipment. You can even transform the poolscape into a gorgeous entertaining space for activities like yoga or cocktail hours.
So, if you've been itching to take your swimming and leisure activities to the next level,consider making a splash with an indoor pool. It's an investment that keeps giving all year long thanks to health, happiness and entertainment in a private, luxurious oasis in your backyard. Literally!
Top 5 Indoor Pool Ideas
1. Infinity Edge Pools
Infinity edge pools are a distinctive indoor pool design that creates the illusion of being outdoors, even within the comfort of one's home. Through meticulous construction, the pool edge is subtly crafted to blend seamlessly into the surrounding landscape visible just beyond large windows or glass walls. This helps disguise the architectural boundary between indoors and outdoors, fooling the eye into perceiving the water as extending endlessly into the external environment.
The illusion is further strengthened through the use of floor-to-ceiling transparent barriers that maximise natural light reflection off the surface of the water. During the day, the glass captures panoramic views of the outdoors to be framed by the "disappearing" pool boundaries. At dawn and dusk, darker tinted glass aids the vanishing trick even more.
Underwater lighting solutions are also often incorporated, allowing the illusion to persist clearly after dark through carefully washed walls and borders. Infinity edge designs offer a highly immersive indoor swimming experience that transports the mind seamlessly beyond the confines of interior walls. Homeowners can enjoy relaxation and recreation with all the perceived benefits of an outdoor pool, regardless of weather conditions.
2. Nature-Inspired Pools
Nature-inspired indoor pool designs aim to recreate the lush ambience and sensory experiences of swimming outdoors through strategic materials, landscaping, and integrated water features. Vibrant greenery, like living walls, showcases climbing vines indoors, while underwater stone planters nurture aquatic plants below the surface. Together, they transport the eyes with liveliness often missing from sterile indoor environments.
Additional realistic details pull homeowners more fully into the illusion, such as flagstone walkways winding among trickling fountains and shallow rocky edges ideal for lounging feet.
Fibre optics mimicking twinkling night skies or projected nature scenes provide an immersive screen after hours. The carefully crafted natural elements truly transport the mind, stimulating the senses as if one were still enjoying the private outdoor serenity of a backyard pool. Complete with nature's sights, sounds and tactile surfaces, these indoor oasis spaces allow reaping the therapeutic benefits of swimming amidst greenery - even while out of reach of actual weather changes beyond the walls.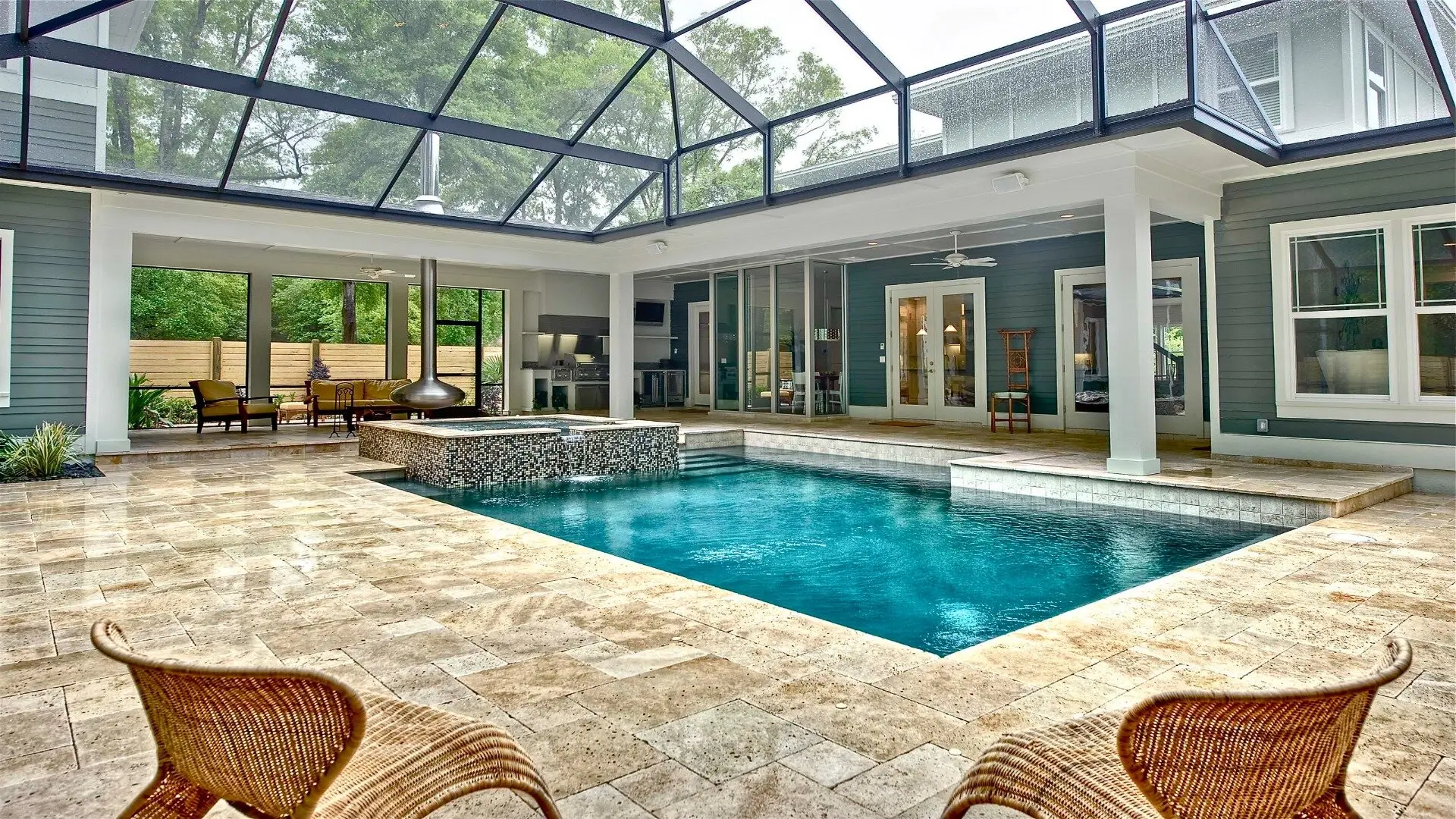 3. Multi-Functional Pool Spaces
Versatile indoor pool designs aim to maximise the use of the space well beyond simple swimming and recreation. Through strategic zoning and flexible multi-purpose areas, the space can easily be transformed to suit various homeowner needs and activities. Retractable walls seamlessly divide areas for private exercise classes, spa treatments or tranquil lounging. Meanwhile, integrated amenities like heated surfaces, fully stocked bars and open entertainment zones ensure a smooth flow between activities poolside.
Control systems take convenience and customisation to the next level, allowing easy adjustments to lighting, temperature, flow settings or jet intensity from poolside devices or apps. Separate zones can accommodate lap swimming, water aerobics or family fun all simultaneously.
The sleek transitions between such multi-functional areas turn the pool into a true hub for fitness, fun, and functions. Homeowners delight in the spacious freedom to enjoy their various favourite aquatic pastimes or host large gatherings without limitation in this dynamic indoor oasis.
4. Sleek Linear Designs
Sleek linear indoor pool designs make the most of narrow or elongated footprints within the home. The streamlined shape is accentuated using wall treatments that meet the water in perfectly parallel lines, highlighting the lengthy form from every angle. Glass barriers appear as seamless extensions of the mirrored surface below when not in use. Darker hues on walls and floors further emphasise perceived depth along the extended visual plane.
Elongated pools promote a sense of open flow throughout their considerable length. High windows frame dancing reflections on the surface day or night below. Underwater lighting washes the walls to maintain the illusion of floating after dusk. Furniture can nestle comfortably anywhere without setbacks or disrupting sight lines.
The consistent and minimalist aesthetic invites leisurely soaking from end to end along the sophisticated linear dimension. Whatever the activity, this modern style makes the most of the available interior space.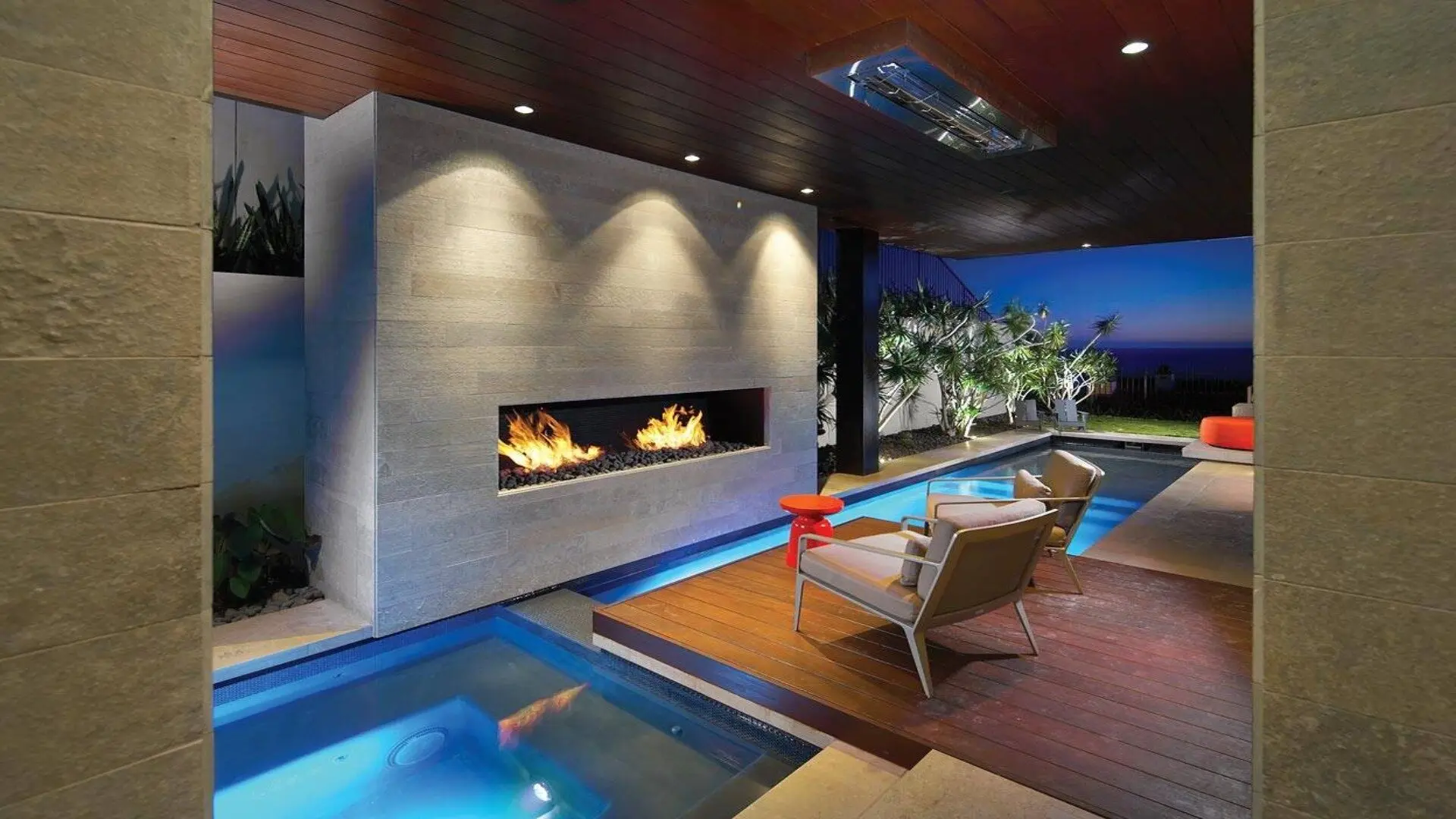 5. Minimalist Material Palettes
Minimalist interior pool designs rely on meticulously selected natural materials to let the architecture and water take centre stage visually. Subtle neutrals like honed limestone or concrete are used for floors, seamlessly absorbing sound while complementing plain surrounding hues. Darkly tinted glass barriers appear as floating sheets dissolving the pool perimeter. Weathered metals impart luxury through muted undertones that don't overwhelm.
Finishes add tactile layers without clashing visually. Oiled wood brings warmth, while plush fabrics nestle discreetly. Recessed lighting washes surfaces gently to highlight reflections at night. Scattered pebbles or grass-like elements accent drainage pathways without interrupting flow.
Through such minimal adornment, these tranquil oasis spaces induce relaxation. Understated elegance allows the simplicity of light, water and forms to express themselves freely against a restrained scenic backdrop. Attention to detail with restrained materials creates a seamless indoor-outdoor experience.
Modern Indoor Pool Design Trends
Indoor pools are growing popular for homeowners to enjoy luxurious water recreation even when weather conditions aren't ideal. The five top design trends - infinity edges, nature inspiration, multi-functionality, sleek linear shapes and minimalist materials - showcase how today's indoor pool spaces are beautiful works of art and functional amenities.
Whether you are drawn to the illusion of paradise or desire maximum use of space, there are versatile solutions for indoor pools tailored to modern lifestyles and architectural needs. By incorporating on-trend elements like living walls, transformable zones and streamlined silhouettes, homeowners can curate private oases ideal for wellness, fun and entertaining indoors.
If you want to bring the latest indoor pool trends to your home, contact the design experts at The Pool Co in Sydney. Their team of architects and pool builders can help conceptualise, design and install a captivating modern indoor pool sure to enhance your home and lifestyle for years to come.