A swimming pool makes the difference between owning an attractive property and your house losing value.
It's all about maintenance, and one of the critical factors for regular maintenance is installing pool lights. This isn't some fancy lighting, so don't consider it an expenditure. Instead, pool lights are an investment that improves the ambience of your home.
When the lights come on after dark, it radiates around the pool's circumference, making it the perfect place to relax. Your property remains well-lit for protection against intruders, and you won't have to stumble around in the dark, making it safe.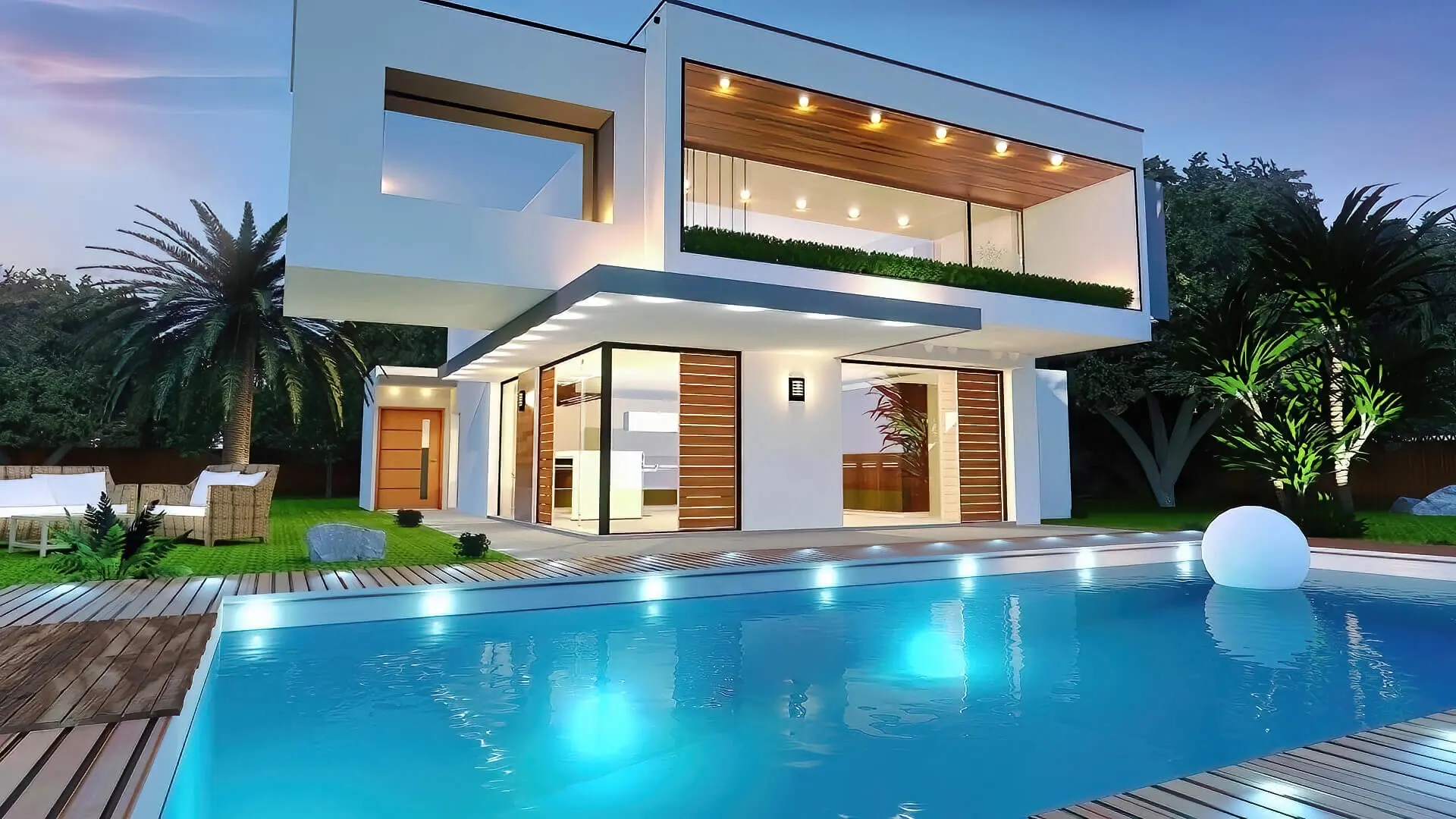 In today's guide, we'll discuss different types of pool lights and their stand-out features. If you have a creative side, you'll love experimenting with pool lights, available in numerous shapes, colours, and sizes.
Are you ready to make a splash? Let's dive in!
Standard Pool Lights
Before we look at different pool lighting options, you'll see that we've divided the guide into parts. This section will look at standard pool lights, followed by a discussion on underwater lighting, LED floodlights, and pool garden lighting. So let's begin.
1. Incandescent Lights
There was a time when incandescent lights were the top choice for customers, owing to their affordable price and glorious golden hue. By heating a filament, these lights produce a warm, yellow glow to brighten the area around your pool. They create the perfect setting for spending time with family and relaxing by the poolside.
Although modern CFL lights have replaced incandescent bulbs, they retain their attractiveness. The water looks green when the lights come on, with the yellow and blue colours combining to form a striking combination.
Nowadays, it's slightly more expensive to maintain incandescent lights as they need replacement twice a year. Unless you have a healthy budget and are ready to undertake the arduous maintenance task, it would be best to check out other options.
2. LED Pool Lights
It isn't easy to look past LED lights, whether surface-level or underwater lighting. These lights are trendy and work for both in-ground and above-ground pools. Furthermore, they have incredible power but use only a fraction of their energy compared to other lights.
Thanks to their long-lasting performance, you won't need to replace LED pool lights until after several years. To give you an idea, the average LED lasts over 50,000 hours, making them one of the most efficient lighting options.
Plus, they are available in numerous colour schemes and predefined programs, making your pool look spectacular. You can also purchase white LED pool lights at affordable prices, proving useful for multiple installations.
3. Halogen Lights
Halogen lights are highly sought-after, proving more powerful than incandescent bulbs. They use 20% less energy, but that doesn't affect the output, so rest assured; that your pool area will be well-lit throughout the night.
These lights use filament heating technology, producing a yellow glow similar to incandescent lights. So, how are they different? The answer lies in the name because traditional halogen lights have halogen gas inside their bulbs. This gas allows the pool light to operate at higher temperatures inside a much smaller area, ideal for poolside lighting.
Halogens have lost their charm over the years because of higher costs and shorter lifespans. But with help from the latest technology, they are slowly making a comeback in a different form, which we'll discuss next.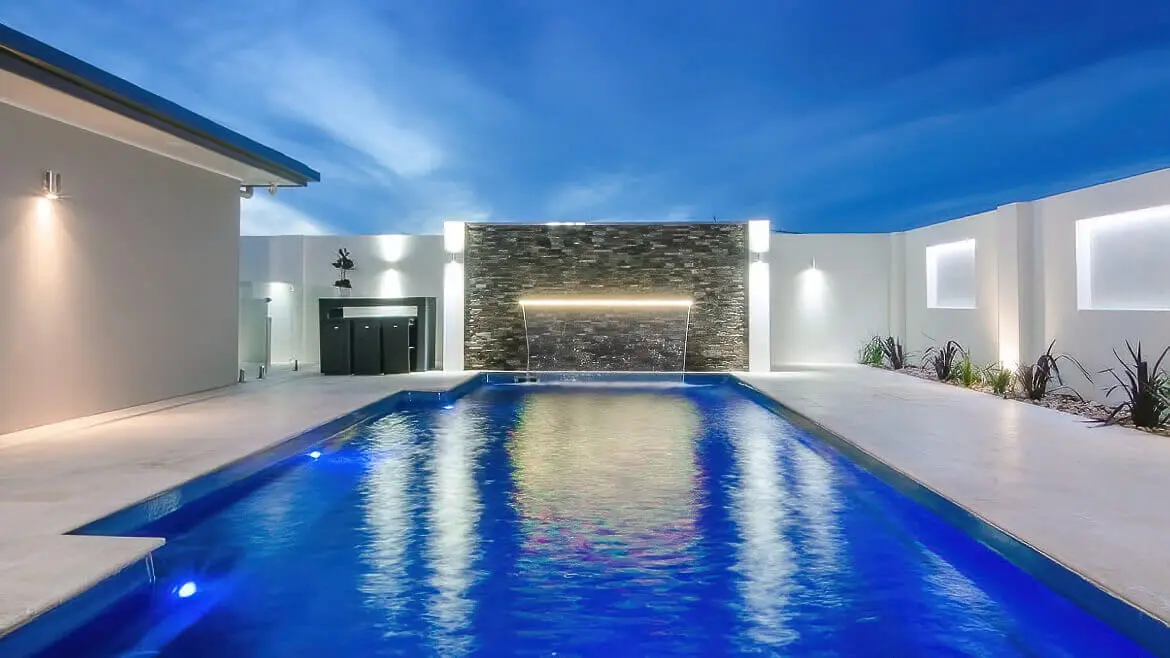 Underwater Lighting
1. Flush-Mounted Underwater LEDs
What does flush mounted mean? Well, it's an installation where the lights don't extend beyond the pool's perimeter. This elegant lighting method illuminates the water from below rather than above. Plus, they include energy-efficient LED lights.
The disadvantage is that these lights are expensive and require much effort. You need to contact a professional pool service skilled at installing underwater LED lights to protect the pool from damage.
2. Flush-Mounted Underwater Halogen Pool Lights
Another fantastic flush-mounted option is underwater halogens, which are extremely powerful. You need not purchase too many lights since a few of these tiny bulbs are sufficient for lighting the pool.
As mentioned, flush-mounted installation charges are steep, so you need to plan accordingly. An advantage is that halogens are cheaper than underwater LEDs, and the bulbs don't cost much. However, they require regular maintenance; unless you're sure, it will help to choose a durable option.
3. Surface-Mounted Underwater LEDs
Compared to flush-mounted LEDs, these lights prove more user-friendly with a change in installation. Surface-mounted lights can be fitted without hassle, making them incredibly popular among pool owners.
These lights tend to stick out slightly, having positive and negative aspects. The positive attribute is that it's possible to retrofit the lights and replace them if they malfunction. On the other hand, they break easily, especially if you have children jumping into the poor or using these lights for leverage to climb out.
It's essential to exercise caution if you wish to get lasting performance from surface-mounted LEDs.
4. Surface-Mounted Underwater Halogen Lights
If you've decided to install halogen lights, we suggest selecting surface-mounted options. You will benefit from the powerful halogen lighting, ensuring that the pool light bulbs spread to all pool parts.
The only thing you need to worry about is their longevity. Since the light fixture sticks outwards from the pool surface, it's easy to break them while cleaning or changing the pool water. Apart from that, their attractive design and cost-effective prices work in your favour, allowing you to experiment with pool decoration.
It creates the perfect setting for hosting family events and organizing pool parties.
LED Floodlights
LEDs are also available as floodlights, a big, powerful, and energy-efficient lighting option. Placing them near the pool is impossible because of their size, so you must choose a vantage point. Long story short, these lights look great around the pool and help illuminate large areas.
You don't need too many floodlights, as the vibrant colour patterns create the perfect ambience for different settings. And, thanks to their pre-installed programs, it's possible to operate the lights as per your requirements.
Instead of focusing solely on the pool, you can light up the surrounding trees and shine them off the pool wall for the desired effect.
Pool Garden Lighting
Pool garden lights are more miniature than floodlights and can't illuminate large expanses of the property. But they are equally effective and can also be used as feature lighting.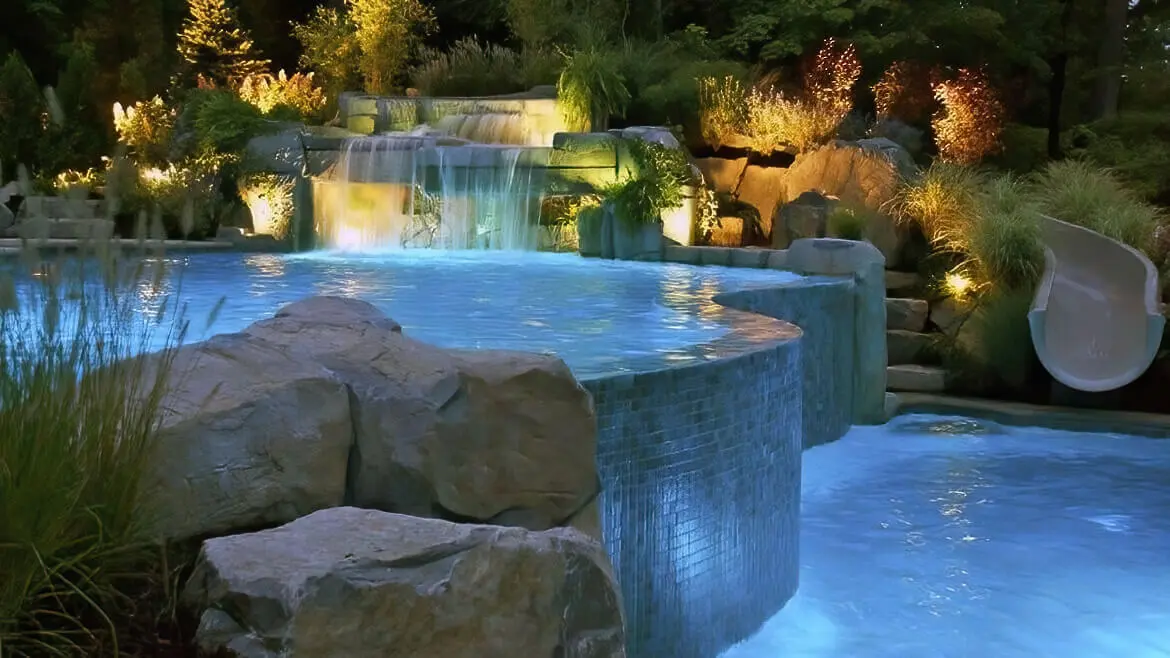 After consulting a professional service, you can install them strategically around the pool. These colourful lights create intricate patterns and shapes, brightening various aspects of the pool.
Plus, there's less chance of them breaking, delivering longevity, and providing value for money.
Breakdown of Swimming Pool Lights
Are you ready to upgrade the existing pool lights? Whether you have a chlorine or saltwater pool, we've tried to cover the topic comprehensively, and hopefully, you've got a better understanding of pool lights.
Instead of choosing expensive landscaping projects, choosing affordable pool lights for redecorating your swimming pools and home would be best. They are fun, attractive, and extremely classy, meaning you can't help but go for an evening dip in the pool. The team at The Pool Co can help design the perfect pool lighting for your space. Make sure you reach out to us for a consultation today!
See you soon, bye!