A swimming pool is nothing short of a homeowner's pride!
Naturally, a lot of effort goes into building and maintaining a pool. You will find various pool designs based on the space, requirements, and budgets. And like the different swimming pool types, pool shades also differ in their structure and layout.
Considering that such shades do more than just shield the sun, it's important to choose one that complements your pool in the best possible way. So today, we've compiled a list of the eight best pool shade ideas for varied requirements.
Now, let's get going!
1. Conic Shade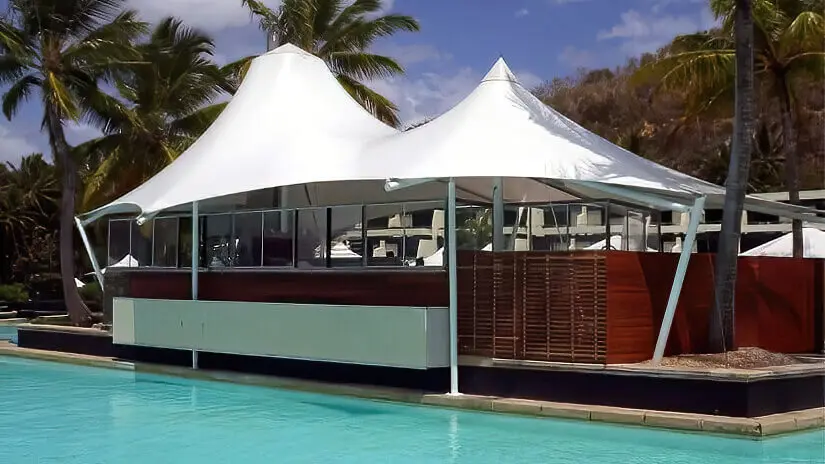 We start off the list with something traditional and fundamental. A conic shade structure is one of the most practical and handy ways to build shade for your pool. It consists of four support bars with a cone-shaped fabric canopy (hence the name). The canopy size depends on the size of the pool area you want to shade.
In addition to resisting Sydney's scorching heat, conic shades also shield wind and rain. However, in that case, you may want to select a tensile fabric that is less prone to damage. Likewise, you can opt for a colour that matches the outdoor setup.
2. Pool Umbrellas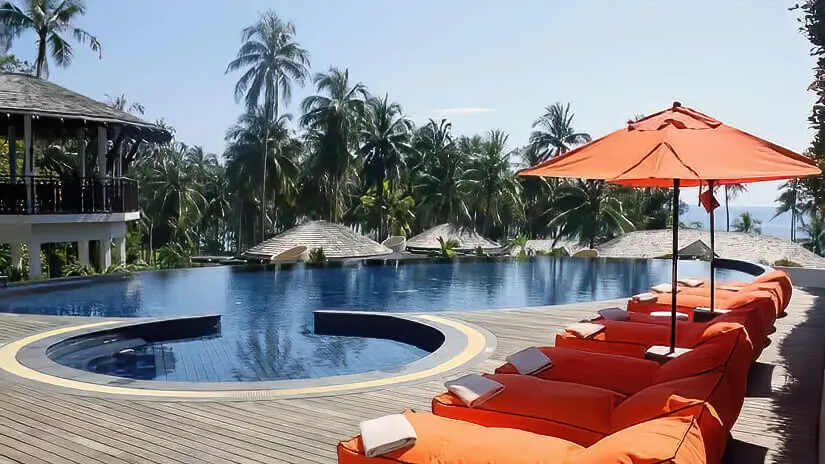 Umbrellas have been trusted to shade patios, yards, and even swimming pools for a long time now. Moreover, a range of models come with features like adjustable canopy angle, height, and more. And since they aren't fixed into the ground, you can conveniently move them around as and when required.
In the case of bigger pools, you can either go for a larger canopy or place multiple umbrellas side-by-side to create a continuous shade. Again, there's no dearth of colours or patterns to choose from.
3. Cantilevers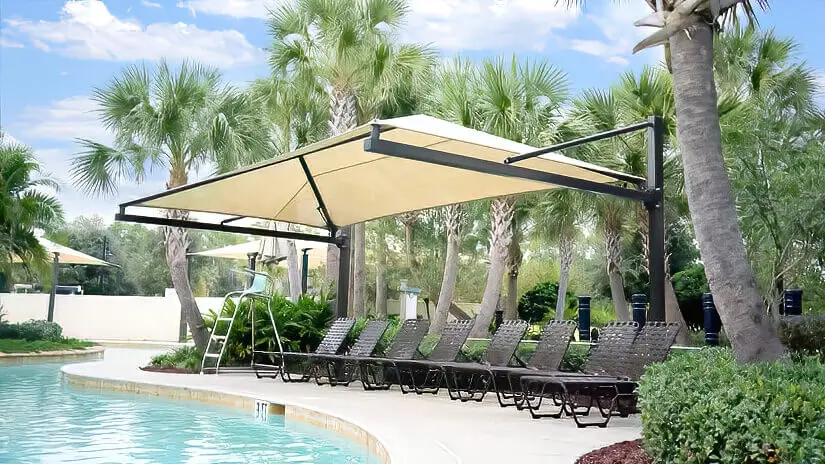 A cantilever is a type of canopy, which provides shade to the poolside and is a part of the pool itself. But unlike pool conic shades, the support posts are driven into the ground. Hence, you have to decide on the best placement before installing it.
4. Shade Sails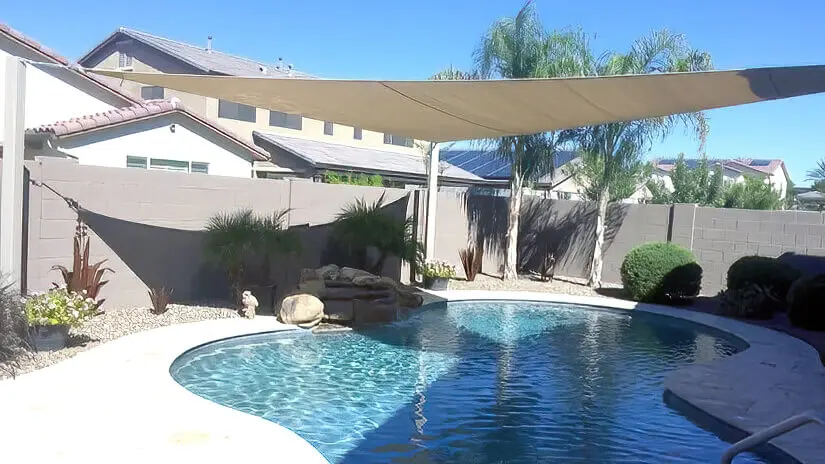 If you're looking for a shade that's effective and adds a touch of style to your pool, then shade sails might just fit your needs. These use the basic structure of a ship's sail and consist of a flexible canopy anchored between multiple anchor points, based on the area to be covered.
Shade sails offer a distinct charm of modernity to the area, and the best thing about them is that they can be placed at various angles. Like cantilevers, these shades are installed permanently but cost significantly less and are easy to set up.
5. Retractable Fabric Shade Canopy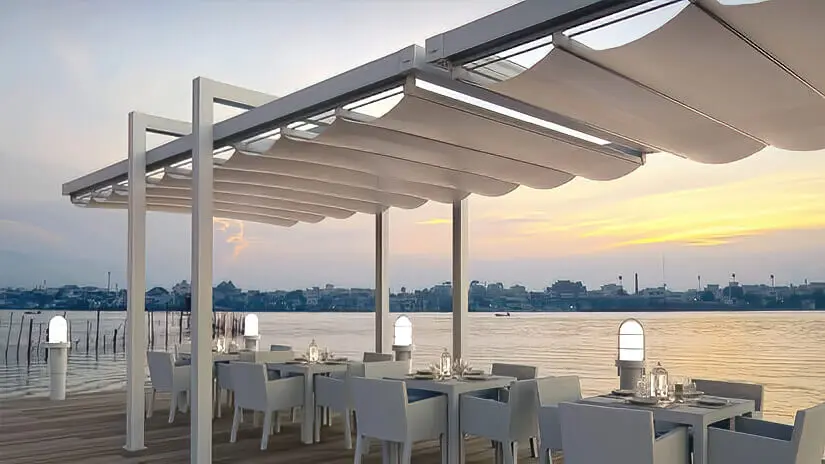 Retractable fabric shade canopies are a reliable option to transform your outdoor pool into an indoor variant. If you have a small or medium-sized pool, these shades might as well easily cover the entire pool. Multiple support beams hold these canopies in place, rendering a classy look to the overall outdoor setup.
But undoubtedly, its most significant advantage is the retractable canopy, which allows you to remove the shade when not required. And just like conic shades, these provide adequate resistance against wind and rain.
6. Free Standing Canopies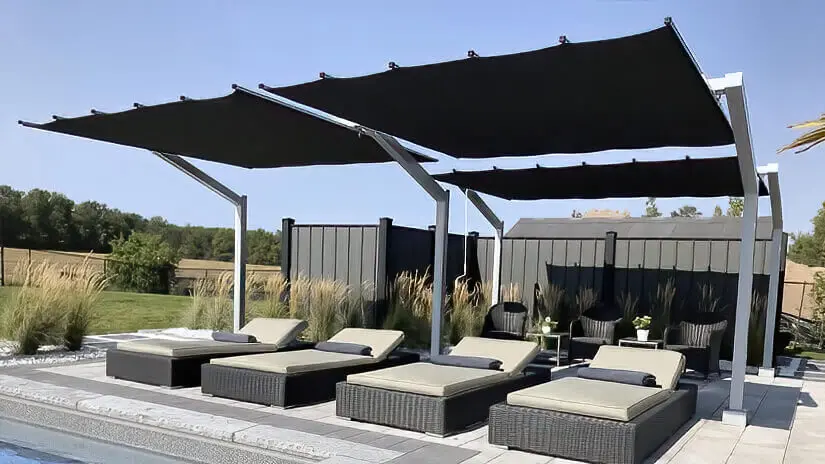 A downsized version of retractable fabric shade canopies is the free-standing canopy. Generally used to shade a specific part of the pool, these use a commercial-grade aluminium frame consisting of two support beams that hold the canopy. You can retract it to either side, creating the desired canopy angle.
7. Remote Operated Canopies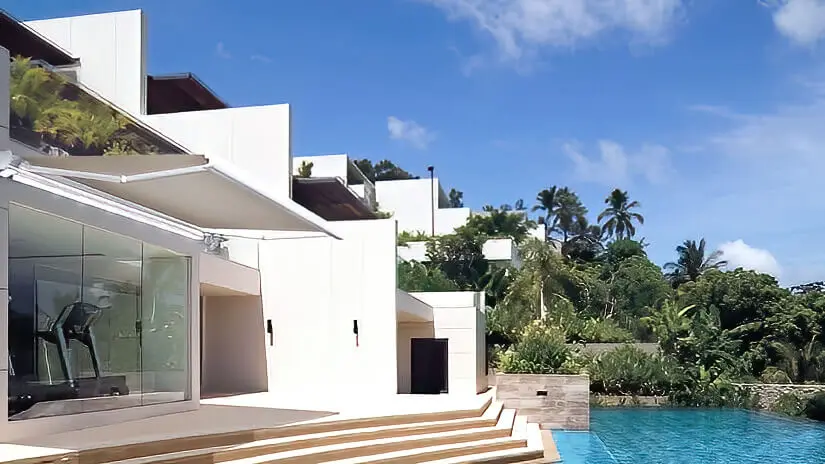 With an automatic mechanism, remote-operated canopies will undoubtedly please the tech-freak in you. Furthermore, you don't have to retract the shade all the way — it can be stopped at any point to create a partial shade. However, be prepared to shell out more money!
8. Pergolas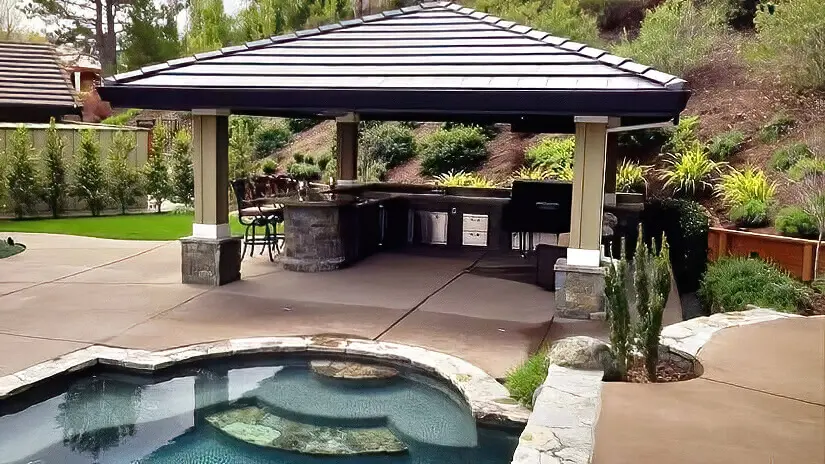 Having a pergola in your backyard is like having the ultimate blend of modernity and tradition! These shade structures utilize a set of vertical posts or pillars, which support cross-beams and a robust open lattice. You can place them anywhere you like, from the poolside to the pool patio or even in the garden.
Different Setup Ideas For Pergolas
Beyond that, don't shy away from exploring your creative side in curating different setups. In the following points, we discuss some ways of doing so.
Bright It Up
A white pergola supported by tapered columns and accentuated with decorative cut ends will stand out. You can also add a retractable canopy and side shades to control the light and air under it.
Colour Coordinate
Ditching contrast, opt for a structure that matches the colour scheme of your pool. While the beams may be white (like the pool tiles), the canopy may complement the blue water below.
Utilize Soft Curves
Custom-built pergolas can be designed to mimic the circular inlay of your concrete patio. The soft shade lines create a sense of peace and tranquillity on those lazy afternoons.
Streamlined Pergola
A long stretch of white pergola overlooking your deck chairs will make for the perfect relaxing environment.
Half And Half
While most shades are placed away from the pool, you may place the pergola on one edge of the pool, overlapping it a bit. This way, you can relax under the shade without having to get out of the pool.
Final Thoughts
With so many pool landscape ideas at your disposal, taking a pick shouldn't be that challenging. But in doing so, always make your budget a priority. While small ups and downs are welcome, you ideally wouldn't want to stretch it too much.
That's why we highly recommend choosing a professional service that can customize your preferred structure to suit your needs. This way, you don't spend more unnecessarily for features that virtually add no value.
With this, it's time for us to say goodbye. But before that, here's a quick pro-tip: design a blend of pergola and canopies to create the ultimate relaxing environment beside your pool.
See you another day!