Budget constraints, topographical challenges, and limited space often make installing traditional inground swimming pools in your backyard impractical.
Don't rule out the possibility of having an aesthetically appealing yard. An above-ground swimming pool can exude elegance and beauty, especially when complemented by impeccable lighting, landscaping, and decorative accents.
However, designers often fail to consider this factor. To assist you in creating your desired poolside ambience, we present an extensive guide featuring exceptional above-ground pool landscaping ideas.
To better understand, we've divided the article into three sections dealing with the best above-ground pool ideas, lighting, and fencing ideas.
So, without further ado, let's get going.
Best Above-Ground Pool Ideas
1. The Inground Feel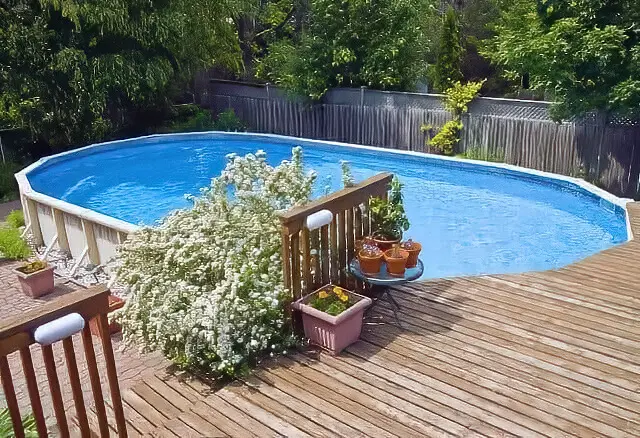 By integrating an above-ground pool into your raised deck, you can effortlessly achieve the luxurious atmosphere of an inground pool. It can be done with any pool style, and you get plenty of space to sit back and relax.
2. Decking Details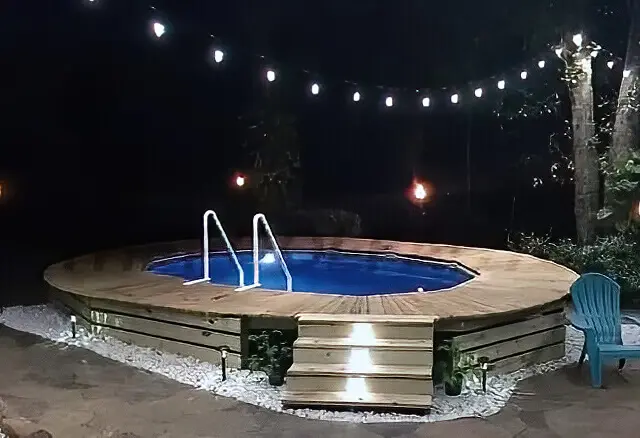 Building a deck around your pool is a great way to create a space to lounge in while it naturally blends into the surrounding landscape. You can also complete the aesthetic appearance of the entertainment spot with the help of lighting and poolside patios.
3. Best Of Both Worlds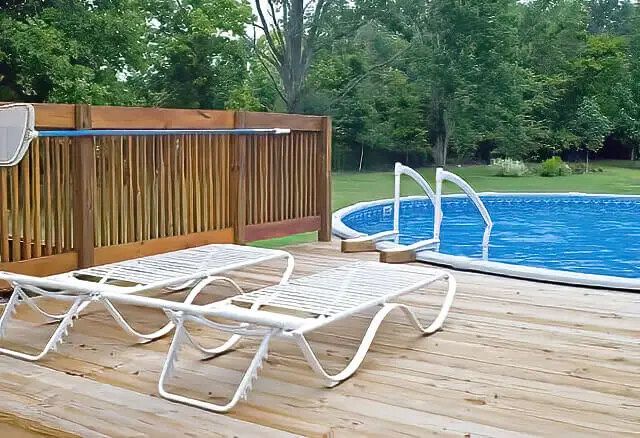 Installing a pool close to your deck helps provide an inground pool feel without the installation costs. And with suitable plants and greenery on your deck and yard, you'll get the perfect place to rest and relax.
4. Brick Walkways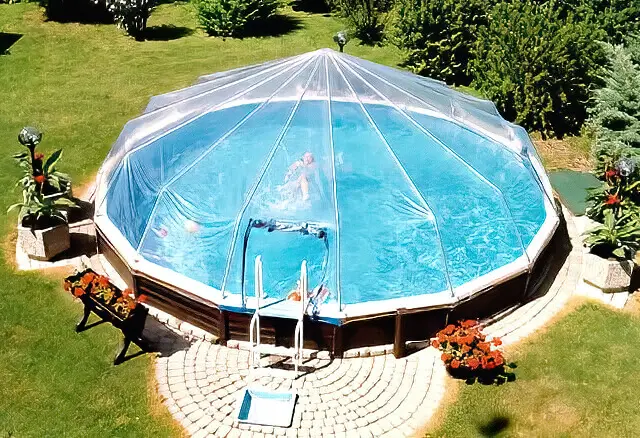 Enhance the visual appeal of your yard by incorporating an above-ground swimming pool into the landscape design, accompanied by tasteful brick walkways and spacious lounging areas. You can add bright flowers and a few oversized planters to complete the look.
5. The Hillside Advantage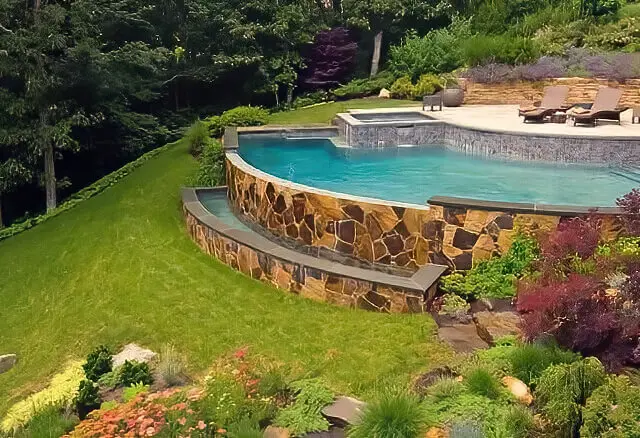 Take advantage of the landscape of the area for your above-ground pool. Utilising the hillside view is an innovative technique if you plan on putting foresight into your landscape design.
6. Nature Inspired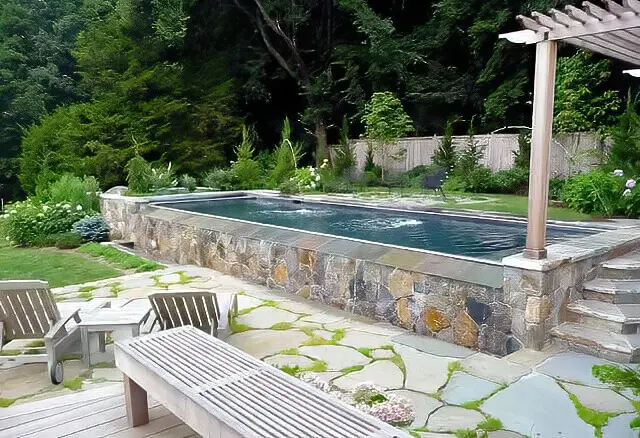 Lately, designing a raised pool to resemble a natural pond has been a trend, but this does come with a hefty price tag. However, natural stones, neutral colours, and fountains can do the trick for you by enhancing the aesthetic appeal of the poolside.
7. Outdoor Living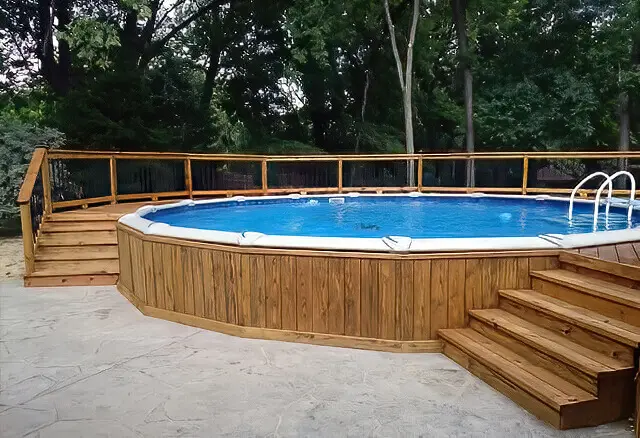 Transform your backyard into a private oasis where you can unwind and entertain, similar to a country club experience. Utilise the available space and extend your living area to include a pool within your deck design.
8. Reflecting Pools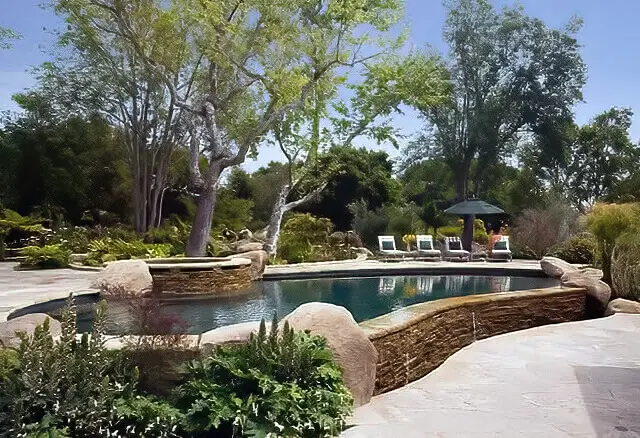 Discover the captivating 'Reflecting Pools' design inspired by nature. Integrating the pool into the overall landscape transforms your above-ground pool into a multifunctional element that seamlessly harmonises with its surroundings.
9. Get Your Swim On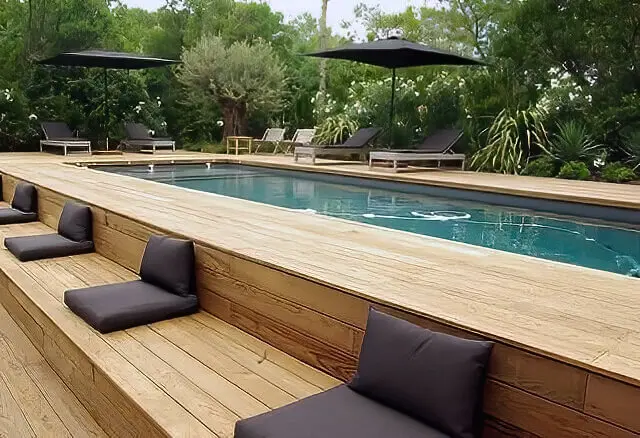 Lap pools can be fun to incorporate into your home gym, but their long rectangular shape fails to blend in with the overall decor of the space. Instead, you can decide to make it a part of your outdoor entertainment area for friends and family.
10. Rustic Resources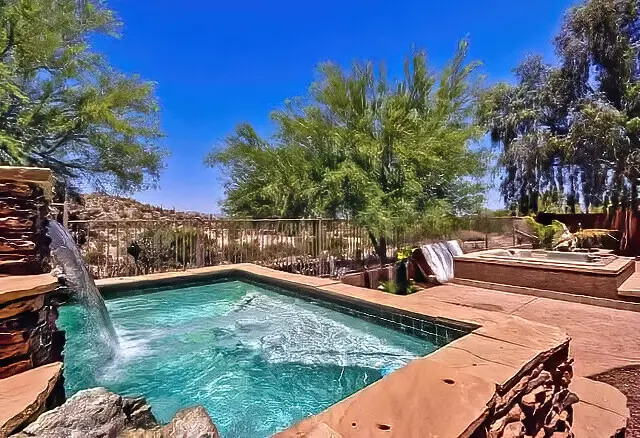 Have you tried blending natural hues and tones with your pool design? You should try this technique if you wish to create a rustic look. Private pools such as these appear as if they've risen from the surrounding landscape to provide summer relief.
11. Privacy Walls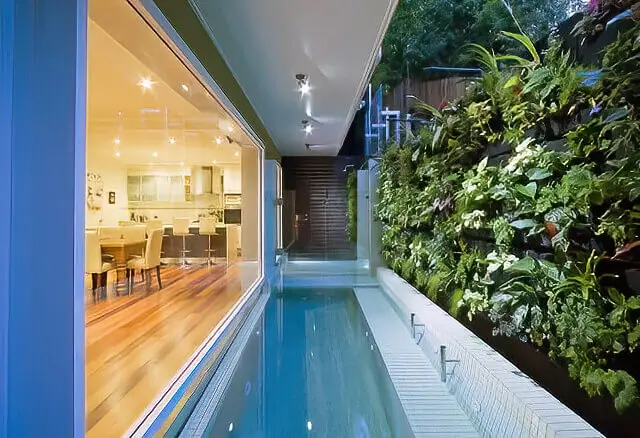 If you're convinced that incorporating a lap pool is the way to go, try making it a part of your backyard boundary as an extension of your privacy wall. The concrete design will create a continuation of the property line while providing a personal space for you to relax and work out.
12. Welcoming Walkway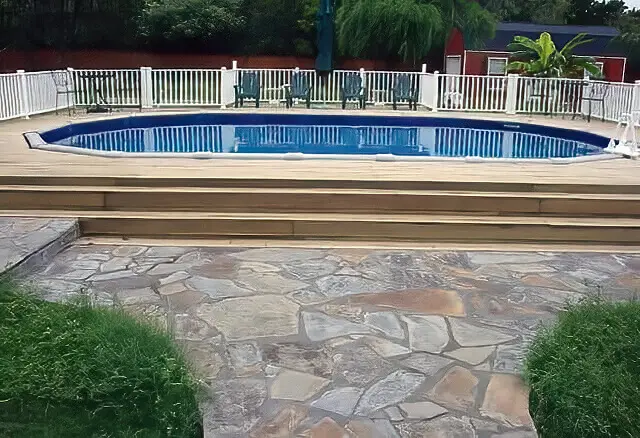 No one likes having to clean out dirt and debris from their pool. And a deck fails to provide adequate protection, for that matter, but stone walkways can help tackle this problem once and for all. They can protect the pool and your wet feet from picking up debris while walking to and fro the water.
13. Backyard Decking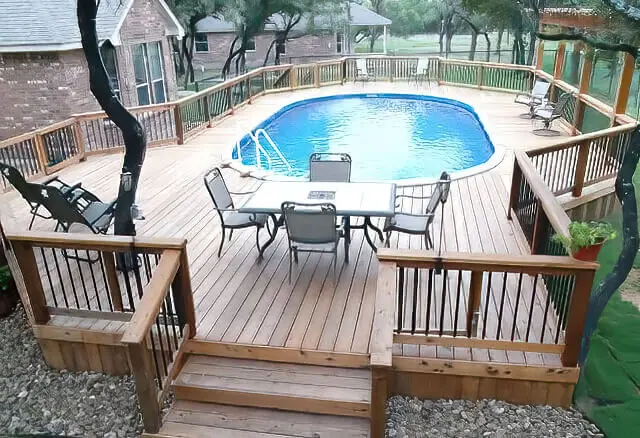 Don't give up on the idea of having a deck off your house just because you lack the proper design for a doorway. You can create a free-floating deck within your backyard to install a pool.
14. Desert Oasis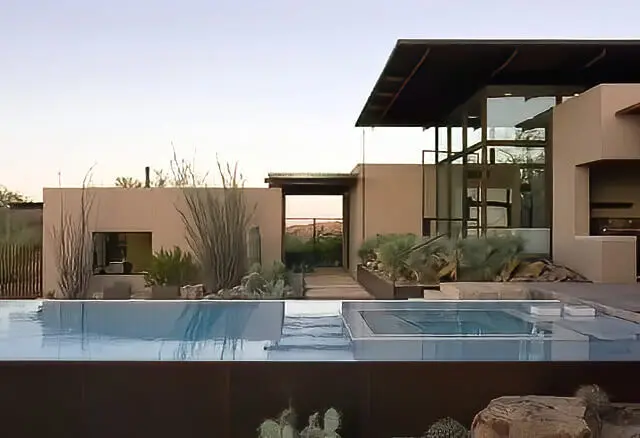 A body of cool, clear blue water in a hot and dry desert landscape is like a match made in heaven. That said, adding Plexi wall retaining glass boundaries to the pool will help provide a better view of the surrounding desert colours.
Glass-Walled swimming pools give an amazing effect when viewing the pool from the outside, allowing you to see right through.
15. Backyard Relief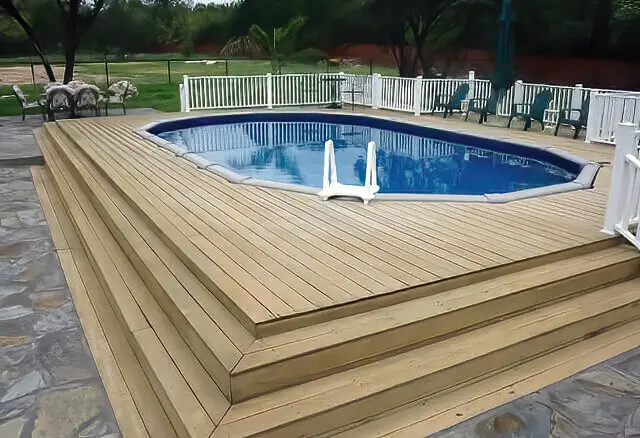 During the scorching summer months, having a pristine body of water in your own backyard becomes essential. Above-ground pools can seamlessly integrate into your patio walkout, providing a refreshing oasis with tranquil waters and convenient accessibility.
16. Villa-Esque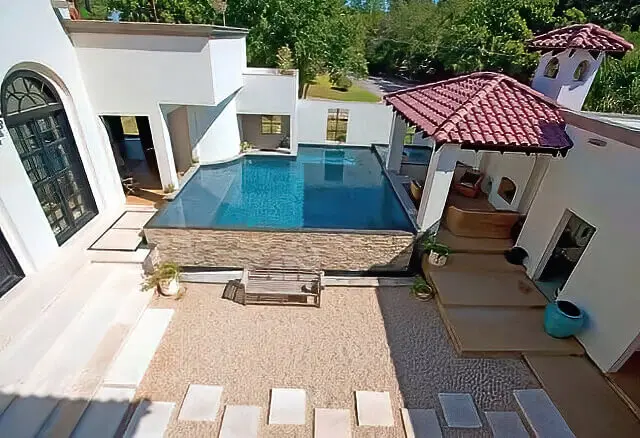 Immerse yourself in the Mediterranean ambiance by incorporating a semi-above-ground pool into your backyard. Accentuated by clean white stucco lines, earthy rocky cliffs, and vibrant red-tiled roofs, this design evokes a sense of rustic charm.
17. Ocean View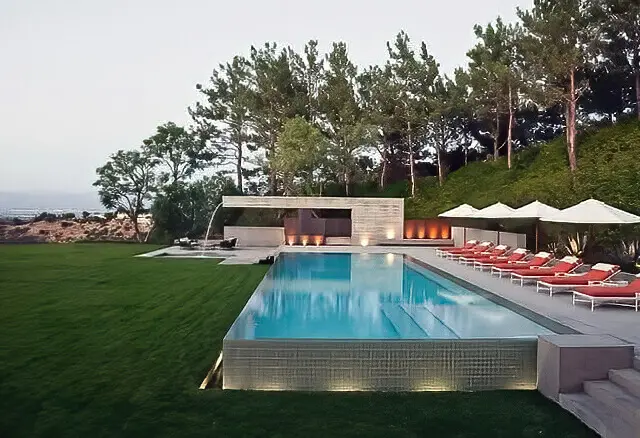 You can add more depth to the infinite water-filled horizon by installing a raised pool along the oceanfront. This will help you enjoy a salt-free, cool experience with a dynamic view of the ocean.
18. Cityscape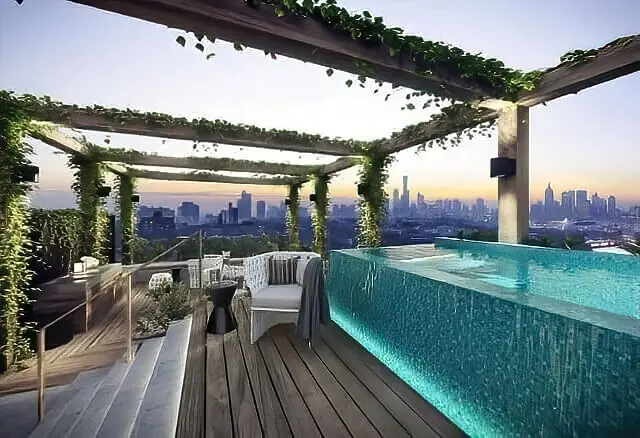 Opt for a rooftop lap pool installation with a simple waterfall overlooking the city for a modern take on a rustic retreat. There's no need to have acreage to take advantage of a pool, irrespective of its size.
19. Modern Laps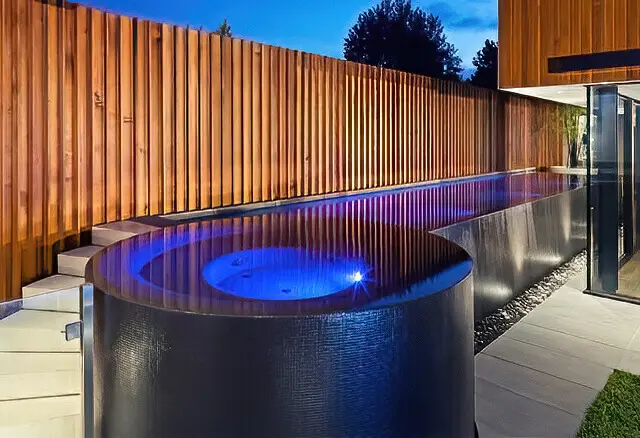 Using sleek tiles and LED lighting to help make it a part of the overall architectural design is another modern take on a lap pool. This enables you to add more exciting details to the landscape.
20. Personal Touches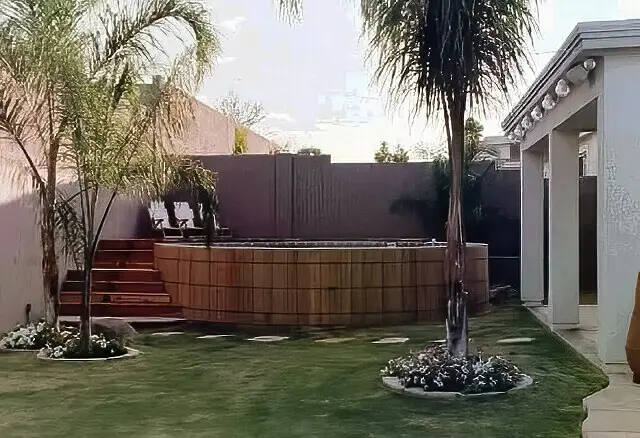 Did you know that a small urban backyard can be designed to appear bigger with proper architectural choices? Well, you can complete the look of your private oasis by introducing tall columns to mimic the length of trees and pool siding to draw viewers' attention upwards.
21. Modern Marble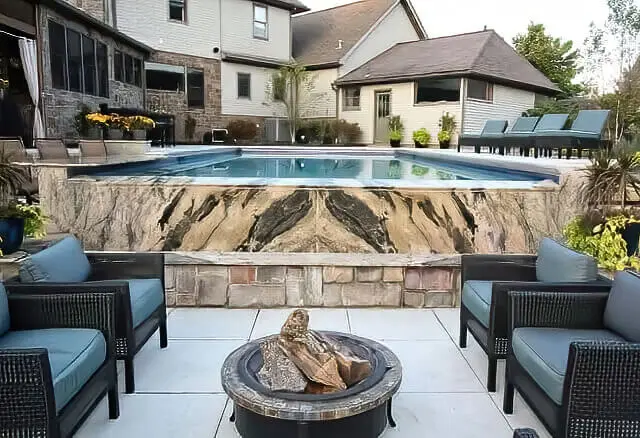 Utilise a hillside to provide your pool and visiting area with a dramatic waterfall backdrop. Rest assured that the traditional patio area will make a bold statement with contrasting colours and materials.
22. Natural Contrasts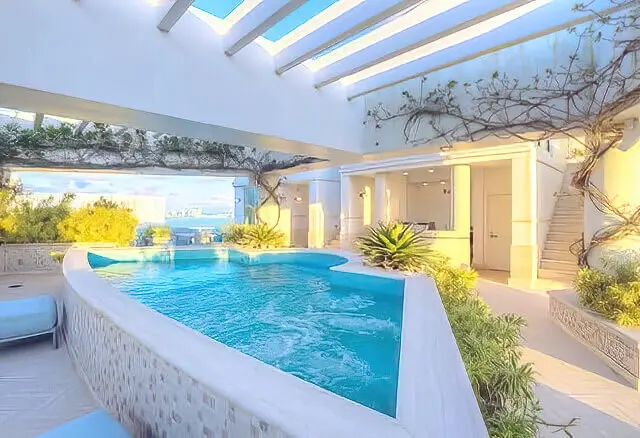 The lack of colour in an architectural design can be used for a good reason, provided shadows are cast against a vibrant, existing background. Pools available in various shapes and sizes can add the pop of colour needed to complete the overall aesthetic appeal of the outdoor living area.
23. Small Spaces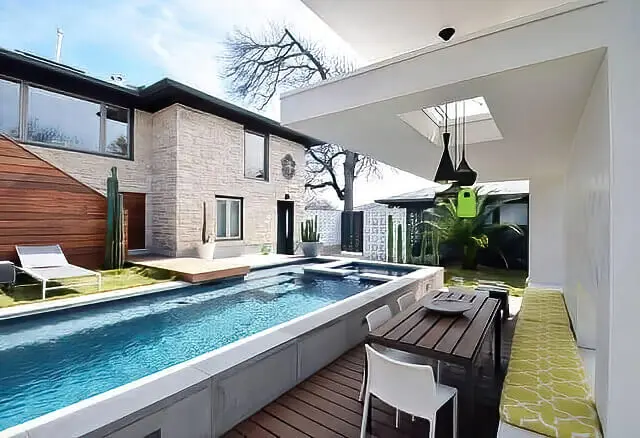 It's a common misconception that having a small outdoor area limits your design options. You can take advantage of the area, utilising every section of the available space. For instance, a lap pool is perfect for a long, narrow backyard.
24. Sloping Gardens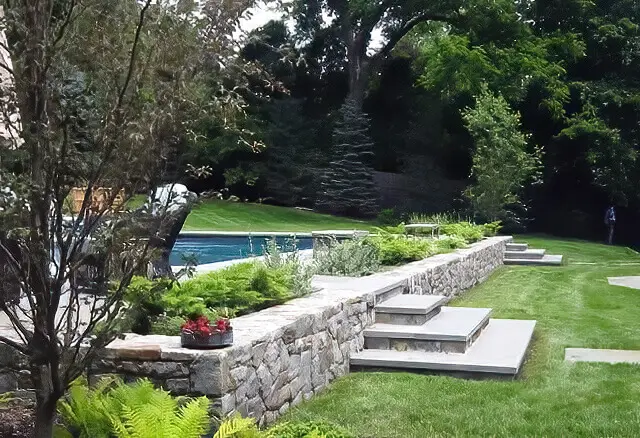 Next up, we have another design that will blend perfectly with nature's landscape. A wide rock patio wall surrounds the pool, while planters help continue the yard's greenery.
25. Serious Slopes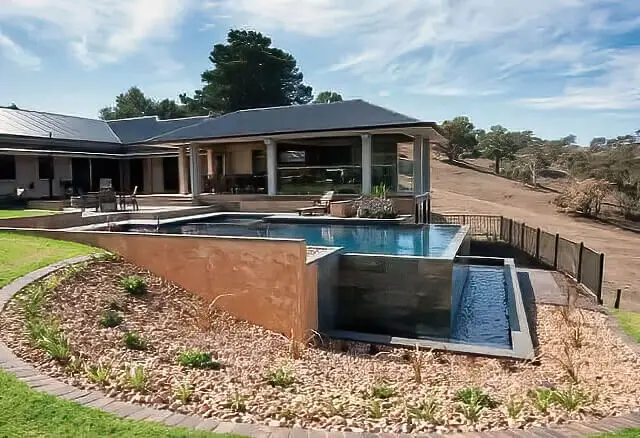 We think gardens with slopes are every above-ground pool's best friend. With this design, thanks to its fun pool siding materials, easy access, and refreshingly cool water, you'll get the best of both worlds.
26. Countryside Seascape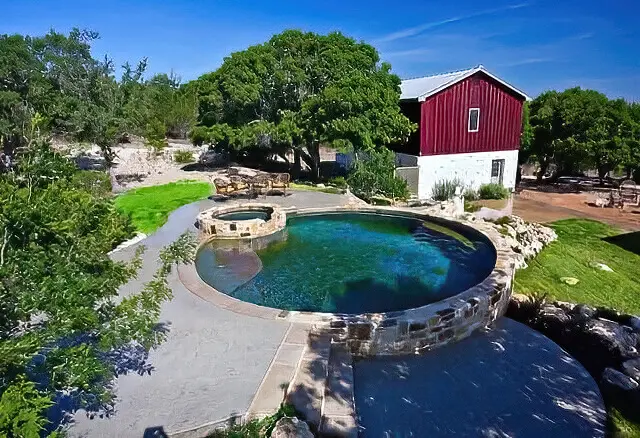 The use of stone and your above-ground pool placement symmetry help make it a part of a rustic rural setting. Curving patios to mimic the pool curvature provides the perfect relaxation spot after a long hectic day at work.
27. Lounging Bliss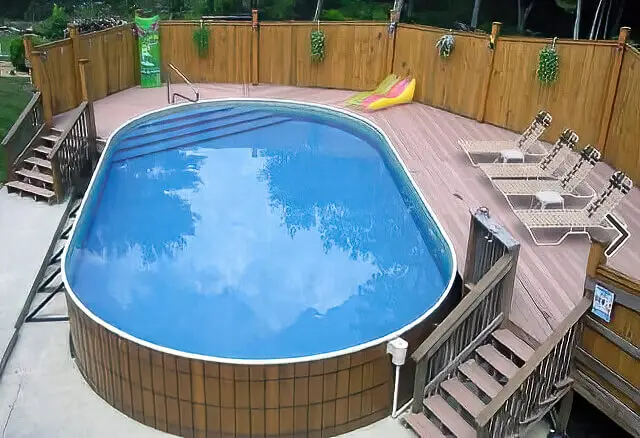 When integrating a deck into your pool design, it's not obligatory to enclose the entire area. Consider a partial deck configuration that offers optimal lounging privacy while providing convenient access to the pool for swimming and maintenance purposes.
28. Backyard Advantage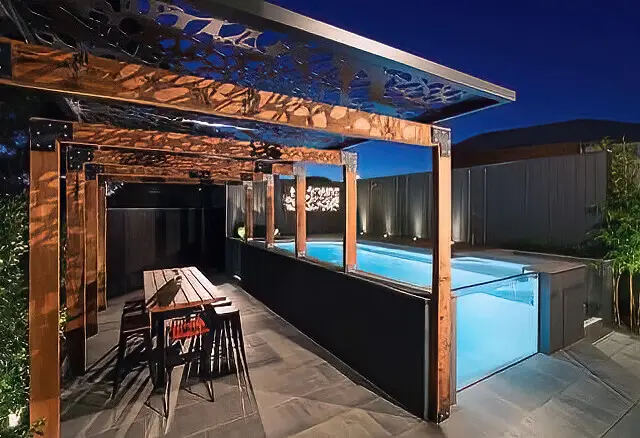 Make the most of compact backyard spaces by harnessing their potential for creating refreshing and inviting areas. By skillfully combining different materials and implementing strategic lighting, you can achieve a delightful atmosphere that enhances both aesthetics and comfort.
29. Dual Design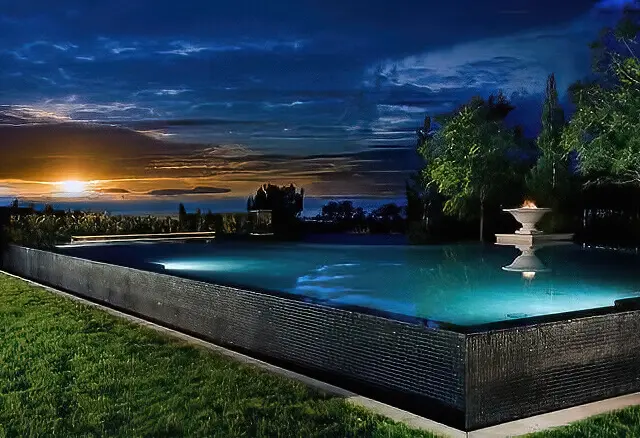 We'll now focus on the dual-purpose design that serves as a pool by the day and a stunning landscaping fountain at night. To create this look, make sure you use the perfect materials and accents for lighting purposes so that the light reflects to create a contemporary look.
30. Contrasting Coordinates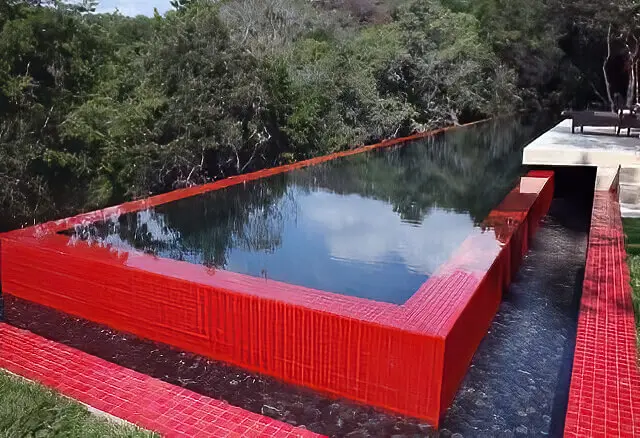 Ever thought of installing a pool with red tiles? Well, it's time you considered contrasting the vibrant red against the black and white of the surrounding architectural design. You may try incorporating this contrasting design against a forested background to create a visually appealing place to relax with family and friends.
31. Hot Tub Hideaway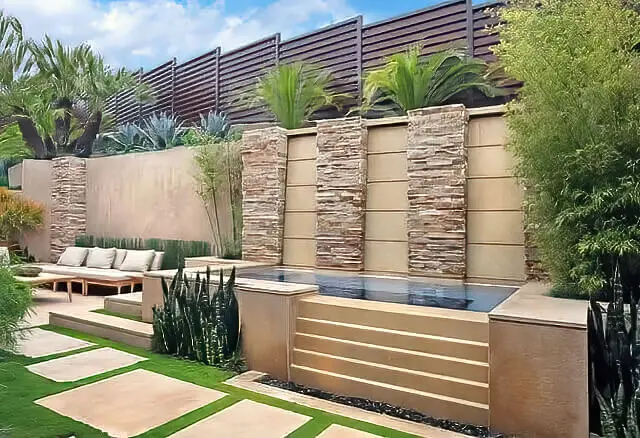 If you have a small backyard, opt for rectangular hot tub designs, as they tend to take up less space against an angular wall. This design will use the wall of your yard as a way of doubling it as a disappearing waterfall.
32. Outdoor Living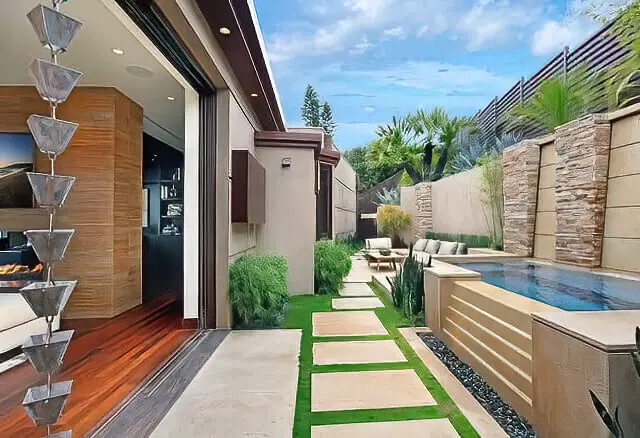 Embrace narrow yards instead of treating them as a limitation to your creativity as a designer. Introduce an open patio and a narrow pool to the space for all-year-around enjoyment and relaxation. You can also decorate your backyard and poolside to complete the simple landscape with a contemporary look while utilising the entire space.
33. Tri-Level Story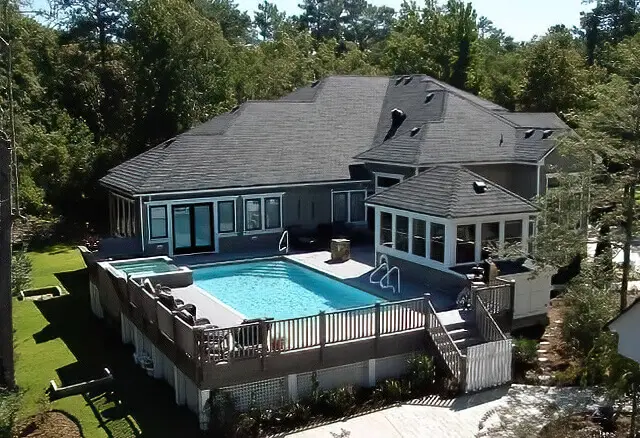 Use the different flooring heights of your tri-level home to your full advantage. These houses come with a spacious walkout deck, sufficient room for a relaxing poolscape and indoor and outdoor lounging areas.
Best Above Ground Pool Fencing Ideas
1. Pool Protection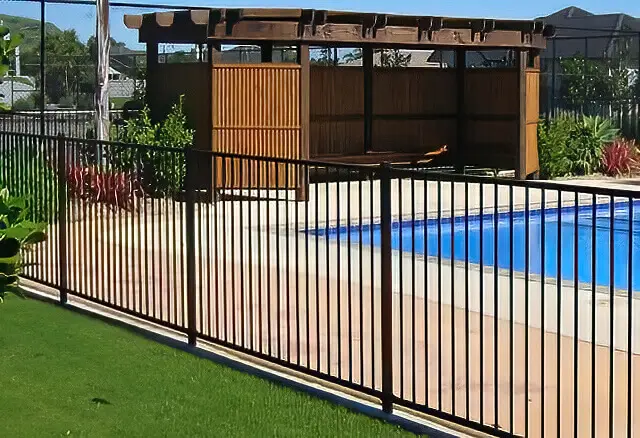 You can opt for lattice and fencing if you wish to have a protective barrier for your pool, offering a degree of both privacy and elegance.
2. Partial Perfection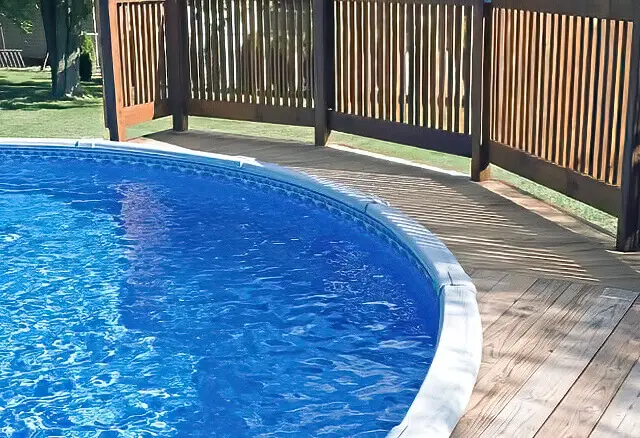 You can add an area beside your pool to lounge without burning a hole in your pocket by introducing a fence and partial deck. This serves as the perfect private place to sit and talk with friends and family while basking in the sun.
3. Flower Bed Landscaping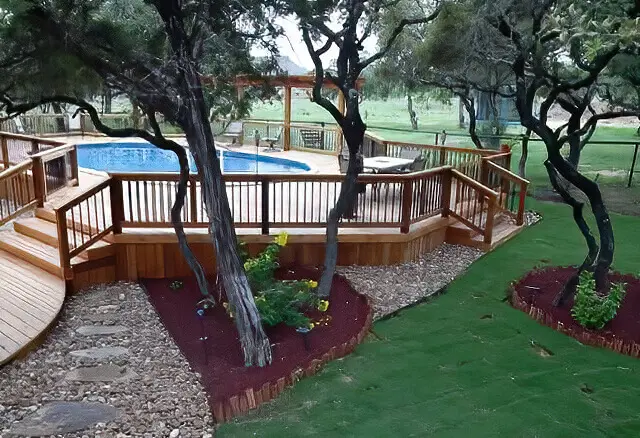 A raised pool can introduce varying designs to your landscape, and to bring these details together, you need to mix and match colours and textures. We suggest balancing your deck's wooden lines with graceful draping tree canopies and flower bed borders.
Best Above Ground Pool Lighting Ideas
1. Nighttime Ambience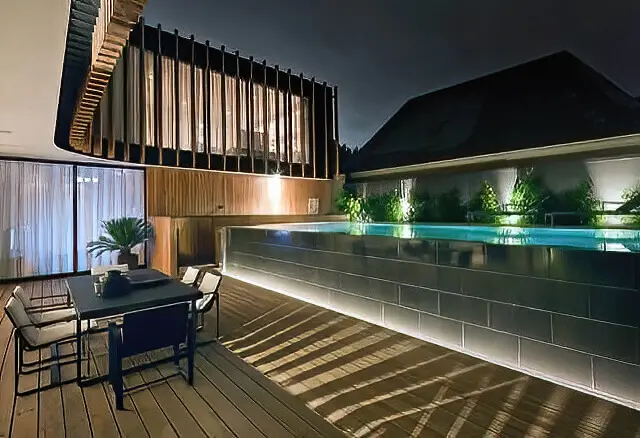 Lighting is undoubtedly a must if you wish to create an enjoyable visual experience for those swimming in the pool. Utilise the surrounding outdoor living areas to your advantage while setting up lights for the perfect nighttime ambience.
2. Lighting Elegance
If you're interested in a contemporary look, utilise long lines and right angles. And at night, you may highlight the details of your architectural plan, enjoying them under an entirely different light.
3. Light It Up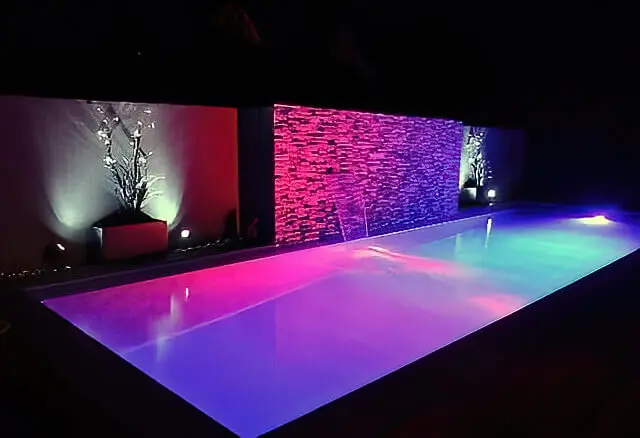 Your pool is a part of your natural landscape, so make sure you design it, keeping in mind how it's viewed both during and at night. That said, match your home lighting with your poolside pathway to create the perfect blend between the two areas.
Final Words
A wide range of above-ground pool options serves as perfect alternatives to inground pools. All you have to do is use the available elements, including the ones provided by nature, to create an aesthetically appealing lounge area for your family and friends.
On that note, we have come to the end of this comprehensive guide. Here's hoping we can help you gain critical insight on the topic.
With this, we'll take your leave. Till next time!