Mulling over the idea of a pool house in your yard can be quite challenging, especially when it comes to landscaping in a way that renders your backyard majestic. As the experts in pool design, we at The Pool Co know what awesome pools look like.
We've carefully compiled this compilation of landscaping ideas for your infinity pool, aiming to guide your path.
What is Pool Landscaping?
The selection of pool equipment and its arrangement around the pool area plays a pivotal role, just as crucial as the pool choice itself, in augmenting your backyard's aesthetics.
Designing the area around your pool to elevate the style of your yard is what is known as pool landscaping.
Crafting a well-planned, visually striking space around your backyard pool helps spotlight your fantastic new aquatic feature, simultaneously establishing an inviting lounge area for post-swim relaxation.
It refers to lighting, furniture, tiling, and garden elements. These elements contribute significantly to the aesthetic of various pool designs. Excellent pool landscaping integrates the intended use of the pool, ensuring it fulfils all your needs.
For example, will children be using it? Will it be used at night?
This will alter what you must add around the pool for ultimate useability.
Exceptional pool design ideas integrated with landscaping have the potential to increase your property value significantly.
Many home buyers want a home with a pool to cool off in during the summer months or year-round, depending on where you live. However, it's only a drawcard when you have well-designed pool landscaping to make it look like an enticing choice.
Pool Landscaping Ideas
Here are some factors to ponder when planning your pool landscaping, such as the inclusion of leafy trees.
Consider the timing and usage patterns of the inground pool; these considerations will guide you in making optimal choices about the elements below to enhance your pool's allure.
Lighting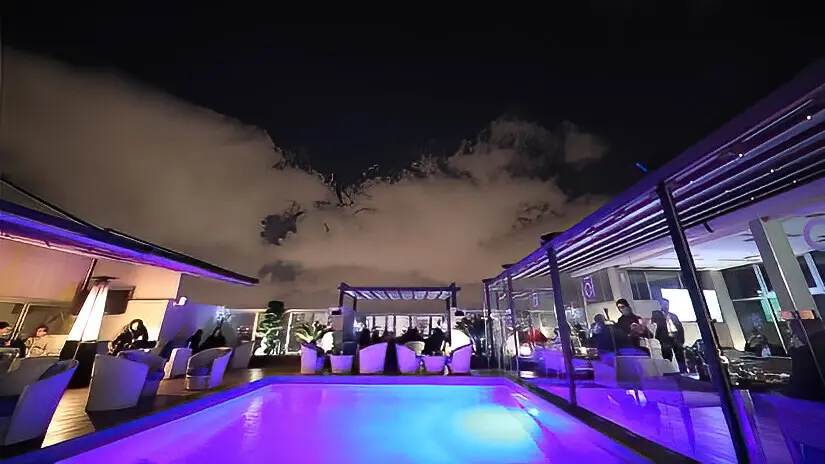 Illumination around your swimming pools is pivotal, especially if you own a lap pool where early morning or post-work swims in darker hours are common.
Lighting can give you more sight when you pop up from a swimming session. Also, having those lights on the outside shining right on your pool will highlight it as the focal point of your backyard. Show off your pool when you have guests over!
If you have kids, they will love being able to pop in for a swim, even at night time when it gets dark early. Lighting can entirely change how you use your pool — no more having to get out when it gets dark.
Tiles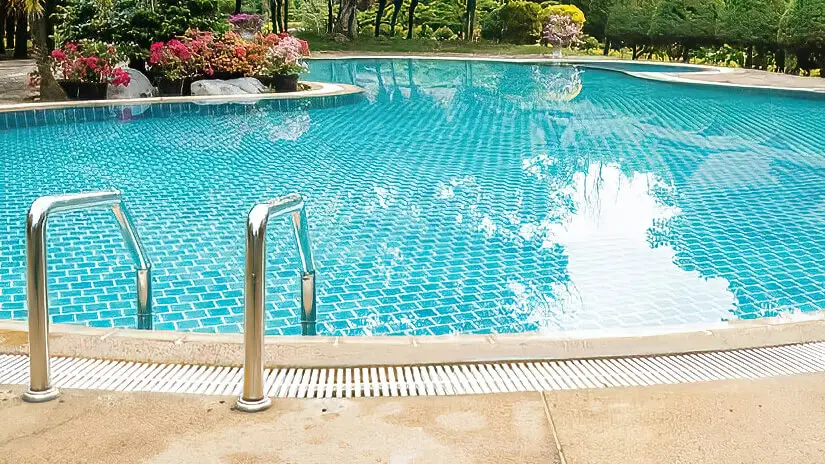 In your pool design consideration, the selection of tiles to surround your pool is essential. Bearing in mind these tiles will be the landing surface post-swim. Hence it's imperative they aren't excessively slippery.
How do you choose suitable tiles around your pool?
You don't want any that will get slippery when wet, as this is dangerous around a pool. Look for slip-resistant, water-resistant tiles that will not wear through quickly.
Then, there's the look of the tile. Choosing a lovely pebbled tile can offer extra grip when your feet are wet and look organic and classy.
Consistently popular choices for pool tiles are limestone and travertine, courtesy of their sleek, elegant appearance and natural vibe.
Furniture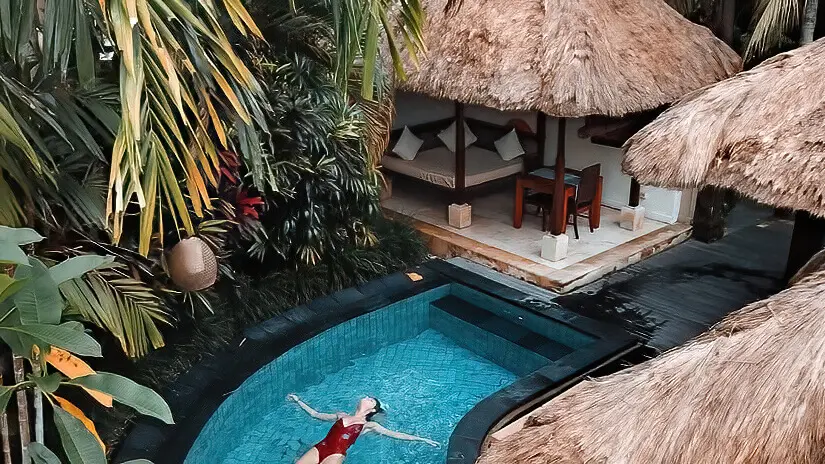 Next, let's talk about how to up your style with pool furniture. Again, you'll likely have kids clambering onto this while still wholly wet from the pool, so you must choose carefully. Nothing too plush will soak up the water.
Wood is an excellent choice because it doesn't matter if it gets wet, it doesn't heat up too much in the sun, and it doesn't get too chilly! Using materials like rattan, bamboo, and cane can be an excellent option for creating a beachy design around your pool. Just because you're not at the beach doesn't mean you can't feel like you are!
Many people enjoy having sun loungers around their pools. This allows you to sunbathe or dry off in the sun before heading inside. Or chill out there and read a good book while the kids splash around in the pool.
Don't forget that next to your lounger; you will need a side table for that all-important cocktail or smoothie. Again, looking at tables, you can go with wood. However, a table with a stone top can look stylish, and it's easy to clean as well.
Garden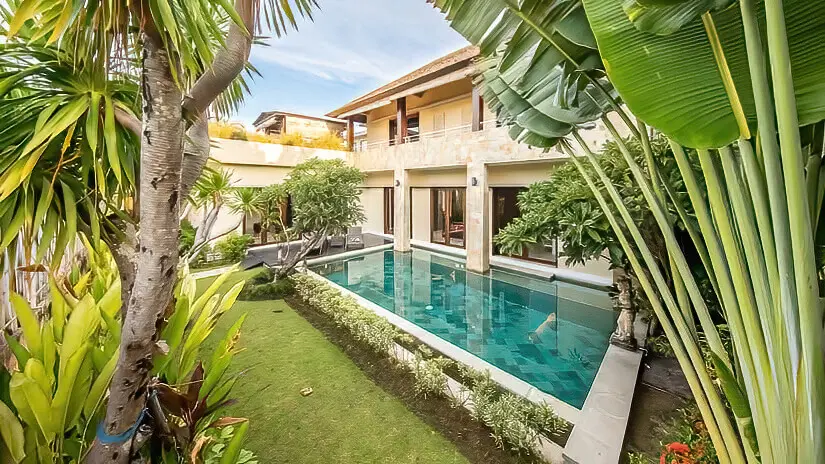 Last but by no means least is the garden. When you think of landscaping, people tend to think about the garden because it is an important consideration.
The reality is when you are in and around your pool, you want to create a fantastic relaxing atmosphere, and the garden is a large part of that.
The type of pool you have will significantly influence the surroundings. Whether you have a square pool or a rectangle pool will change how you design your garden around this. Curves, straight edges, and custom pools call for different plantings and features.
Many people prefer a low-maintenance garden, no matter the pool design, as it's less time-consuming for upkeep. However, trees may not be a great idea because that's just more leaves to clean out of your pool.
Many people go for shrubs a few metres away from the pool. Or flowers, if they don't mind the upkeep. Shrubs offer some greenery without too many leaves sneaking into the pool, and flowers are just an attractive choice.
Just consider what works for the size of the section and your ability to maintain whatever plants you choose.
Most of all, have fun while doing your pool landscaping. After all, that's precisely why you decided to get a pool! Contact us today for a no-obligation consultation if you're considering buying a pool.