Christmas is one of the most exciting times of the year, and what better way to celebrate the festive season than having the family by the outdoor pool?
Planning a Christmas pool party isn't simple and requires planning to ensure your pool is in good condition and your guests are entertained.
Depending on your budget and amount of free time, you need to decide which options would be best for enjoying the swimming pool during a warm Christmas in Australia. So follow along for some great ideas and tips for getting the most from your swimming pool this Christmas!
So, let's check out how to make this a Christmas party to remember!
How To Make The Most Of Your Pool This Christmas?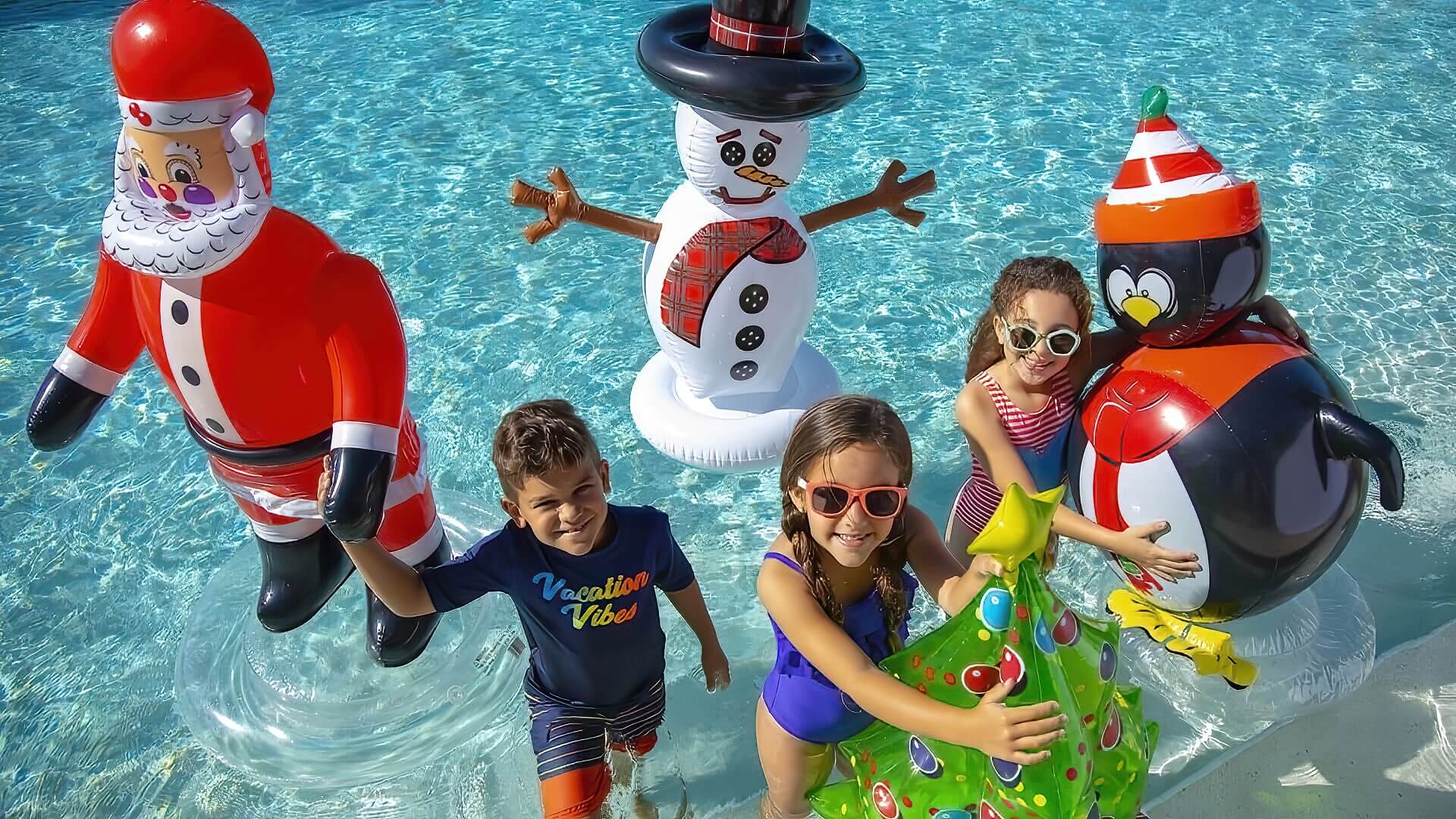 1. Get The Pool Clean
We think this is pretty obvious, but no one enjoys swimming in dirty or green swimming pools. So, before you begin your Christmas pool parties, you should ensure your pool is clean and the chemicals balanced.
Start by cleaning your pool filter and pool pump. Also, check the drainage system and skimmers for any debris or damage. The rest will be pretty straightforward if you have an automatic pool cleaner. If you do not have this luxury, you can follow many simple DIY steps, such as using a pool skimmer and scrubbing the pool walls.
2. Test The Pool Water
The most critical thing you need to do is ensure your water is safe for swimming. Using an at-home kit or bringing the water to a pool shop will help you determine the pH of the water. For optimal swimming, the pH should be between 7.2 and 7.
2. Party Decorations For The Holiday Season
Your swimming pool requires the same kind of holiday love that you shower on the rest of the house and family. For this purpose, you can put up beautiful fairy lights in the backyard to make your pool look pretty.
Party lights are a perfect addition and will help add some life to your backyard. There's no doubt that your friends would love a cosy barbeque party by the swimming pool on Christmas day, even if they don't wish to swim in the water.
If you want to go all out for your party, there are many ideas you can choose from. You can also hire extra tables and chairs from a party hiring service. Make sure the area is safe and supervised if you have young children.
3. Prepare Your Pool for Summer
We all know that an Australian Christmas is in the midst of summer and can get extremely hot in the sun. We highly recommend that you have sunscreen and hats for your guests and ensure ample shade for people to sit and relax. Make sure you also check your pool chemicals, PH levels and chlorine levels. You can also clean the skimmer box of any leaves and debris.
You can make this fun and design a "slip-slop-slap" station at the entrance to your pool. We also suggest getting some cool Christmas-themed pool accessories.
Christmas is also the best time to get creative with food. You can enjoy making unique and tasty treats for your guests around the pool's edge. You could make chicken skewers with red and green capsicum to incorporate the Christmas colours or create a traditional summer pavlova. The choice is yours!
4. Christmas Movie Night Around The Pool
December is incomplete without watching your favourite Christmas movies with family and friends. And what better way to do that than by the pool in the warmer months?
You can hire or buy a temporary outdoor projector and set it up in the backyard. You can use blankets and pillows to make the area comfortable and add Christmas lights for an extra cosy effect.
5. Sing Along To Christmas Carols
In our opinion, there is no better way to get everyone in the spirit than Christmas carols. Consider setting up speakers near the pool area for cheerful background music or bringing out the karaoke machine. It is a great way to get everyone involved!
Christmas Pool Party
That brings us to the end of this comprehensive guide. We hope these tips help you create the perfect Christmas ambience around your swimming pool. You do not need to spend a fortune to throw a fantastic Christmas-themed pool party. Remember to keep your pool area tidy and keep an eye on any children.
We wish you a Merry Christmas and hope you enjoy spending time with your family and friends. If you need any assistance with your swimming pool, please don't hesitate to contact us at The Pool Co.
Happy Holidays!