Have you just constructed a backyard pool and wondered about swimming pool fencing and safety regulations. Well, in our opinion, a pool's single most crucial element is the fence around it.
Do you worry about your toddler, child, or pet slipping and falling in the pool?
That's precisely what a fence is there to prevent. As long as you ensure the gate is closed at all times, it's a pretty foolproof method of preventing anyone from falling in.
But how do you choose a pool fence, and what goes into pool fence installation? There are countless types, styles, and ways of placing a fence. Let us break it down and discuss the different pool fencing options for in-ground and above ground pools.
Pool Fencing Regulations
First, let's go over what you have to do — the regulations for pool fences. These are in place to ensure that children cannot get to the pool without your assistance.
Remember that rules differ from state to state, so please check your state's website. However, in general, these rules apply to most states.
Your fence needs to be 1.2 metres high or more.
Your boundary fence needs to be 1.8 metres high or more
Gates are required to close on their own
Children should not be able to reach the gate latch
Any gap between the ground and the posts should be 100mm or lower
As a pool owner, pool safety should be your number one priority. If you have an existing fence installed but are unsure whether it meets your state's pool fencing regulations, call your local pool builder.
Different Materials For Pool Fencing
Many materials are popular for use in pool fences. No matter what material you use, it must be robust enough to last in the hot weather and not bend or break if someone tries to force through it.
PVC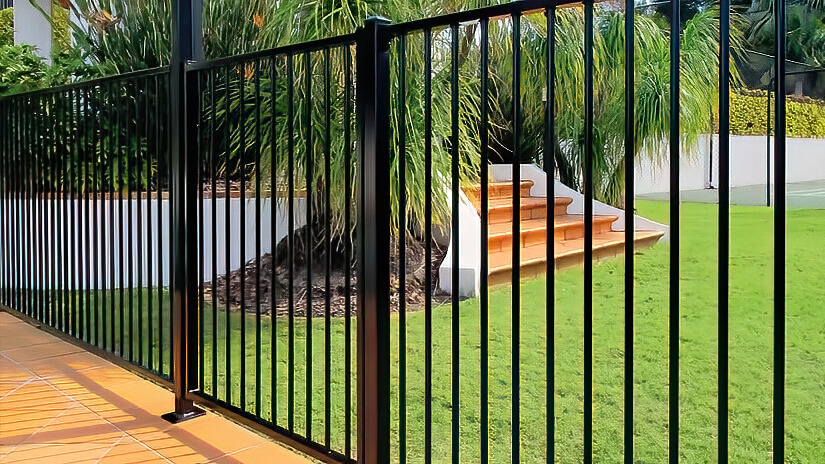 PVC is one of the most commonly used materials for pool fences. That's because making a fence is one of the least expensive things. However, if you're having a new fibreglass pool made, you want it to look fantastic. So many people decide to pay more for a better-looking option.
Tubular steel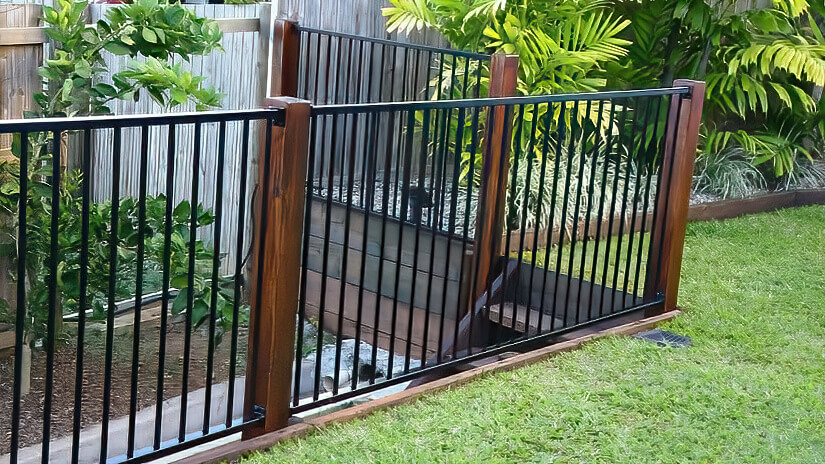 The strength of steel can't be beaten when it comes to fences. This long-lasting material is heavy and robust, so no one will be able to break through it. You can even set it up to suit a sloped landscape if necessary.
There are a couple of drawbacks to using steel for your fence. It is pretty expensive, but it does last for a long time, so it will be worth it in the long run. Also, it can rust, so you must ensure that you order galvanised and powder coated to prevent this.
Wrought Iron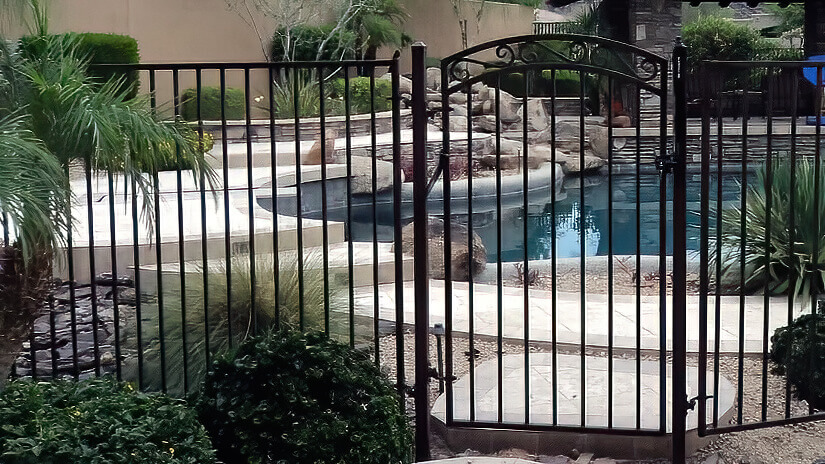 As wrought iron is wholly welded, this type of fence offers fantastic protection around your pool. Not only that, but it looks rather stylish. Often people choose to add a design to the body or the top of the fence to create a unique look for their home. Many wrought iron fence manufacturers can make it happen whether you want swirls, circles, or other designs. Wrought iron is customisable, low maintenance, and durable, making it another excellent option.
Aluminium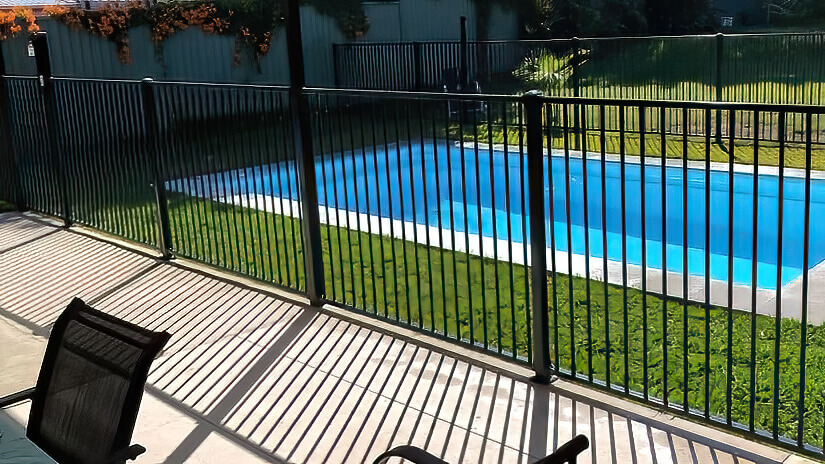 Aluminium pool fencing is a sleek-looking option that's affordable and durable. One of the best things about this type of pool fence is that it doesn't require much maintenance. They can be used on uneven or sloped ground as well.
Aluminium is, however, not as strong as other materials like steel. But it still lasts well in most environments without much maintenance.
Glass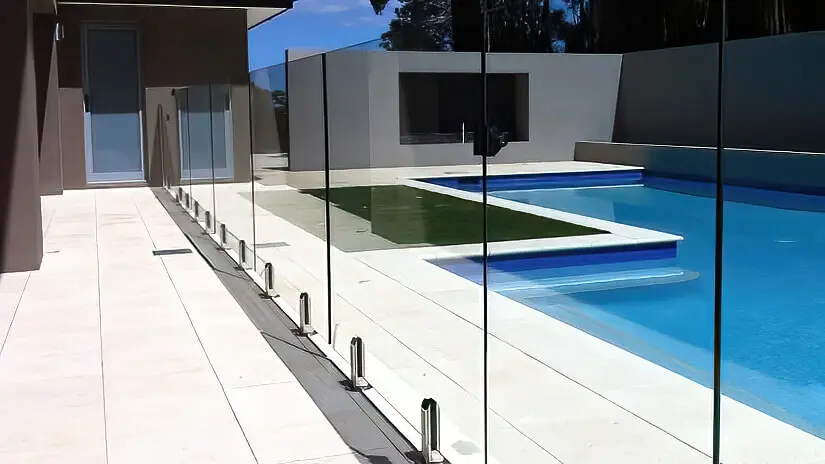 Last but not least, let's discuss glass fencing. This is a popular option due to the see-through nature that allows you to watch your children in the pool. Of course, if they are young, you should be inside the fence in the pool area. But when they are older and don't need constant supervision, it will be helpful to keep an eye on them from the window of your house.
Glass pool fences are not made of regular glass that will react strongly to the elements but instead tempered glass. This makes it much safer, and you can buy it in thicknesses up to 12mm.
Choose between a framed glass fence and frameless glass pool fencing. Many people consider the framed fence more sturdy due to the visible posts, but they are both great options for your pool.
Placement
Many pool fences sit right around the pool's perimeter, leaving a path around it for walking on. You also need to consider the location of the pool gates and entryway.
But you don't have to do it that way! Many homeowners prefer to have more lounging areas surrounding the pool, making the fence's perimeter much wider. As long as the pool is blocked off from kids, it could take up most of your backyard if you like!
A pool like our Classic Pool is ideally suited to this. It has been created to maximise the space around it and even features a child safety ledge around the pool's edge.
The Experts in Pools
Contact us to discuss the pool you would love to have installed on your property, and we can advise you on what type of fence would go well with your choice. As experts in all things involving pools, we can install the fences ourselves and any pool.
Whether you want a classic rectangular pool, a square spa, or something else, we've seen it all done before. That means we know what looks good and what fences have worked for our other clients.
Looking for a local pool builder in Sydney? Get in touch today to tell us your pool dreams, and we'll let you know how we can make them happen.