Having a swimming pool in their backyards is no less than a dream for most Australian homeowners. Hence, it's essential to choose the right pool design.
Let's face it; pools have become an essential part of modern homes. Not only do they increase your property's value, but they also offer outdoor entertainment, family fun and help you relax. But, before you go ahead and purchase one, you need to decide on a design, and that, to be honest, is not all that simple.
Since swimming pools come in many shapes and sizes, you'll need to choose a design that fits your lifestyle and backyard features well. This article will take a closer look at the factors you need to consider to choose the right swimming pool design for your home.
So, without further ado, let's jump right in!
How To Choose The Right Pool Design For Your Home
Here are a few factors you should consider when choosing a pool design.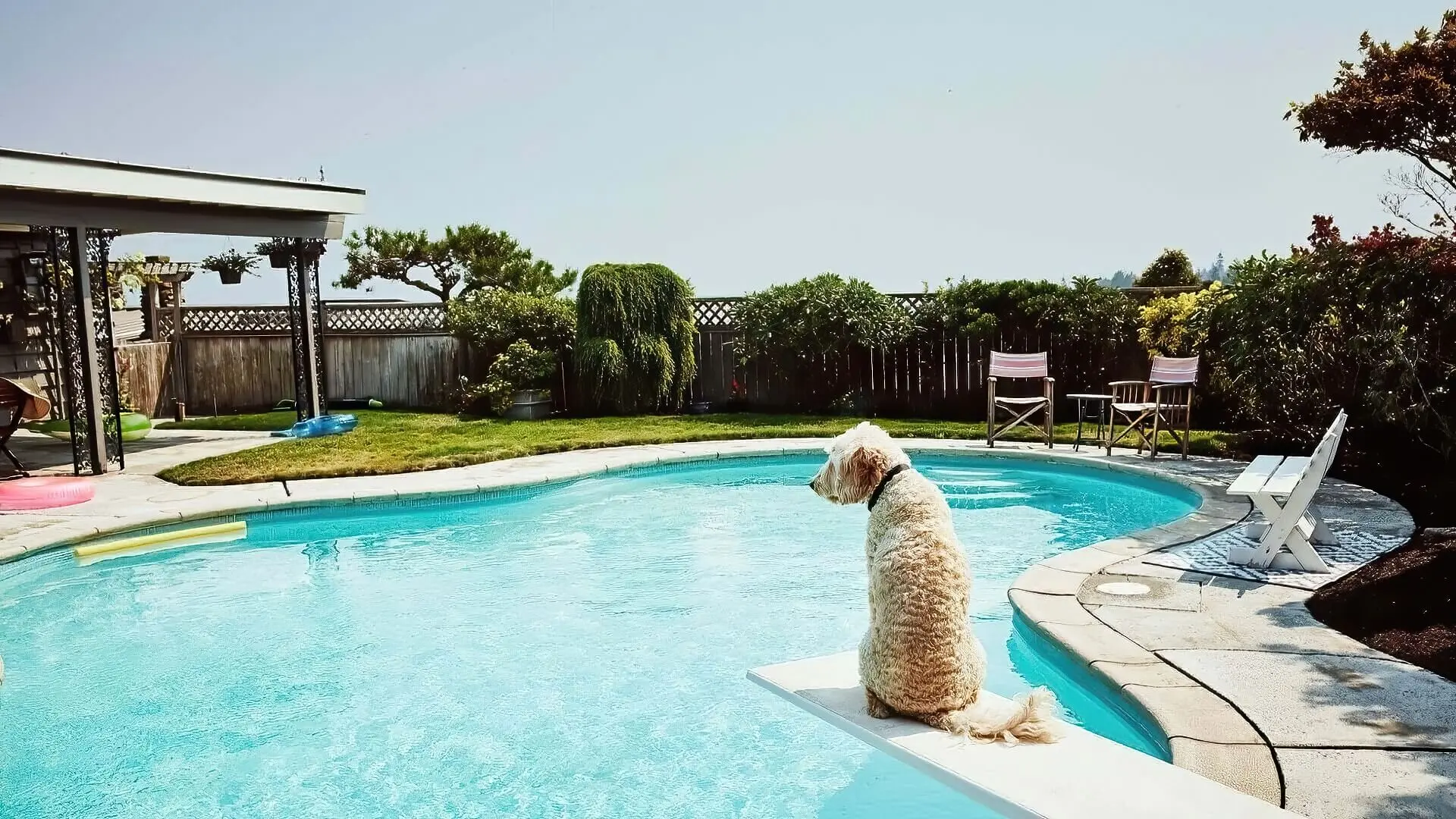 1. Pool Placement
The swimming pool should be ideally positioned in a spot that offers privacy, shelter from the wind and sun in spring and summer.
Additionally, you must allow for safe supervision near the swimming pool area if you have kids. We recommend adding a pool fence for optimal safety.
2. Overall Design
Keep in mind that a swimming pool is just a single part of the larger landscape, so it must be designed to fit the surrounding plan. Ignoring this may result in a landscape and swimming pool that do not complement one another.
Plus, you might miss out on the opportunity to integrate water features into the pool system that would increase the price of your property even more.
Undoubtedly, pools require significant investment; hence, it's imperative to dedicate the time necessary while choosing the proper design process. Installing a pool is just like building a home; you do it only once in your life.
The detailing and materials should be timeless and high quality so that your landscape and concrete pool can last a lifetime. Never jump into a trend without considering the important factors; take your time to research the common materials before consulting professional pool builders.
3. Above Ground Vs. In-Ground
The most significant advantage of an above-ground pool is that it's affordable, but keep in mind that they are not aesthetically pleasing and don't last long either.
Now, as far as in-ground pools are concerned, they are your typical backyard or residential pool. They are pricey but aesthetically pleasing and easy to climb or dive into.
4. Seamless Design
Your pool should be designed to look like an extension of your home's architecture. For instance, if your home is rectilinear, you should install the pool in the same design. The sharp corners and straight lines will make your pool look like it is at one with the building and offer continuity.
5. Shape
A pool placed in front of a home should complement its design. On the other hand, backyard pools can be more freeform to look cool.
Popular pool shapes include oval, circular, geometric, Roman, lazy L-shaped, figure-8, kidney, freeform, and rectangular. These pools can be further incorporated into tropical, Mediterranean, traditional and modern styles.
6. Size And Functionality
Both size and functionality depend on how you will be using your pool. Will it be used for enjoying a rejuvenating dip on hot days or for family fun and games? Having answers to such questions will help decide the size and functionality of your pool, and then you can tell the pool builder to work on it accordingly.
7. Budget
Last but not least comes the budget, which is probably the most important factor.
Ask yourself how much you are willing to spend on the pool. Also, keeping your budget fixed is best, as costs build up sooner than you think.
Top Pool Designs
Here is a list of some of the most trendy pool designs you can consider.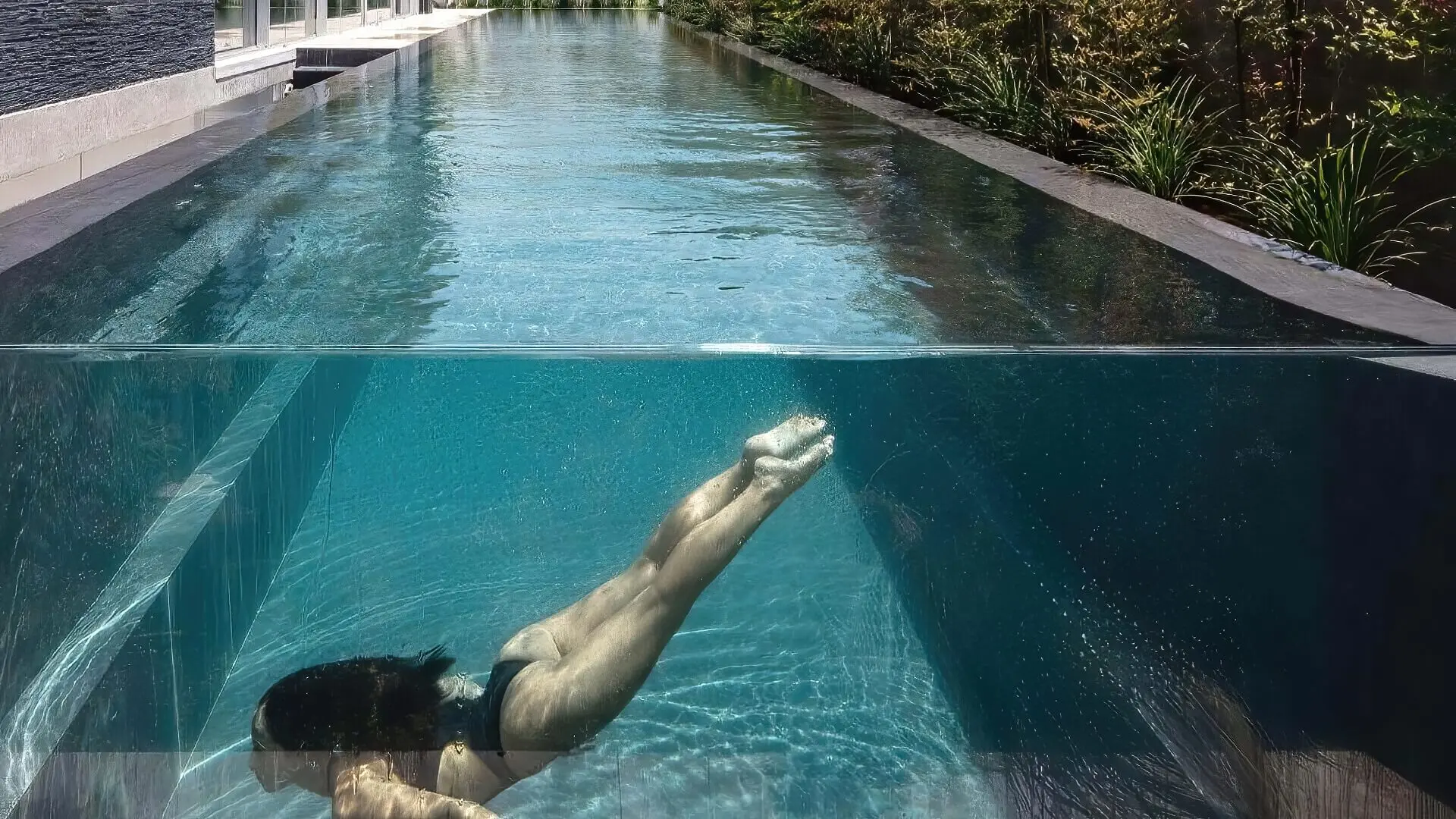 1. Lap Pool
It is a trendy design, built for health and fitness purposes. Usually, lap pools are narrow, long and rectangular, thereby adding a certain style element to your home.
2. Above-Ground Pool
Above-ground pools are an ideal choice for those on a tight budget. Naturally, above-ground pools have become a symbol for working-class people.
Apart from its low price, it is portable, which means you can take it wherever you please.
3. Infinity Pool
Often referred to as zero-edge pools, infinity pools are custom-built and designed to highlight a view around the pool. If installed properly, it gives the illusion of a water sheet falling over your property's edge like a waterfall. However, they are a bit expensive compared to other residential swimming pools.
4. Indoor Pool
As the name suggests, indoor pools are installed inside a home. They sport geometric shapes and are built for swimming and training. But with these pools, there are not many options in size and shape.
5. Architectural Pool
Architectural pools are highly sophisticated and are built keeping the architecture of your home in mind. They are often geometric in shape and built by architects who design the house.
Pool Maintenance Tips
Here is a list of some essential pool maintenance tips that you should know to ensure your pool stays in great shape.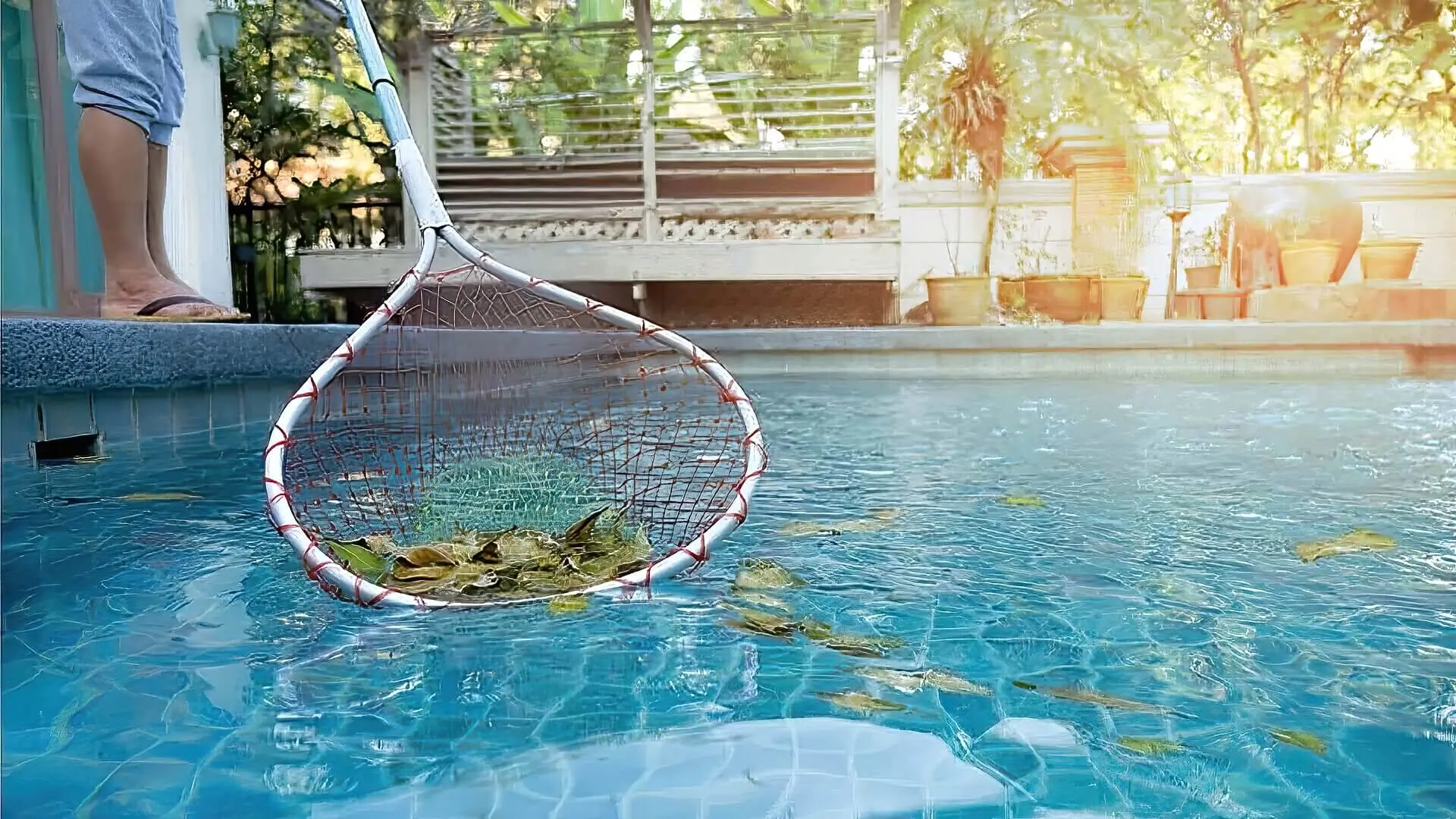 1. Water Level
You must check the water level regularly to ensure that your pool is in top condition. Remember that low water levels can dry the pump and burn up.
Similarly, high water levels aren't good either, as they can cause problems to the skimmer door.
2. Filter
You must clean the filter after 3-6 months to ensure that your pool looks good and remains clean.
3. Chemicals
Add chemicals to ensure that the water doesn't look murky or harbour bacteria. Also, the chlorine levels should be kept consistent at all times.
Frequently Asked Questions (FAQs)
These are some of the most frequently asked questions about pool designs that we have tried answering to the best of our abilities.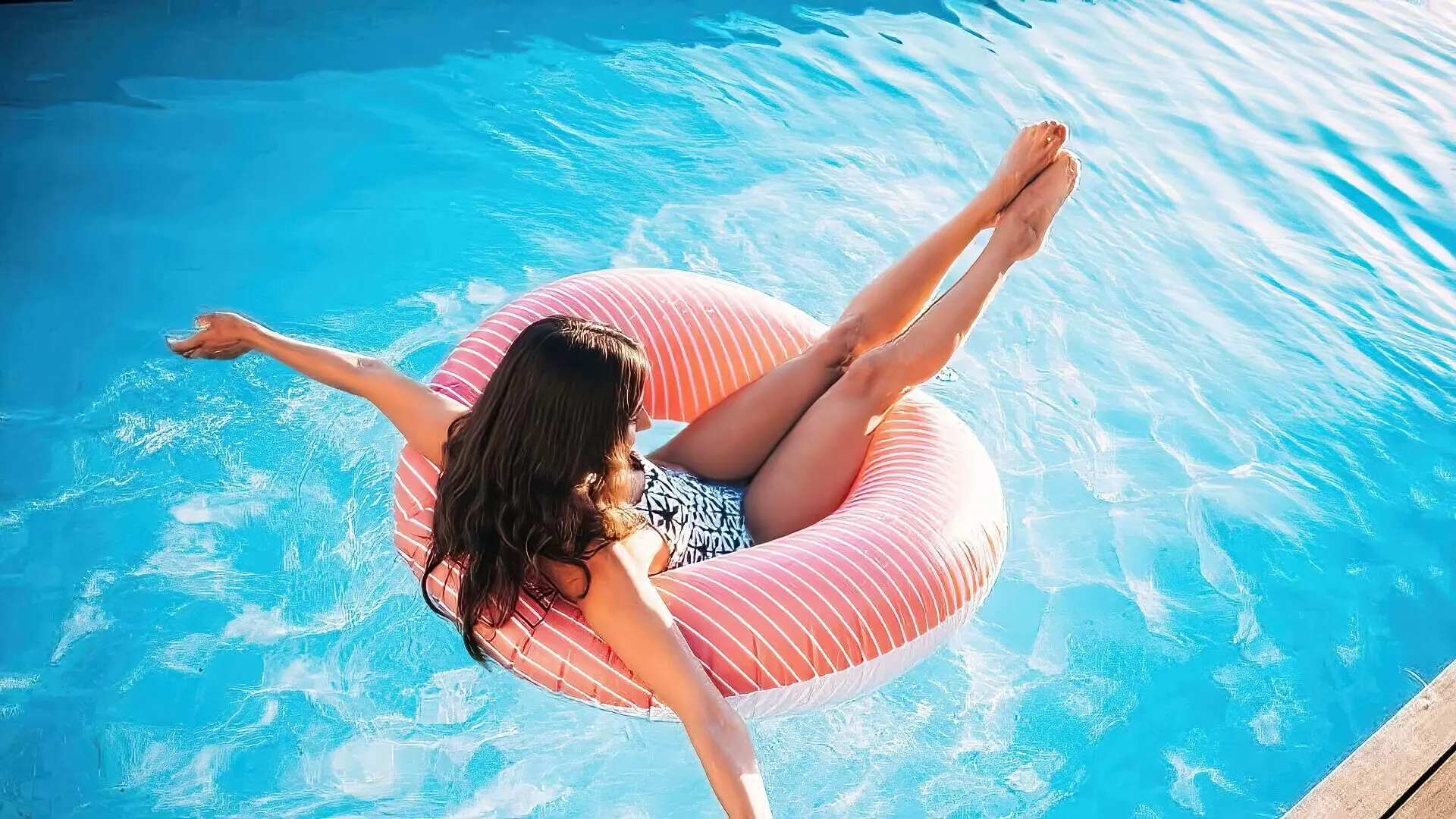 1. How long will it take to build your pool?
It's difficult to tell an exact time frame for building a pool, as it depends on many variables, including the project complexity, local building inspections, weather, etc. That said, in general, pools can be built within eight weeks once local permitting is approved.
2. By how much will a pool increase the value of your property?
As far as the monetary value is concerned, adding a swimming pool can increase your property's value by 15%
3. Is it a tough job to maintain a pool?
Yes, it could be if you don't do it correctly. First of all, pool maintenance is an absolute necessity, no matter your pool size.
However, there are ways to significantly minimise the cost, effort, and time required to maintain your pool. For instance, you may use filters, skimmers and automatic sanitisers to save time and reduce maintenance cost.
4. What size fibreglass pool should you get?
More often than not, the yard determines the size. However, when yard design or space is not restricted, it's totally up to you to choose a fibreglass pool of suitable dimensions.
But, ensure that it should be neither too small nor too big; it should go well with the landscape.
Finding The Perfect Pool Design
When your pool looks great, you are likely to spend more time in it. So, do your research and be creative yet practical while landscaping.
Always view the pool as a part of your home and incorporate your individual touch. And you will be on your way to choosing the perfect pool design.
With that, we have reached the end of our guide. We sincerely hope it has helped you gain the required knowledge to choose the right pool design for your home.
So, that's all for today. Hope to see you soon!