Want to make your home stand out in the neighbourhood? Then it would help if you considered getting a pool.
Swimming pools are a luxurious amenity that many of us dream of having. What better way to stand out from the crowd than by creating a stunning backyard pool?
However, getting one isn't enough; you need to make it look the part. And that brings us to the topic of tiling your pool.
When it comes to tiling, the trends keep on changing quite frequently. Despite that, there are several pool tile trends that you can opt for at this moment. That's why we have assembled an impressive range of trending pool tile ideas, enabling you to make an informed choice.
So, without further ado, let's dive right in!
Hottest Pool Tile Trends in 2023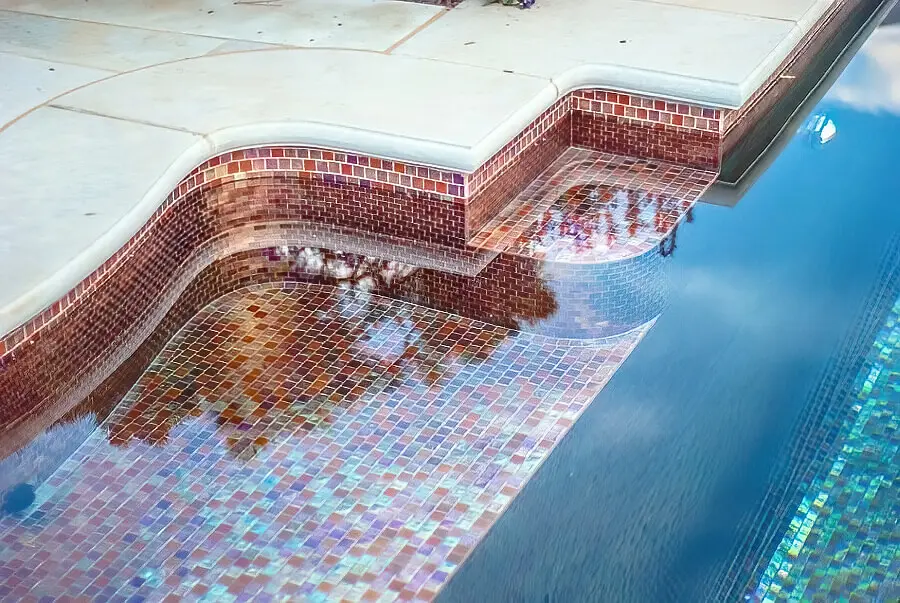 Appropriate pool tile selection will allow for the personalisation and aesthetic enhancement of your pool. You can choose the colour, the designs or the texture of the tiles according to your tastes. In other words, tiling your pool will give it a personality that matches your own. A well-thought-out pool design, including the right choice of tiles, can significantly elevate the elegance of your backyard oasis.
1. Monochromatic
Monochromatic tiling might be your best bet if you prefer a simple, minimalist aesthetic. As the name suggests, you can give your pool a clean and homogenous look with monochrome tiles.
However, just because it is monochromatic does not mean there are limited choices for customisation. There are monochrome tiles of different colours that you can use for your pool.
You can opt for relatively neutral colours, such as eggshell, grey, taupe or the more conventionally used blue. Or, if you wish, you can also opt for colours, such as black, brown or navy, that will give your pool a very distinctive look and feel.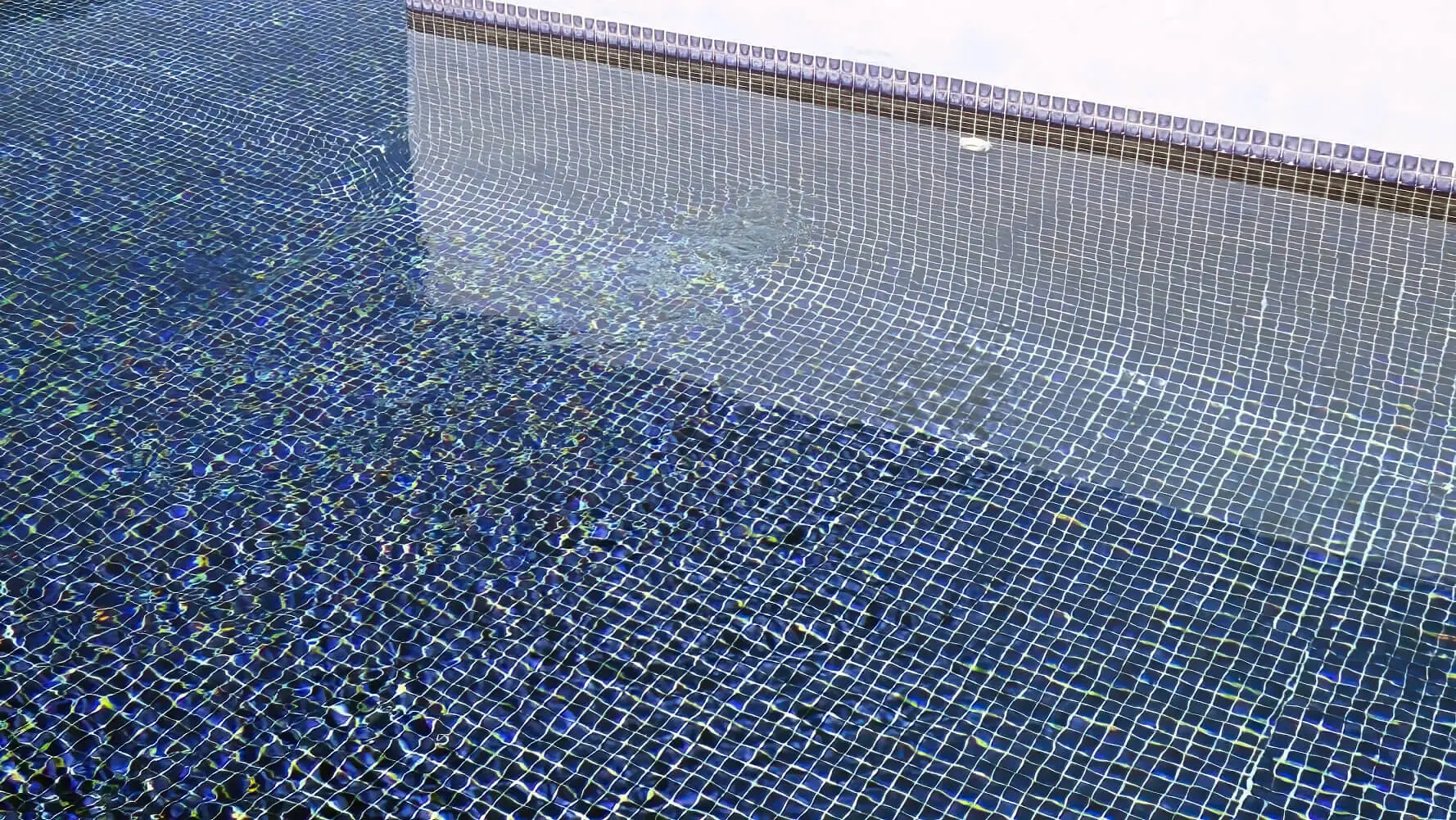 2. Patterned Designs
If you prefer to be more graceful and artistic, you can opt for patterned tiles for your pool. With patterned tile designs, you will find numerous choices for customising your pool within any budget.
If you prefer to keep things simple, you can opt for conventional designs like rectangular, hexagonal, herringbone, or zig-zag tiles. These are often quite affordable while providing a pretty great aesthetic for your pool.
And if you wish to experiment, you can opt for some more intricate designs that will make the swimming pool even more elegant. There are potentially countless designs to choose from, and with sufficient funds and imagination, you can add quite some zest to the swimming pool.
3. Different Finishes
Apart from the colours and the designs, you can choose the finishing of the tiles as well. The tile finish often depends on the material used; thus, different tile materials will give you different finishes. Each has its own characteristic appeal, and you can opt for any of them based on your preference.
In this context, the most affordable and standard tiles are ceramic, which provides a glossy sheen to your swimming pool. However, if you're inclined towards a textured finish, you could consider natural stone, porcelain, or granite tiles. The latter options will make your swimming pool more rugged and earthy.
Another prevalent option is custom mosaic tile, which allows for diverse swimming pool designs and shapes, adding a unique touch to your pool. So, if you want a more creative finish, mosaic tiles should be your choice. And if you prefer your swimming pool to have an even glossier finish than ceramic, you can opt for glass or metallic tiles.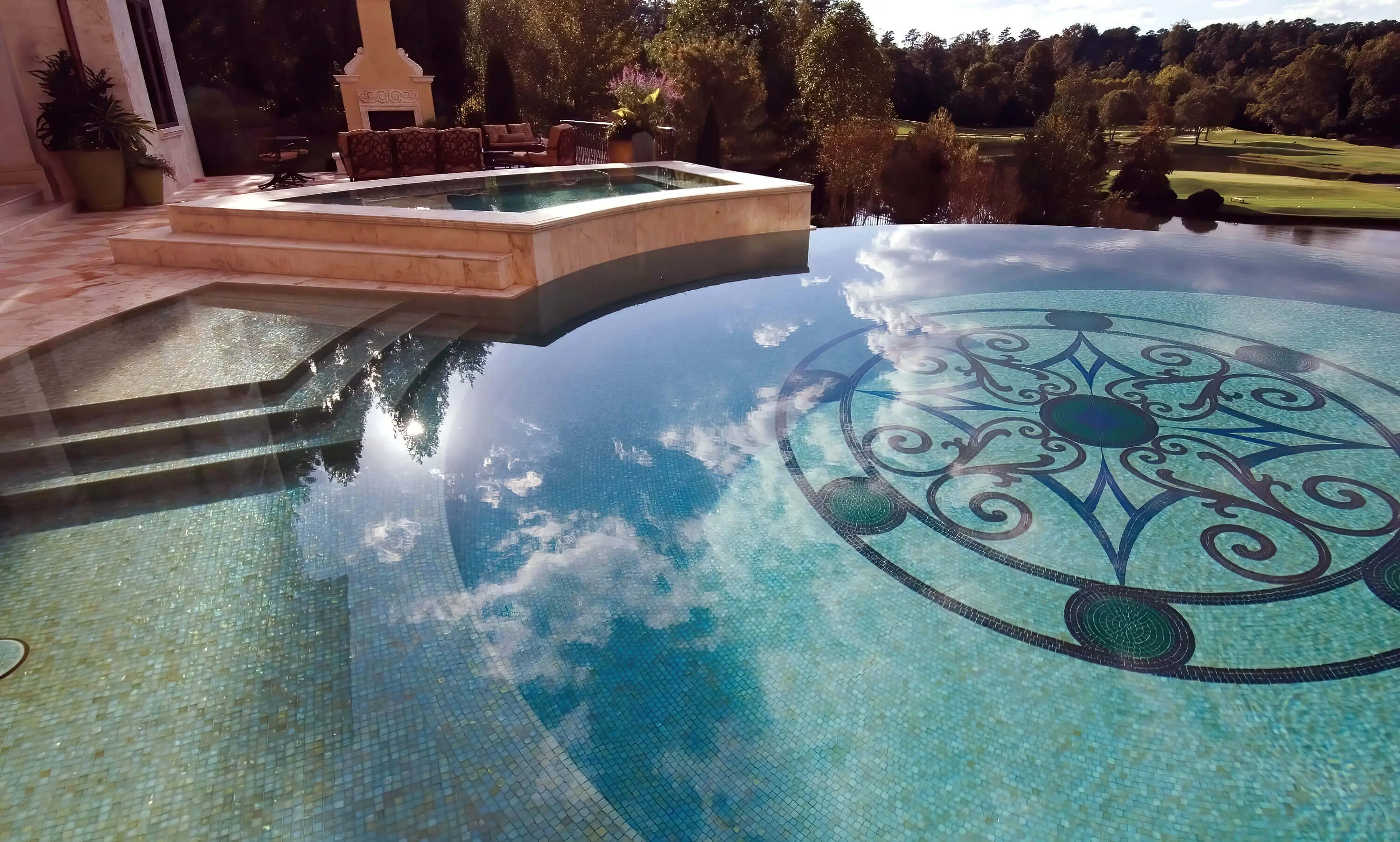 Other Pool Tile Trends To Consider
Apart from the above tile trends, which focus on the looks and feels, we have also provided some helpful tiling trends for your pool. These tiling choices will increase your swimming pool's overall value and safety.
1. Full Body Tiling
A fast-growing trend is to tile the entire pool area, including the body and surrounding areas, for a unified aesthetic. This makes the area highly durable and convenient to maintain. Moreover, this approach lends the pool a grand and luxurious look while remaining low maintenance compared to conventional tiling methods.
In addition, a full-body tile design allows you to diversify the pool's overall design. You could select one style of tile for your pool, with a contrasting or complementary choice for the pool waterline and adjacent areas. This will make your pool feel modern and unique.
2. Anti-Slip Tiling
If you are considering tiling the pool's surrounding areas, you should get anti-slip tiles to prevent any accidents. The area surrounding a pool is often covered with water, and if you are not careful, you can easily slip and fall.
Anti-slip tiles have a coating that prevents you from slipping or falling. So, it is a safe and practical tiling trend that will let you enjoy your pool better without painful experiences!
Best Pool Tile Designs Of 2023
Getting a swimming pool for your house is undoubtedly a statement of luxury. Aside from the apparent beautification of your home, it has a lot of practical benefits.
Unwinding by a swimming pool after a hectic day at work can be a heavenly experience. Or, you can burn some calories by doing a few laps in it. And if nothing else, a pool can enhance the overall vibe of your backyard!
But to make the pool vibrant enough, you need to tile it. Therefore, this brief article aims to offer innovative tile ideas and bring you up to speed with current pool tile trends. And now that we have arrived at the end of it, we hope that we have been able to guide you.
After reading this guide, please do not hesitate to get in touch if you would like to speak with a professional. The Pool Co has provided Sydney residents superior swimming pools, tiles, and accessories for many years. Contact us to book an appointment.
That being said, it is time for us to wrap it up. Take care until we meet again!