Having a pool is the perfect addition to the backyard of any home.
From pool parties to de-stressing, pools come in handy for various things. Of course, not everyone has the space or resources for large pool sizes in their backyard.
That's when the concept of a salt water pool, particularly above-ground types, comes into the picture. Adding it to your backyard allows your kids to enjoy the summer months to their heart's content. However, not every option you come across on the market is up to the mark.
So, when you're looking for above-ground pools for your backyard, salt water pools are your ideal choice, especially those above-ground ones. On top of it, it is the best alternative to traditional chlorine water pools as it doesn't irritate the eyes or the skin.
However, not every homeowner knows the benefits of having a salt water system in your above-ground pools. Thus, we decided to curate this guide.
So, without further ado, let's dive right in!
Reasons To Buy A Salt Water Above Ground Pool
Saltwater above-ground pools are the best alternative to traditional chlorine pools. Since it offers a host of benefits, more homeowners have started transitioning towards ground saltwater pools for their residential needs.
On that note, we've listed a few benefits of having these pools in your home. So, let's take a look.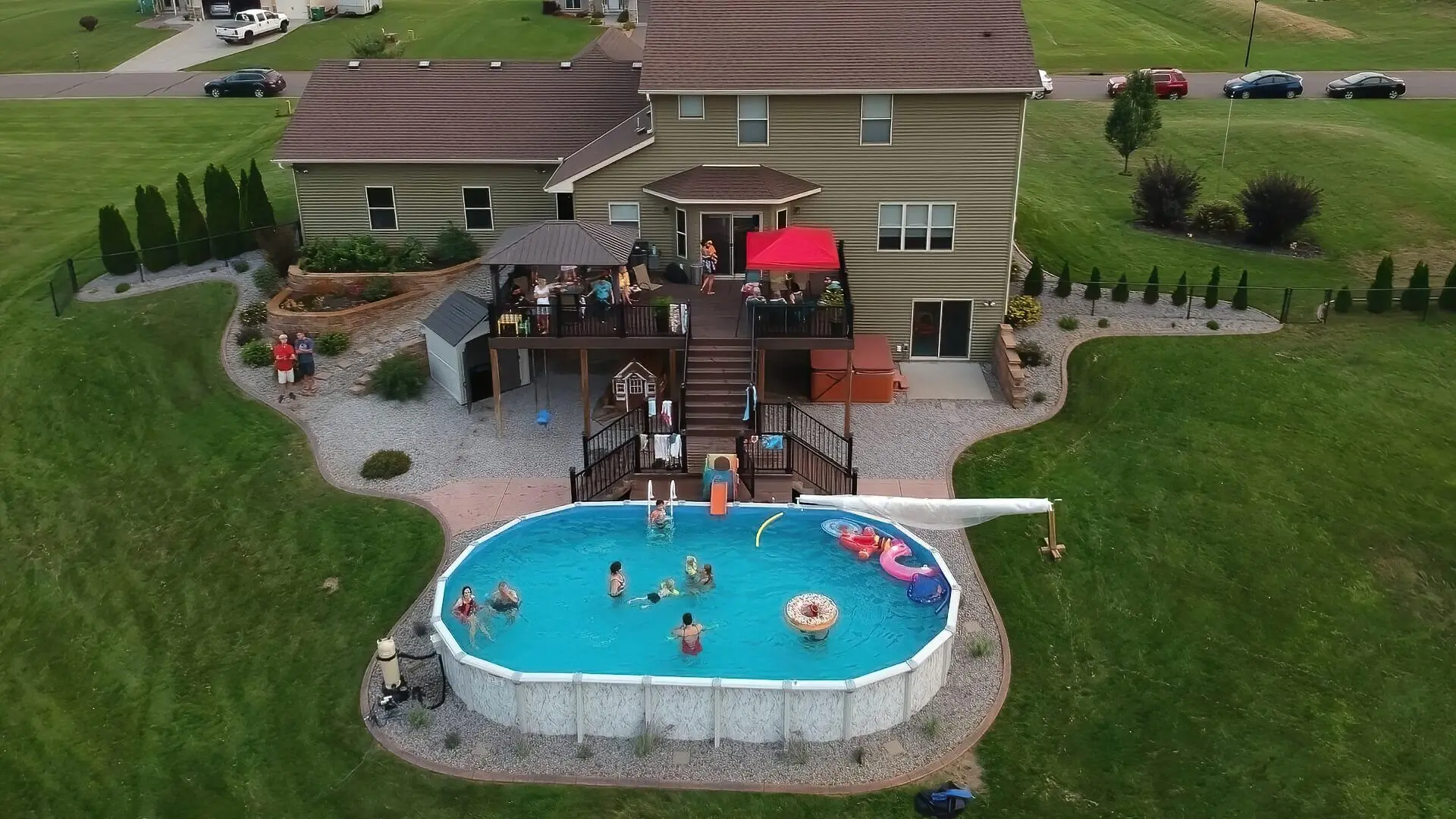 1. They Are Easy To Install
In addition to having many advantages, salt water above-ground pools and the necessary ground pool accessories are easy to install. That's because you do not dig the ground or displace the soil around to install them. This means you can set it up wherever you want.
2. They Are Easy To Maintain
If you have owned an in-ground pool, we are sure you know how troublesome it is to maintain in-ground pools.
With water at ground level, debris, dirt, and other nasty stuff can get in. Also, it is easier for animals and insects to crawl into the in-ground pool. Thus, cleaning the pool water every now and then is a back-breaking task.
Fortunately, maintaining a salt pool, particularly those above ground, is relatively easy. Thanks to the raised edges, debris doesn't get accumulated in the pool. This means you need not make considerable efforts to keep the water clean and clear.
Better yet, less energy, effort, and money are required to maintain the above-ground pool.
3. They Are Safer Than In-Ground Pools
We are sure you wouldn't want to go for options that might risk your family's life, kids or babies. Though not a common phenomenon, pool-related injuries are a real thing.
So, if you are concerned about the safety of your kids, pets and family members, above-ground pools are the best bet. Thanks to the raised edges, an above-ground pool can prevent accidents. Thus, you can rest assured of the safety of your kids and other family members.
4. They Need Fewer Chemicals
As we already know, traditional pools rely on a chlorine generator to maintain clear, clean and hygienic conditions, which is added regularly to keep it free from bacteria. That's because the water becomes unhygienic if the chlorine level of the water drops beyond the required amount.
Maintaining an optimal level of liquid chlorine can be challenging and requires a lot of money. On top of it, chlorinated water can damage your hair and skin, which makes it unsafe for daily use.
As against traditional pools, the chlorine content in saltwater above-ground pools is significantly less, which makes them safe for everyday use.
5. They Are Relatively Inexpensive
Constructing in-ground pools, inclusive of pool liners and other accessories, in the backyard can indeed be an expensive venture; we are sure you wouldn't want that. Fortunately, saltwater above-ground pools are easy on the pockets, so anyone can have them installed in their backyards.
Further, you can opt for a DIY installation to save on costs, especially if it's a modular pool. What's more, numerous manufacturers offer above-ground pools at affordable prices. So, rest assured; you can get a high-quality pool within your budget.
Saltwater Above Ground Pools
With that, we've finally reached the end of our informative guide.
To sum it up, saltwater above-ground pools are the best alternative to in-ground pools as they are relatively easy to maintain. Not only that, but they are also easy on the pockets. These pools are a perfect addition to the backyard of any home.
However, the market offers a plethora of pool options, so make sure you choose a high-quality pool and not get allured by cheap price tags.
That being said, we shall now take your leave. Should you have any queries, please engage with our pool experts in the comment section below. We'll be more than happy to help you.
Until then, take care!