A house with a luxurious swimming pool will brighten your weekends and make life much more exciting.
Not to forget, a dip in the pool on a scorching day will take away your summer blues, and family get-togethers will be infinitely more fun with it. When you have a flat yard, the pool construction process is not something to stress over.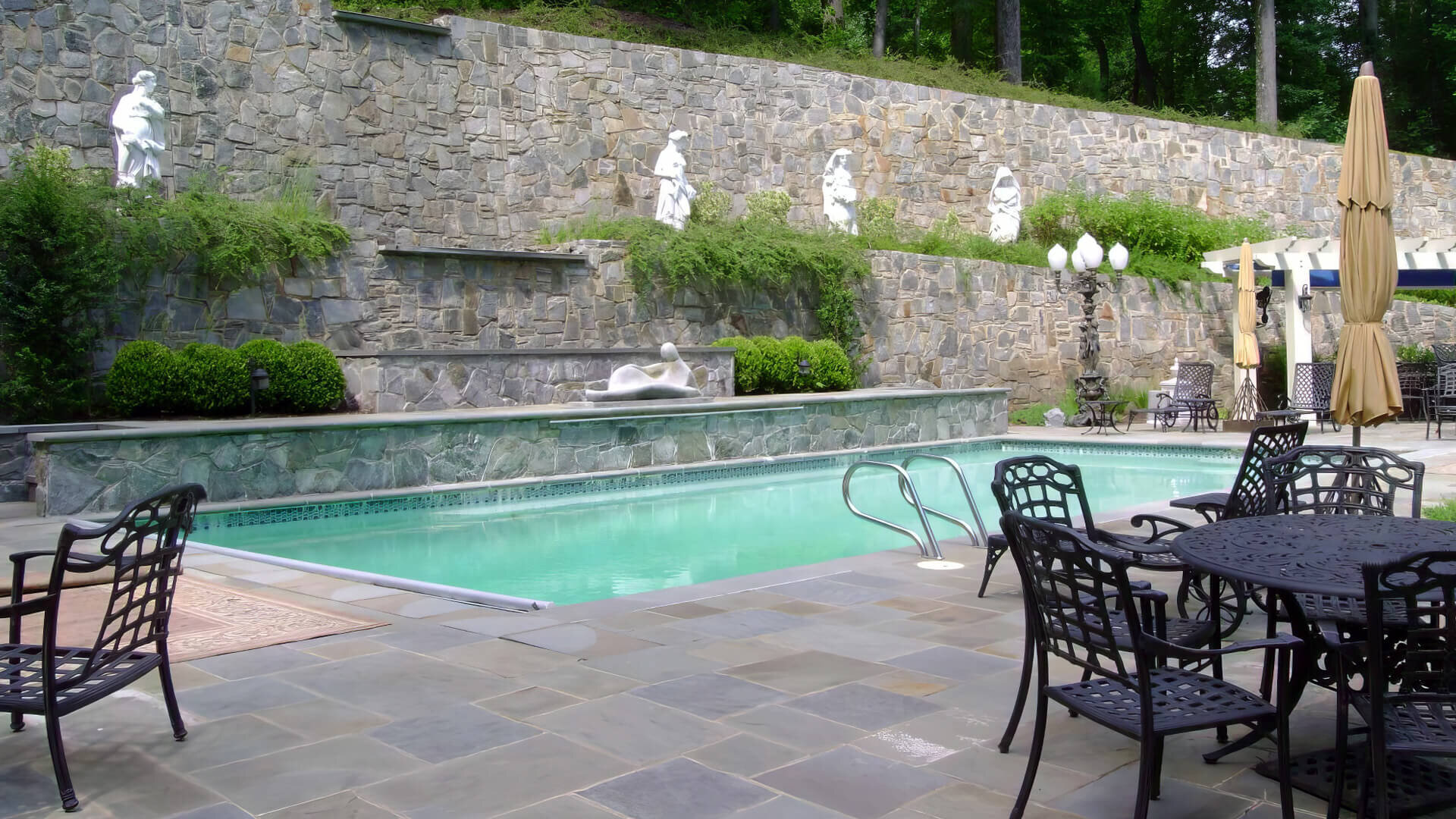 But, a sloped yard may be a cause for worry. Why do you ask? Building a swimming pool in a sloping backyard is challenging as it results in rainwater and soil running into the patio and pool water. This is when a retaining wall comes in handy. As the name suggests, it prevents dirty water from entering your pool area.
Luckily, a pool retaining wall doesn't have to be boring. There are several features you can include to make it more functional. So, without further delay, let's explore some popular swimming pool retaining wall ideas.
4 Pool Retaining Wall Ideas
If you have an above-ground pool, you'll be spoilt for choice for retaining walls. Based on your budget and preferences, you can install exciting features. In addition, you can use different materials - stone, slabs, timber, or boulders.
Although concrete pool style and brick are the most popular choices for above-ground pool construction due to their elegant texture and durability, wood blocks are often used since they are the cheapest option.
The best part is that several colour options are available to match the appearance of your house or backyard. Here are a few ideas you can choose from while creating a durable retaining wall:
1. Raise The Back Wall
You can raise the back wall above the rest of the swimming pool to create an effective retaining wall. This raised beam can be made of stone, tiles, or even wood.
Besides, you can add several accent features, such as a waterfall or fountain spray, to make it more functional and aesthetically appealing.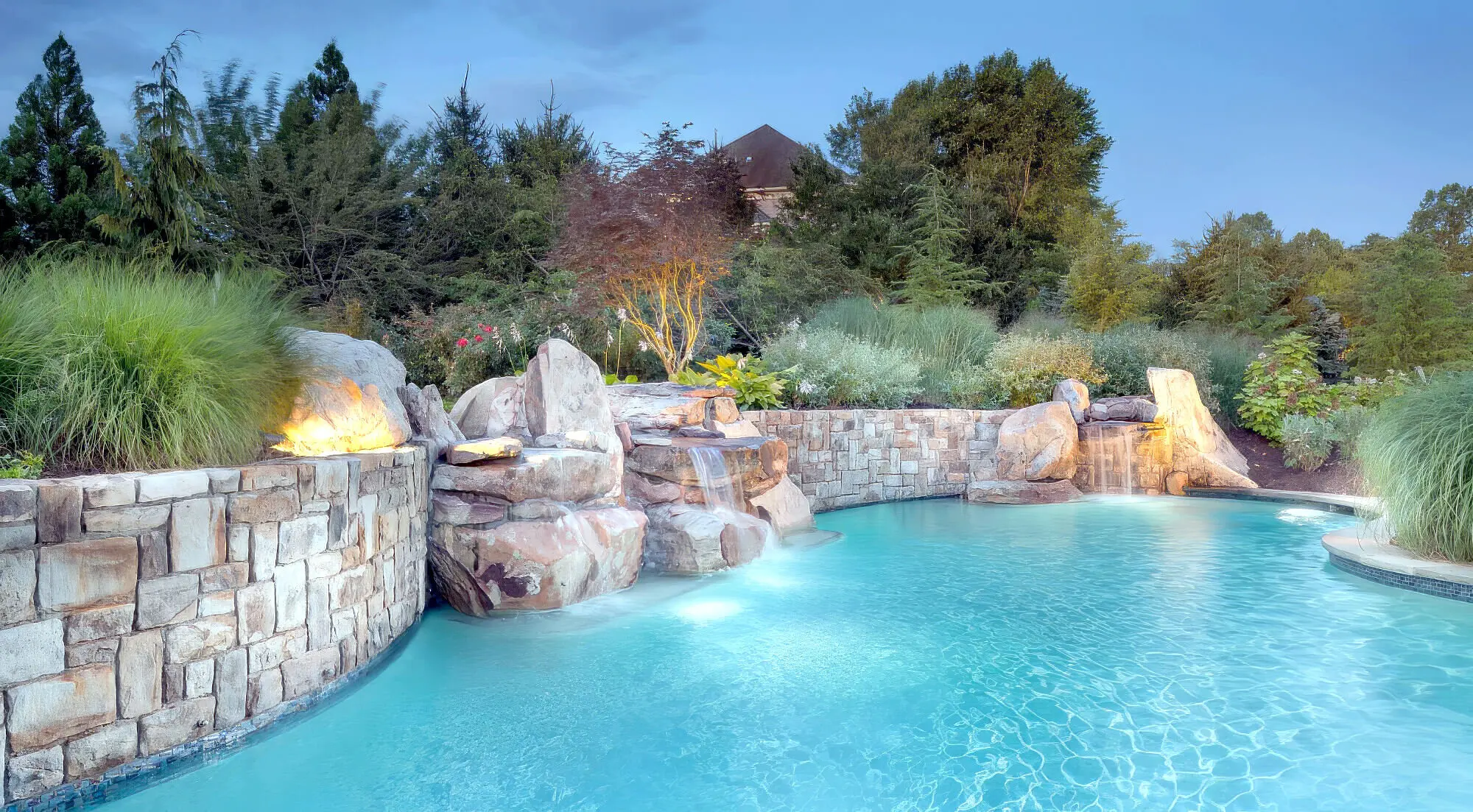 2. Install A Garden Bed
Installing wood panels and garden beds around your above-ground pool is an excellent way to blend it with your backyard pool. With its grasses and luscious shrubs, your garden space will act as an excellent retaining wall.
However, this option has one disadvantage: your garden and pool will become a hub for pests. Because of this, you will have to clean the area regularly.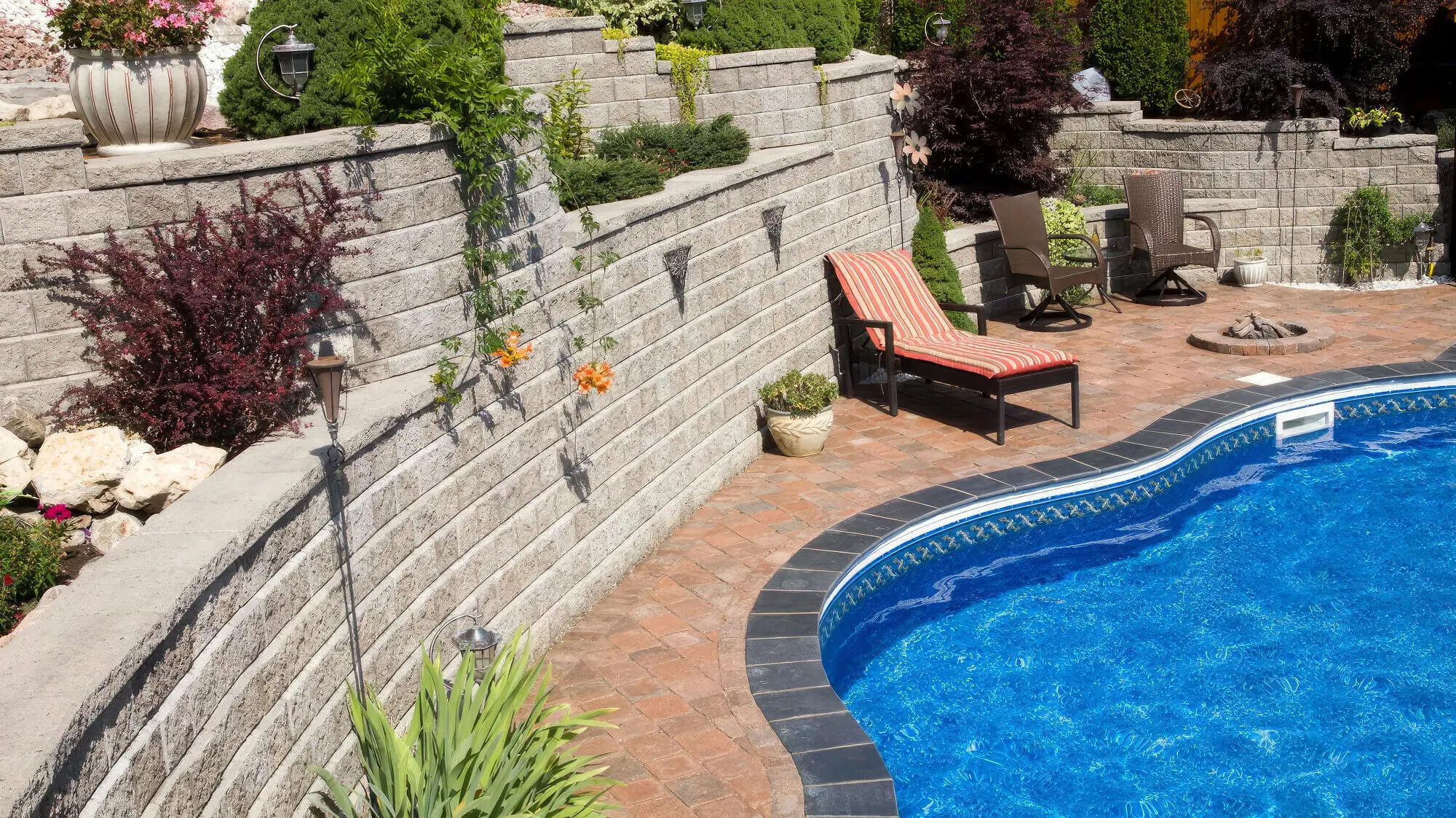 3. Extend The Pool Wall
To tell you the truth, pool retaining walls are expensive. So, why not hit two birds with one stone and raise the swimming pool above ground level so that it also acts as a retaining wall? It may sound confusing, but it is the most cost-effective method of creating a retaining wall.
Pools are elevated off the ground and surrounded by concrete or brick walls. Then, steps are built leading to the pool. This high wall ensures that dirt and sand cannot enter the pool. In addition, higher walls mean you can install various water features.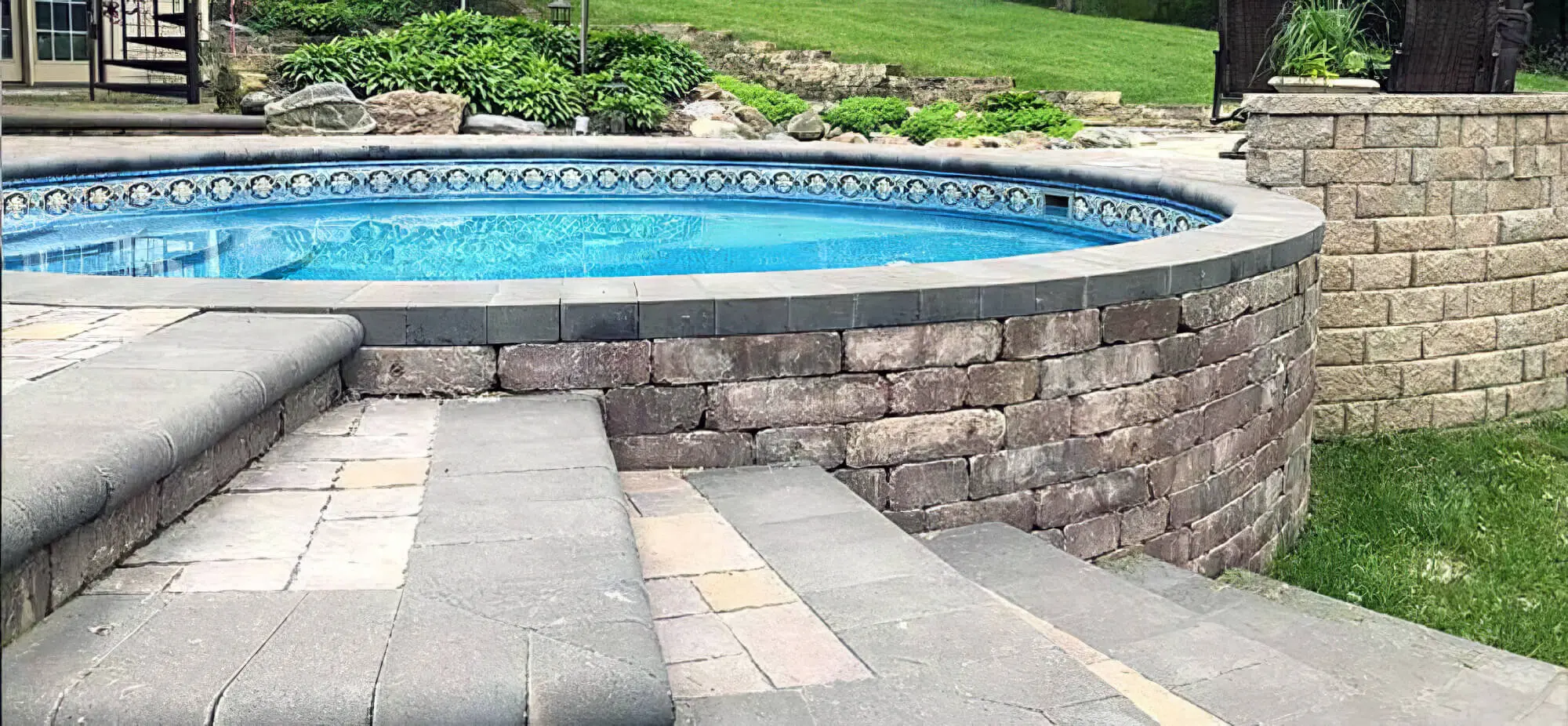 4. Install Multiple Retaining Walls
If you have a steep slope, you may have to create multiple retaining walls to prevent soil from entering the pool deck area. An extended wall around the pool acts as a retaining wall by elevating it above the ground. Then, the same process is used to build additional walls.
The building of this multi-tiered swimming pool retaining wall ensures proper drainage and prevents the earth from sliding down the hill. You can fill this terraced space with plants or install a water feature.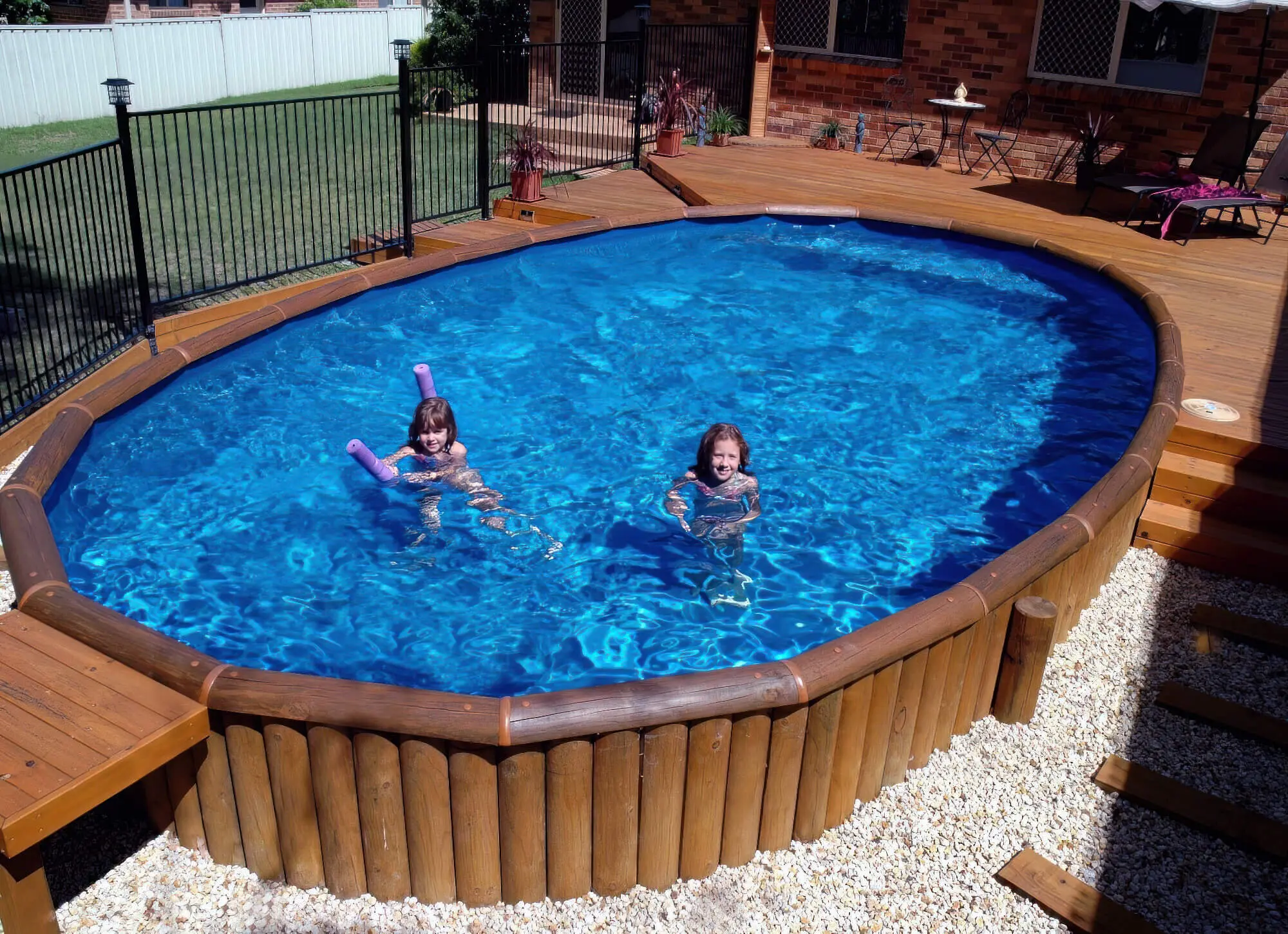 How To Build A Retaining Wall?
As mentioned earlier, swimming pools on sloped yards must have a retaining wall. Although some pool owners prefer taking the matter into their own hands, we are here to remind you that the construction of a retaining wall is an expensive process. Without any prior building experience, the project can go haywire.
As a result, it is best to hire an experienced pool designer who can understand the intricacies of the project and keep your preferences in mind. Besides, they will obtain the necessary permissions, excavate the land to create proper drainage channels and build the wall per your requirements.
An expert designer can add features such as a waterfall, garden, etc., to your retaining wall to make it more aesthetically viable.
However, while building a retaining wall, you must dedicate sufficient time to the planning phase and carefully choose where the structure will be built. In addition, you have to decide on the budget and the material you want to use.
Bringing Your Pool Retaining Wall Vision To Life
When it comes to swimming pools in Sydney, you can trust The Pool Co. to take care of all your construction, swimming pool design, decking, and landscaping needs. We can install the most attractive and functional retaining walls for your swimming pool. Have you got an above-ground pool and need a retaining wall? Our professionals can get the job done!
So, get in touch with our efficient team today, and rest assured that we've got you covered. You can contact us through the number on our website or drop an email for any queries.