While pool renovations can take some time, the results can change the entire look of your backyard.
Sure, a new pool will look good, but the process of planning and creating a timeline can become cumbersome. You might have different reasons for pool renovation, which could involve problems with the drainage, old fittings, or simply for a change of look. Some people may have bought a new house with a swimming pool, requiring renovation.
That said, every homeowner wants to complete the renovation in the best way possible within a short period. After all, nobody likes to listen to the constant noises of construction and renovation work for months. Plus, the cost would go up significantly if the job takes longer.
We have curated this guide to help you determine and plan the correct timeline for a pool renovation with these thoughts in mind. Read on to know all about it!
How To Plan The Timeline?
The time required to renovate a pool will mostly depend upon the kind of pool renovation work that needs to be done.
If you want to modernise an existing pool, you will need to work on the interior pool design and replace all the old tiles. You might also wish to add colour-coordinated tiles on the sides for that added depth. The resurfacing work can take anywhere between 7 and 14 days if you have selected the pool tiles and fittings beforehand.
In the following sections, we will take you through the steps of fixing the entire timeline for a pool renovation. This way, you can estimate the time needed to redo one. But remember, there can be unforeseen circumstances like rain or natural calamities, which can slow down the job.
Hence, we recommend keeping a few extra days in hand while determining the timeline. On that note, let's dive in!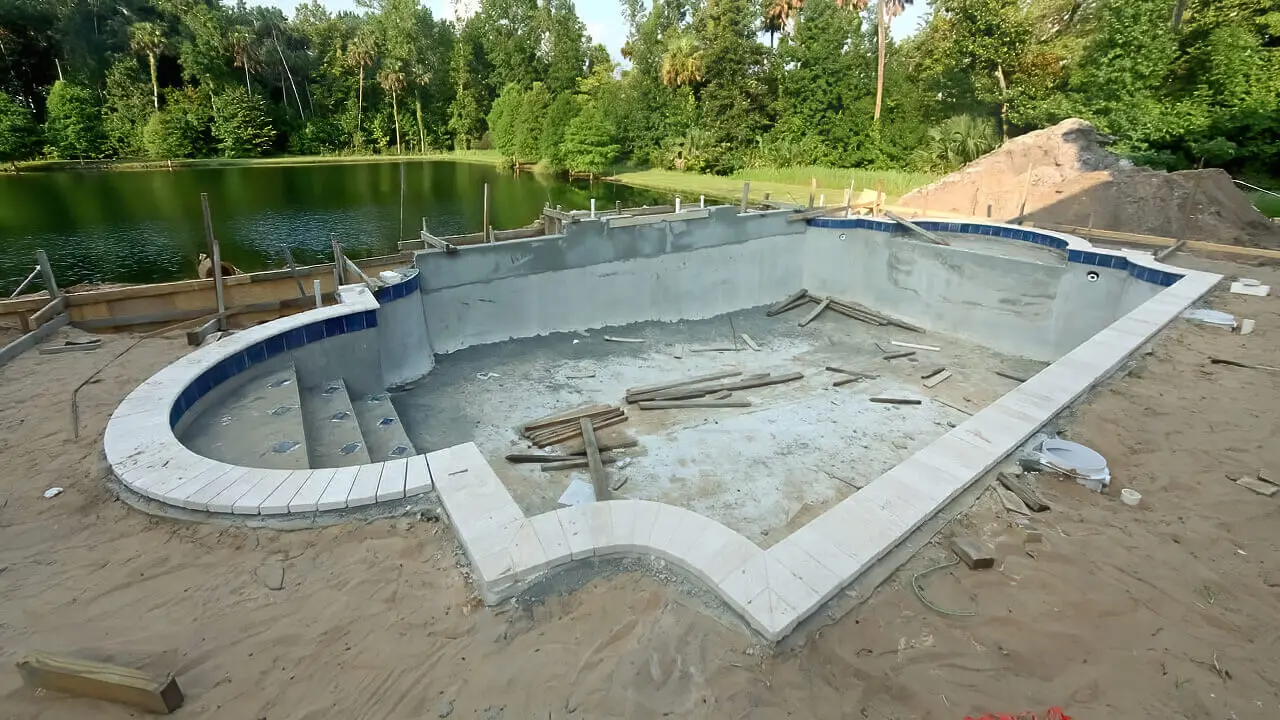 Step 1: Ideation
It is essential to plan out the process well before beginning any construction work. This will include looking for new ideas related to remodelling and finding unique designs that you can incorporate. There are also newer technologies coming up every day, and you might wish to use some of them for your pool.
So, take some time and consult plumbing professionals who can help with the renovation work. Ask for pictures to better visualise the pool and how it can look. This step may take around 1 to 2 weeks.
At the same time, you need to estimate the costs and develop a budget plan. Calculate the cost of interior and exterior work in your pool and talk to the designer if you hire one. Ask them to schedule how the activities will occur and the period involved.
If you are not hiring a professional decorator, you can sit with the plumbers and contractors and make a pool renovation timeline of the process. This step is necessary to help you prepare for the work well in advance.
Remember that the renovation involves a lot of people coming in and going out and a lot of noise. Hence, it is best to remain prepared and fix a pool renovation timeline accordingly.
Step 2: Checking The Area
In all probability, you are looking to make an inground pool in your backyard. Now, if you have an old swimming pool, check the dimensions properly and compare them with the fresh designs. You might want to make the pool bigger or reduce the size and add a garden on its sides. Whatever the decision, it is best to have all the measurements while ideating.
You will have to pay attention to the depth of the backyard swimming pool and change it if necessary. If you plan to change the depth, it might take longer as this involves a lot of complex landscaping work.
On the other hand, if you have pets or kids, you might wish to reduce the swimming pool's depth so that there is no fear of anyone drowning. You can also divide the pool into two sections so that adults and kids can enjoy it without compromising on safety.
Next comes the surrounding area and the backyard pool deck, which may need to be redesigned. Many people choose to have gardens that require time to grow, but you do not have to spend much time remodelling in that case. However, if you wish to cover the area with new tiles, it can generally take another 2-3 days extra.
Step 3: Starting The Pool Renovation Work
Once you have the idea and pool design in place, you can begin with demolition work and restructuring the swimming pool. On average, contractors should need around 1-2 weeks to complete the renovations, but this would entirely depend on the required kind of work. If you wish to make any changes, it can take three weeks to complete the demolition work.
For example, do you want to add a heater to the backyard pool? If so, that would mean a lot of digging and adding new tiles and parts that will allow the pool to heat. Some people also prefer to add underwater light, which also involves digging and adding fittings.
Step 4: Working With Revised Designs
After completing the digging and demolition work in your backyard, your contractor will begin the renovation process. This includes adding tiles, lighting, and equipment wherever needed.
And in case you want to add a new beach pool entryway, installing it can take up to 2 weeks, after which the tiles would be added to the pool.
Some Points To Remember
This section will discuss factors that can alter your timeline or add to your budget. But if you will spend money on the pool, it is best to take a holistic approach and ensure all the issues are dealt with. So, keep these points in mind before beginning the process.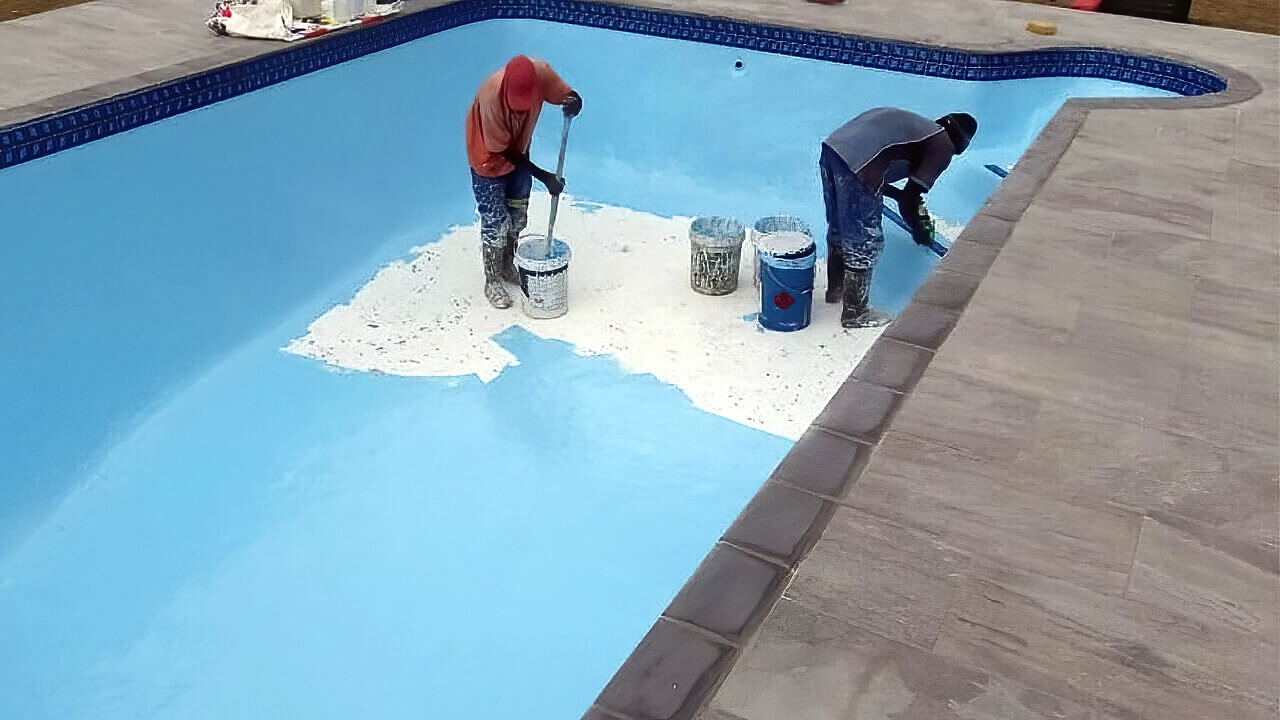 1. Surprise Issues
Once you begin the process of pool renovation, several issues might probably pop up all of a sudden. For instance, you might face problems with the electric wiring or leaks.
So, it is best to be prepared for such issues by keeping a few extra days in hand. We suggest not planning anything after the estimated number of days because you may need to extend the timeline.
Remember that the budget for your pool renovation may increase depending on this process, which is not something you'd like. However, it is best to be prepared for such unforeseen incidents so that it does not come as a shock later on.
2. Dealing With Fundamental Issues
While nobody generally speaks of fundamental issues, these have to be addressed while renovating. Looking at before and after images of renovated pools, you will probably not see any pre-existing underground cracks. Similarly, any broken electrical parts at the bottom of the pool should also not be visible.
So, during pool renovation, always check for these fundamental problems and get them sorted out first. And again, this can increase the budget depending on the changes needed, but you will end up with a perfect pool in every way.
3. Hiring The Right Pool Professional
Before you begin with the work, settle for a contractor who will help fix every issue related to the pool. This includes aesthetics and all the fundamental problems that can come about.
Besides, the pool contractor will be responsible for minor changes you might not understand well. They should be experienced enough to handle the pool well, and choosing someone a colleague or friend recommends is best.
4. Inspirations
We are sure that you will be looking for inspiration, and there is a massive collection of pool pictures on the internet. But remember to sort them out beforehand and choose based on the available area and the time you can spare.
While million-dollar pools can look gorgeous, you might not want to spend so much on them. Instead, try talking with the contractor and see how you can bring out something unique in yours. For example, some people prefer adding a fountain on one end or installing neon alphabets in the water.
Renovating Your Pool
If you are looking for a complete estimate, it should take around two months to do the entire pool job successfully. But a couple of issues can come unannounced, like material availability and the schedule of your contractor and plumbers.
We recommend that you have a word with the contractor a month before to decide when to start work. Remember that pool renovation work means you cannot use the backyard for long.
You might have to replant shrubs and hedges around, especially after completing the digging. So, be prepared to spend a few days after the renovation to get things back in place and complete your dream pool.
We will see you again. Happy renovating!