The only thing that can beat a pool in the summer heat is a tropical pool that resembles an ideal outdoor oasis in the desert.
Lush greenery, beautiful blue water, and dramatic lighting help capture the aesthetics of an oasis perfectly. On top of that, add a few subtle elements like flowing fabrics, parasols, and other decorative items to recreate the dramatic aura of a resort.
Of course, creating such an environment is easier said than done. Creating a tropical pool in your backyard is extremely difficult without a reference point to draw inspiration. The likelihood of something going awry becomes increasingly high if you have a pool installed without a specific design in mind.
And that is where you can look at the hundreds of tropical pool designs for your backyard, available online. These designs are often breathtaking and quite involved, doubly so for their construction. Naturally, visuals alone can't justify a massive construction project like this.
So, read on to discover all the reasons for and benefits of a pool design in your Sydney home. Plus, take a gander at all the latest pool designs in 2023 we've gathered for you to draw inspiration from!
Benefits Of A Tropical Pool In Sydney
Tropical swimming pools have a calming aura, offering a variety of cool and comforting colours in a quiet and private place.
You can use a tropical pool to relax and unwind after a long day of work. Reducing stress in the modern day has become paramount, and the comforting atmosphere of a tropical pool can allow for just that. Also, it can become a part of your daily workout routine, offering you benefits beyond just a place for relaxation.
Tropical swimming pools also simulate a luxurious resort at home, allowing you and your family to have fun in the privacy of your own residence. The area surrounding the pool can be designed specifically to keep you cool on warm summer days. And the greenery around the pool can further cool the surroundings down.
A tropical pool is a convenient way of having the pleasure of vacationing without the hassles of commuting. It is also a one-time investment, meaning that you won't have to spend money renting a room at the resort. And let's face it: resorts can be very expensive, particularly if you visit them regularly.
Top 5 Tropical Pool Designs For 2023
1. Stamped Concrete And Waterfall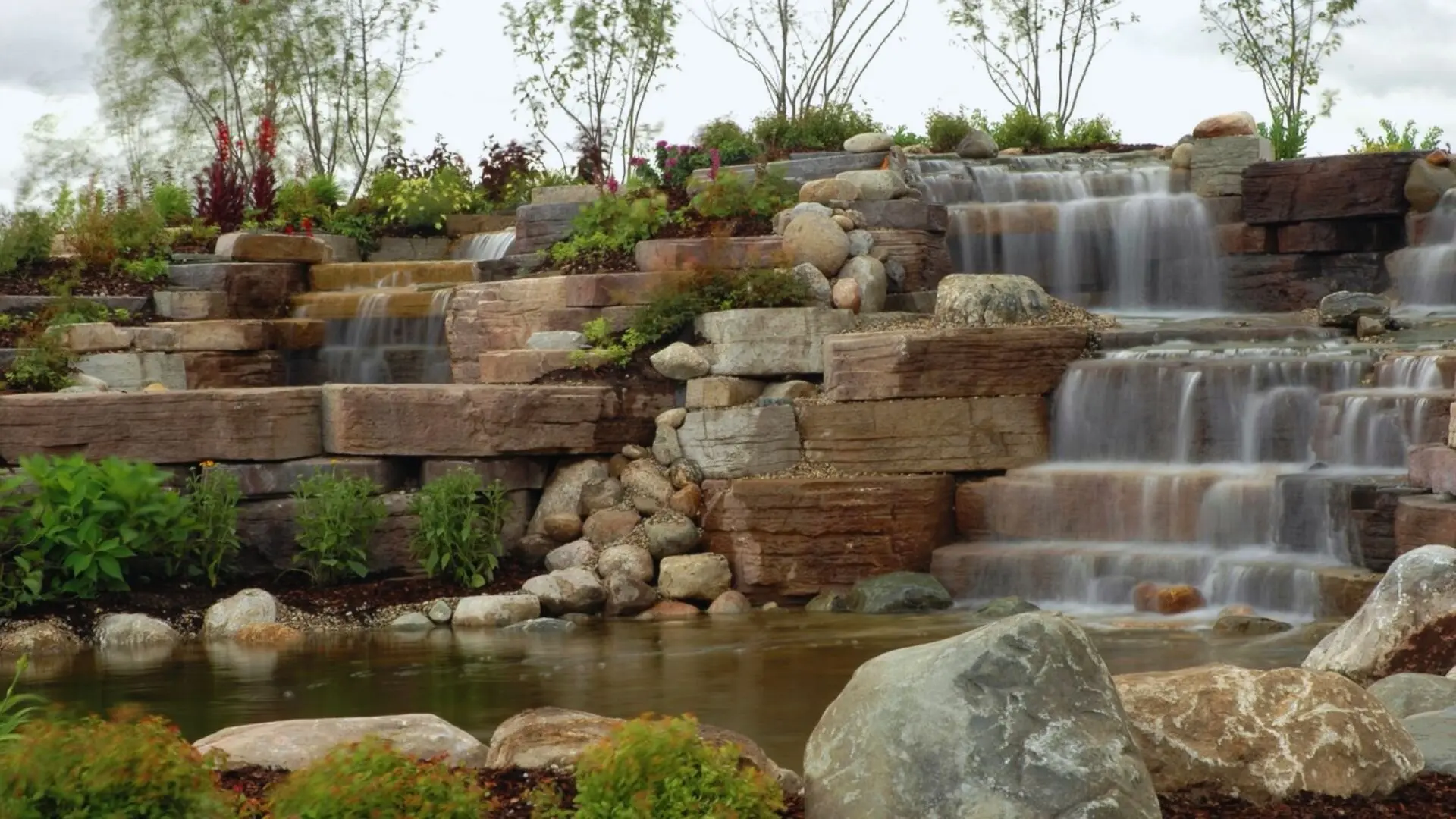 Warm deck colours that contrast the cool blue of the water, shrubbery placed sparingly all around, and torch lighting give this pool design an energetic feel. Further enhancing this feel is the small waterfall that demands the viewer's attention, adding a dramatic flair to the tropical pool.
The design merges the quaint with the modern, making it a perfect retreat for your Sydney home.
2. Lagoon Pool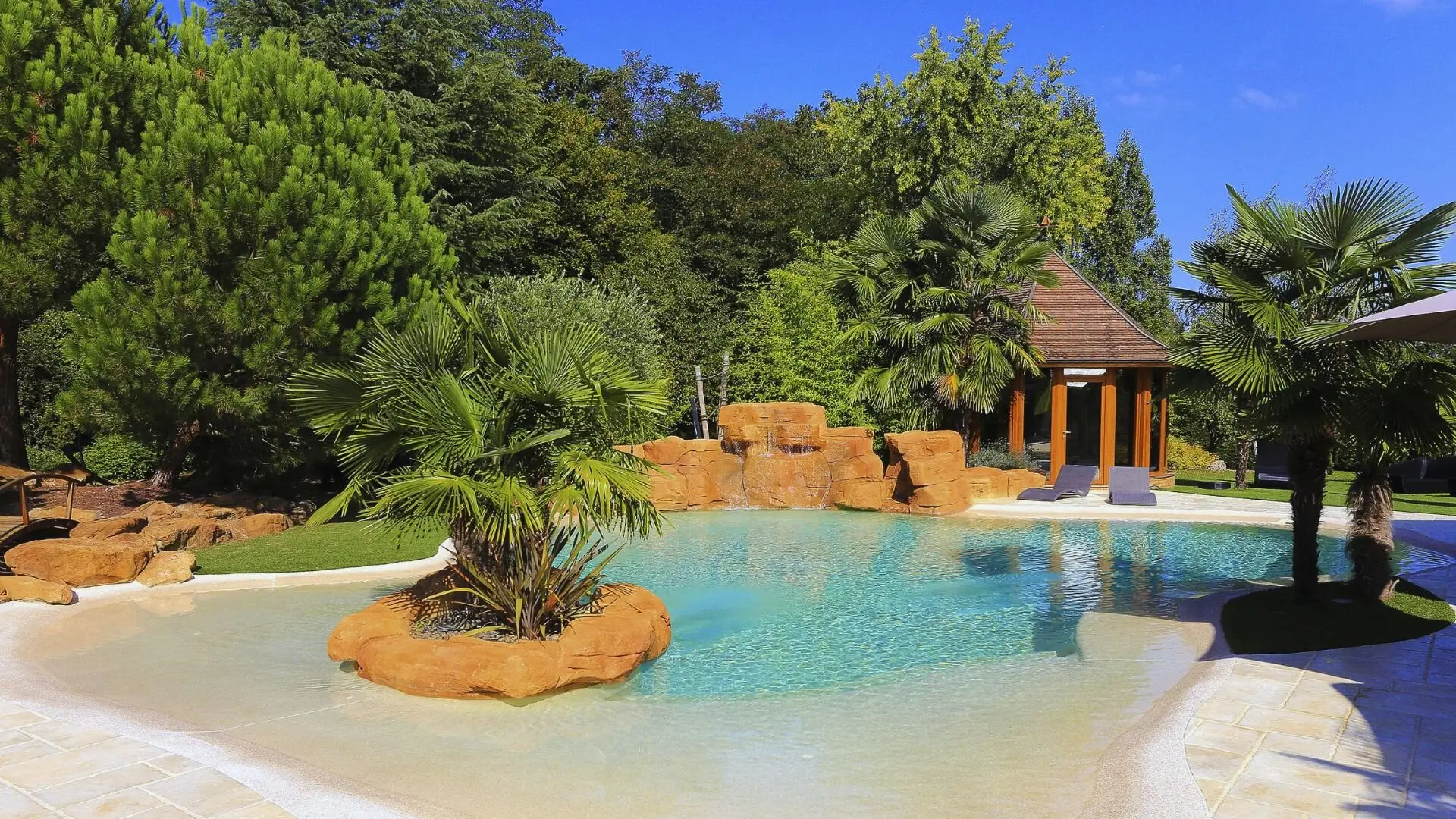 You can opt for a pool that resembles a picturesque lagoon. With rock slabs, greenery around the pool deck and furniture that matches the aesthetics of a lagoon, a lagoon pool can be a great design.
Consider adding native Australian plants next to the pool for an authentic lagoon feel. After all, lagoons are the embodiment of a tropical area.
3. Natural Tropical Pool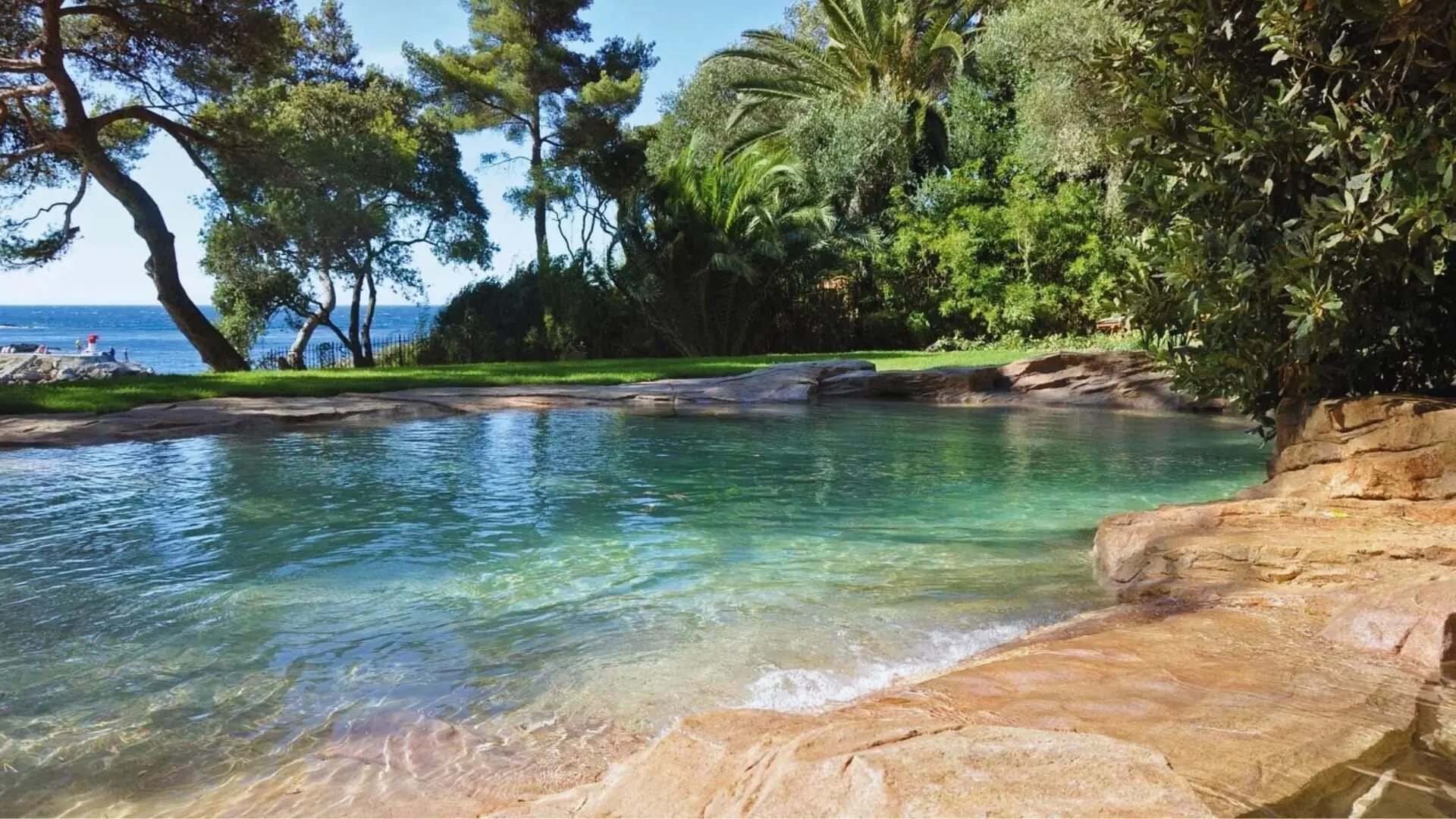 Why not go for something a little closer to nature? Pair your pool with a natural coral stone deck that features abstract patterns, line the pool interior with dark blue and make it truly tropical.
Make your design fashionably asymmetrical by lining one side with greenery and the other with modern architecture. Coupled with bench chairs and umbrellas, you can create your own backyard oasis in the summer heat.
4. Fire And Water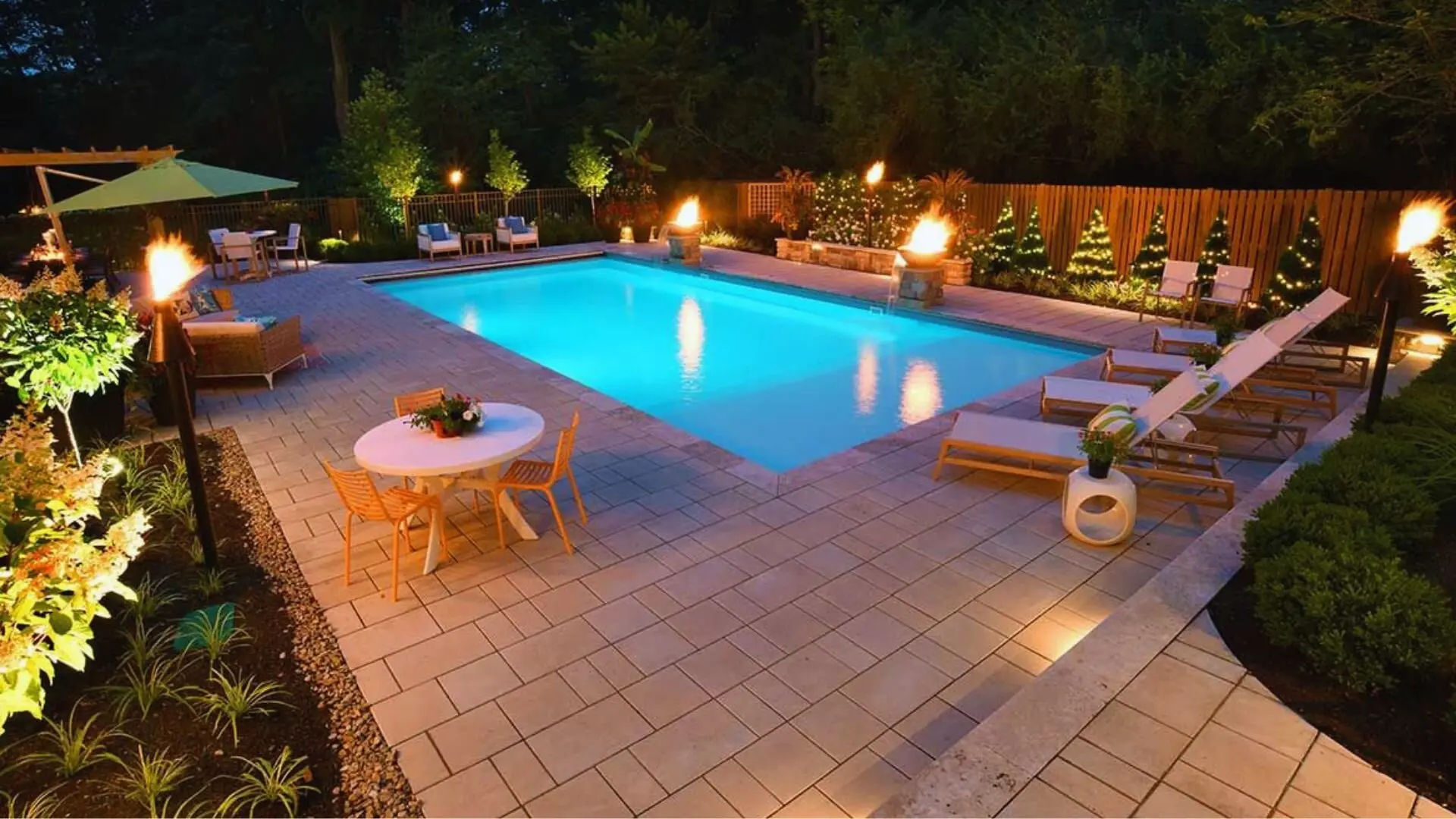 If torch lighting sounds like something you fancy, why not make it a prominent feature?
Create a stone hut right next to your pool and illuminate it with nothing but torches, perfectly juxtaposed against the cool blue of the water. Have the hut act as a mini waterfall that drops right into the pool for a unique and eye-catching poolscape.
On the other side of the pool deck, create a flower bed surrounded by a few flower pots for a sensitive touch.
5. Tropical Pool Theatre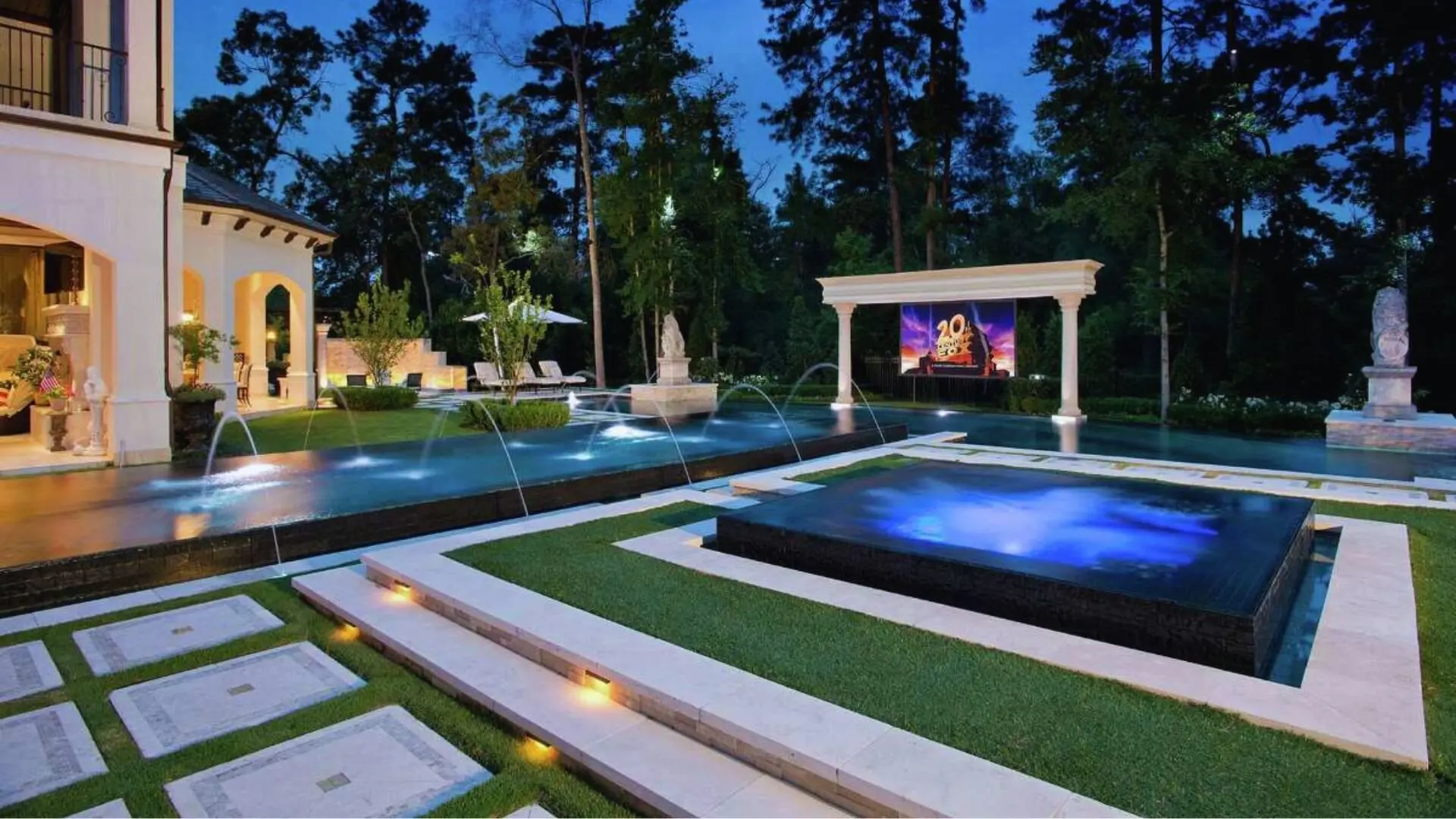 Taking your home cinema experience to the pool can be a fun way to beat the summer heat.
Paired with dim, warm lighting, cool pool interiors, seats, couches, and greenery surrounding the pool deck, you can create a private pool home theatre. Additionally, you can install faux walls for added privacy, giving you a perfect place for enjoying a classic.
Be sure to position the projection screen to be visible from all corners of the pool!
Hiring A Professional Pool Builder For Tropical Pool Installation
Having a professional Sydney pool builder install your pool design seems like a no-brainer, but installation services are not all they can offer.
When you hire a professional, you can discuss with them what you need from the pool and what can be achieved feasibly. They can also help you settle on a design that suits your home the best. After all, the last thing any homeowner wants is a mismatched pool for their house.
And lastly, your local expert will know all the swimming pool and landscaping solutions to help you get what you need. They can provide details on features like seat jets, swim jets, coping tiles, pool lighting, and more for your satisfaction.
Creating A Tropical Oasis In Your Backyard
A tropical pool can be one of the most relaxing additions to your home, particularly if you enjoy swimming in the summer heat. Not only can it act as a place of respite, but it can also be an aesthetic wonder that pairs well with your home.
The key thing to remember here is that the natural elements in a tropical pool are the most important aspect of making it relaxing. Consider carefully selecting pool-surrounding greenery before you make the design final.
And lastly, consider adding a few secondary features to enhance your pool experience. Additions like appropriate pool lighting, benches and seats, glass fencing and swim jets can improve your pool's visual appeal and function.
Get in touch with The Pool Co. for all your pool-building needs. Rest assured, our experts will deliver on every front when building the tropical pool. So, give us a call today!
FAQ
1. What are the latest trends in tropical pool designs for 2023?
Pool design trends change often, and keeping up with these trends can help you decide which design to pick. The latest trends in tropical pool designs include:
Contemporary pool shapes
Darker pool colours, such as black or grey
Multiple pool depths
Combined fire and water features
2. How can I choose the right tropical pool design for my backyard?
Sometimes, what you need from a pool and what is possible to construct in your backyard may not align well. When this happens, you must consider the following to choose the right tropical pool design:
Ensure that the tropical pool design fits your budget
Ensure that the design fits your yard
Check the position and alignment of each design element