When considering a pool installation, it is important to keep in mind the requirement of installing fencing walls. Among the various options available, glass fences emerge as an elegant and sophisticated solution, perfectly marrying style with functionality.
Most municipalities mandate that pool owners surround their swimming pools with fences, a safety measure to prevent accidents. These rules, dictated by safety requirements, are designed to prevent mishaps and accidental pool entries, thereby reducing the risk of drowning.
The Australian standards for pool fencing can vary from region to region. Thus, familiarising yourself with your local regulations before commencing any fencing work is essential. These include specifications regarding the fence size, gap between the boards, distance from the pool, etc.
When it comes to pool fencing, you are presented with a palette of design ideas that can fuse functionality with visual appeal. Consider installing a glass pool fence, an aesthetic barrier that doesn't obstruct the enticing view of your pool on a hot summer day.
Shall we get started? Alright, hop in!
Modern Pool Fencing Wall Ideas
1. Stone Fence Wall
When someone says "fences," those plain white wooden boards come to mind. But it isn't supposed to be like that all the time!
Installing stone walls in your favourite textures can give your background a "natural" look. This will provide an exotic resort-like vibe to your pool area.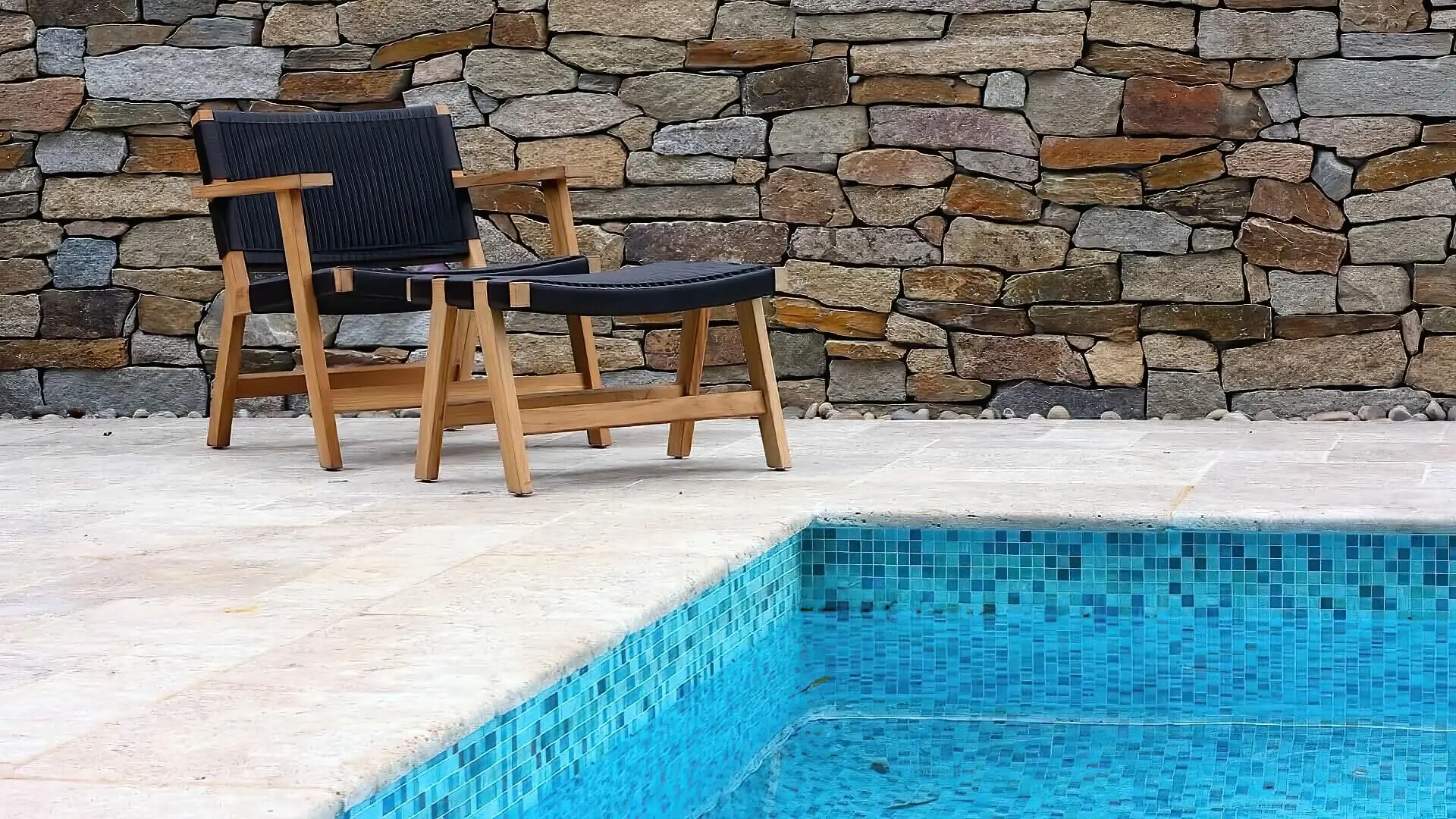 2. Brick Fences
If you want a vintage colonial feels in your backyard, then brick walls are the way to go. These are common in house constructions but rare for building fencing walls.
There are a lot of hidden benefits of using bricks. You must note that they are low-maintenance, less expensive, sturdy and foundational.
However, you'll have to run checks for their architectural integrity from time to time, but other than that, they're hassle-free.
3. Concrete Walls
One of the appealing options for your pool fencing is impact-resistant glass fencing, offering both safety and unobstructed views of your pool area. Unlike concrete fences, glass pool fences offer a more elegant and modern look. They are made of modern toughened safety glass, which is impact resistant and durable. Glass pool fences provide complete privacy and can be covered with anti-glare or privacy films. They are also unclimbable, ensuring security from intruders.
Many textures and finishes are available in concrete walls, and there is a broad scope of experimentation. There are stamped concrete and stencilled patterns for a geometric look, while cinderblock is a classic DIY style.
Naturally, these fence walls are unique and stand out from the crowd.
4. Glass Fencing Walls
Glass pool fences are a more expensive option compared to other types of fences, but they offer a distinctive and luxurious look to your pool area. Tempered glass, which is used for these fences, is known for its impact resistance and durability.
But especially pleasing is that these fences provide complete privacy since they can be covered with anti-glare or privacy films. Moreover, the glass walls are unclimbable and offer security from intruders.
Now, if you find it too costly, there are also budget-friendly options on the market.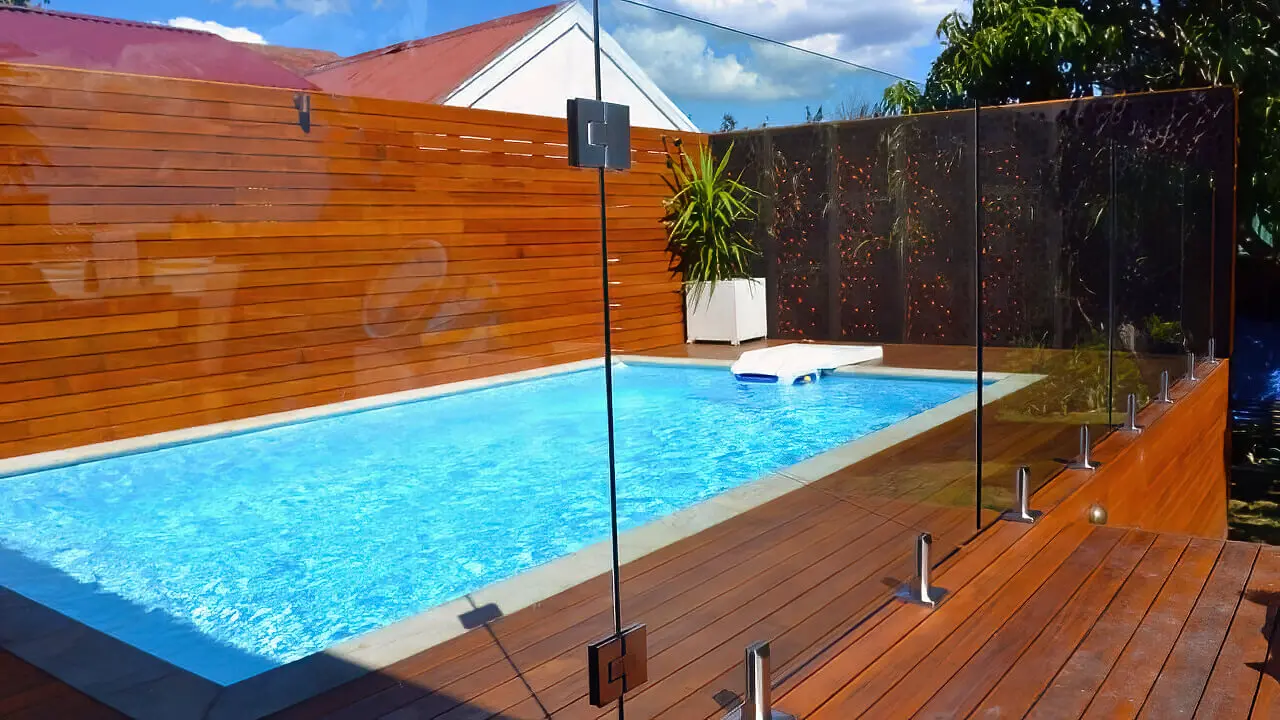 5. Metal Fences
When it comes to pool fencing options, metal fences are a classic choice. They have been popular for many decades due to their strength and durability. Steel and aluminium are commonly used materials for metal pool fences.
Aluminium is a lighter option and is resistant to corrosion. On the other hand, steel is quite heavy and the most challenging option, especially if galvanised.
6. Vinyl Fencing Wall
When it comes to pool safety, installing pool fences is essential. There are various materials available for pool fences, including vinyl, which is known for its low maintenance requirements and long lifespan.
Also, as it can be designed to imitate other materials, you might find it a bit expensive. But given its sturdiness and longevity, it's worth the cost. A few common examples of this fencing wall include picket fences and wooden emulates.
7. Mesh Walls
Mesh walls aren't the most good-looking option, but they have unique upsides. They are soft and harmless; this is a safe alternative if you have kids in your home.
It is suitable for climbing, and accidental bumping while playing will not be hurtful due to its soft build. It is one of the most budget-friendly options, and if you cannot decide on a permanent fence, you can suffice with these for a while. They are good as a temporary resolve.
8. Rustic Materials
If you want a mellow, rustic, and willowy aura in your backyard, provided privacy is not a factor, this one might be good for you.
Rustic materials lie on the lighter spectrum and do not dominate the space as they allow breeze and sunlight to pass through. They'll also go well with your wooden deck.
9. Rail And Post Fence
Common in the countryside, post-and-rail fences are rustic and old-school. They have a simple structure and can be constructed using any wood of your choice.
However, they are easily climbable, and the gaps between the posts are enormous. You'll have to get additional fencings like wiring or mesh to stick to the guidelines.
Do-It-Yourself Ideas For Modern Pool Fencing Walls
Looking for some inspiration for your pool fence? We have plenty of creative ideas to share with you. Whether you prefer a modern and sleek design or a more traditional and rustic look, there are numerous pool fence ideas to explore.
1. Picture Frame Fence Walls
In picture frame fencing, the panel walls in your design are capped using flush post tops. You can feature plants or add some hydro elements to flush out the traffic noise.
These modifications are typically used in timber fences, but you can add your personal, contemporary touch to them. Artistic features like vertical wall gardens or DIY paintings are the best to add a personal creative touch to your pool space.
Overall, picture frame fences create an aesthetic background for outdoor living spaces, water fountains, sculptures, and architectural gardens.
2. Outdoor LED Or Wall Lights
Are you a fan of colourful LEDs and twinkling fairy lights? Well, you don't have to wait around for Christmas.
You can jazz up your fence by integrating outdoor or wall lights all year round. However, you'll have to install panels with internal outlets for connecting cables.
If your fence boards do not have electricity points, you can manually equip them with entry points for cable or use extension boards.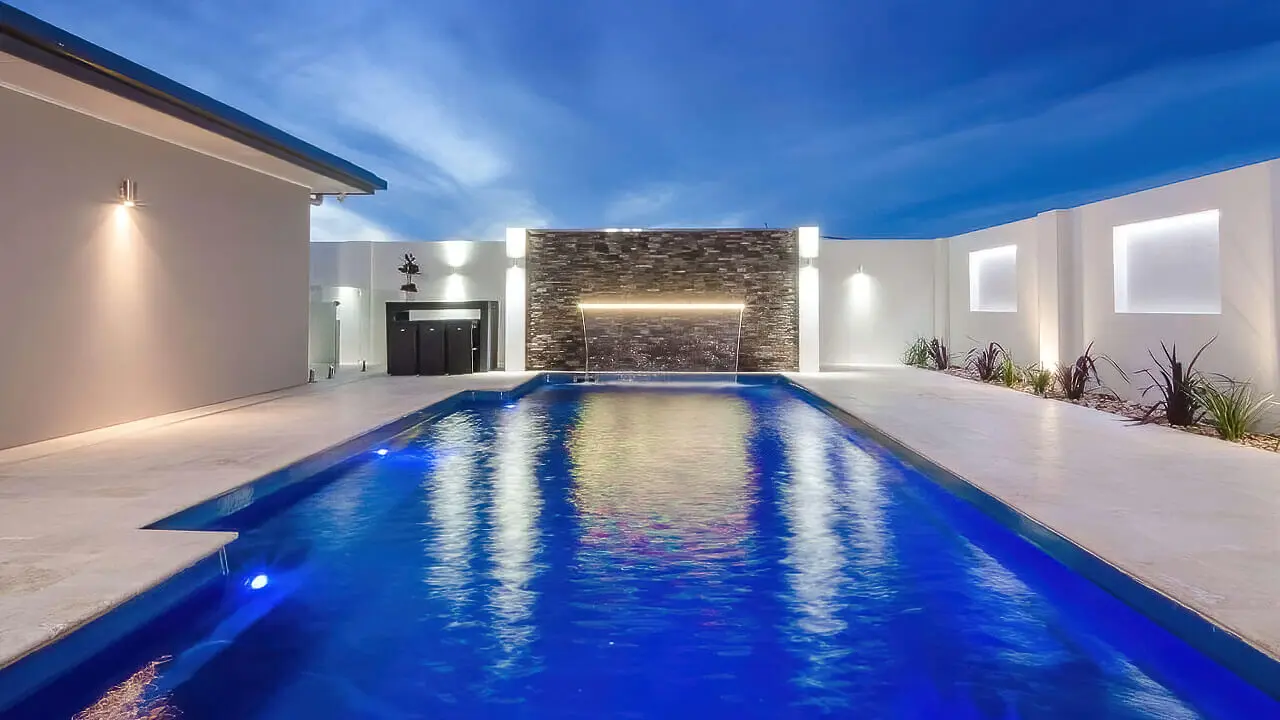 You don't have to go for all the razzle-dazzle if you don't like it; simplistic lights will also do the job. You can install whichever type of lights you want, and there are no restrictions.
But we advise investing in those with a long lifespan because you don't want to go through the hassle of changing them frequently.
3. Expressed Joints
Joint lines in fence walls are annoying. What if we told you that you could make a beautiful design out of it? No, we're not kidding. If you already know about expressed joints, kudos, but we've got you covered for those who don't know.
An expressed joint is simply a joining line in the fence that has been pronounced deliberately to come across as a feature design. It's easier to accentuate the joints instead of hiding them, don't you agree?
Unsurprisingly, expressed joints have witnessed a recent rise in popularity, with people unleashing all their creativity.
4. Modular Doors
If you prefer a seamless and contemporary look for your pool fencing, consider using glass panels. Glass panels can be used for the main fencing and modular gates, creating a cohesive and visually appealing design!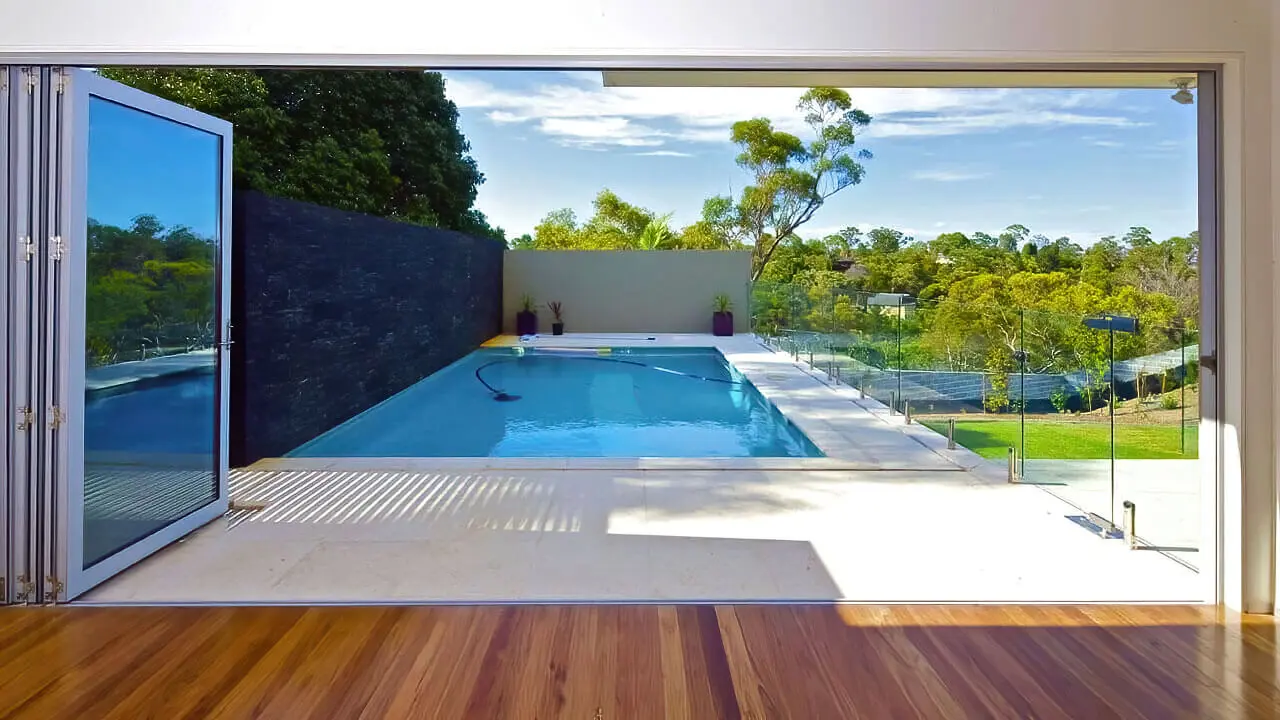 5. Finishing Walls
Last, but not least, it's crucial how you finish your walls. The final look and decor depend on your fencing walls; some prefer painting, while others prefer concrete texture or tiling.
Staining, painting, and varnishing is the best way to finish a wooden fence wall. You can go for a smooth acrylic look or a contrasting textured look. Texture acrylic render has also been in buzz lately.
Furthermore, stone, brick, and concrete walls do not require finishing touches because the texture is added during construction. And there is a wide range of options when it comes to tiling. You can choose from various patterns, designs, and colours.
Moving on, cladding and veneering are also great for fence customisation. But as they require extensive use of adhesive, pay special attention to the weight restrictions.
Choosing The Right Pool Fencing Wall
When designing your pool fence, it's essential to consider the specific requirements and regulations in your area. Different municipalities have their own pool fence requirements, including specifications regarding fence size, the gap between the boards, and the distance from the pool. Make sure to check your local codes and regulations to ensure compliance.
Backyards and pool areas aren't exempt and can be jazzed up according to our tastes. Moreover, fencing walls do not draw much attention and blend with the background.
If designed correctly, they can change the whole vibe of the place. The small things collectively create a significant impact, and because of that, your fences must go with the aesthetic of your backyard.
Hopefully, our detailed guide will prove helpful when you design your fencing walls. We'll sign off on that note. Until next time!