Lap pools are ideal for working out your muscles, and you want to ensure the new pool you install is a perfect size.
Besides exercising, many homeowners desire a swimming pool to have some privacy in their backyard. These lap pools deliver an exquisite look to a narrow yard, especially when viewing through the house. And with residential plots getting smaller, their popularity has increased more than ever.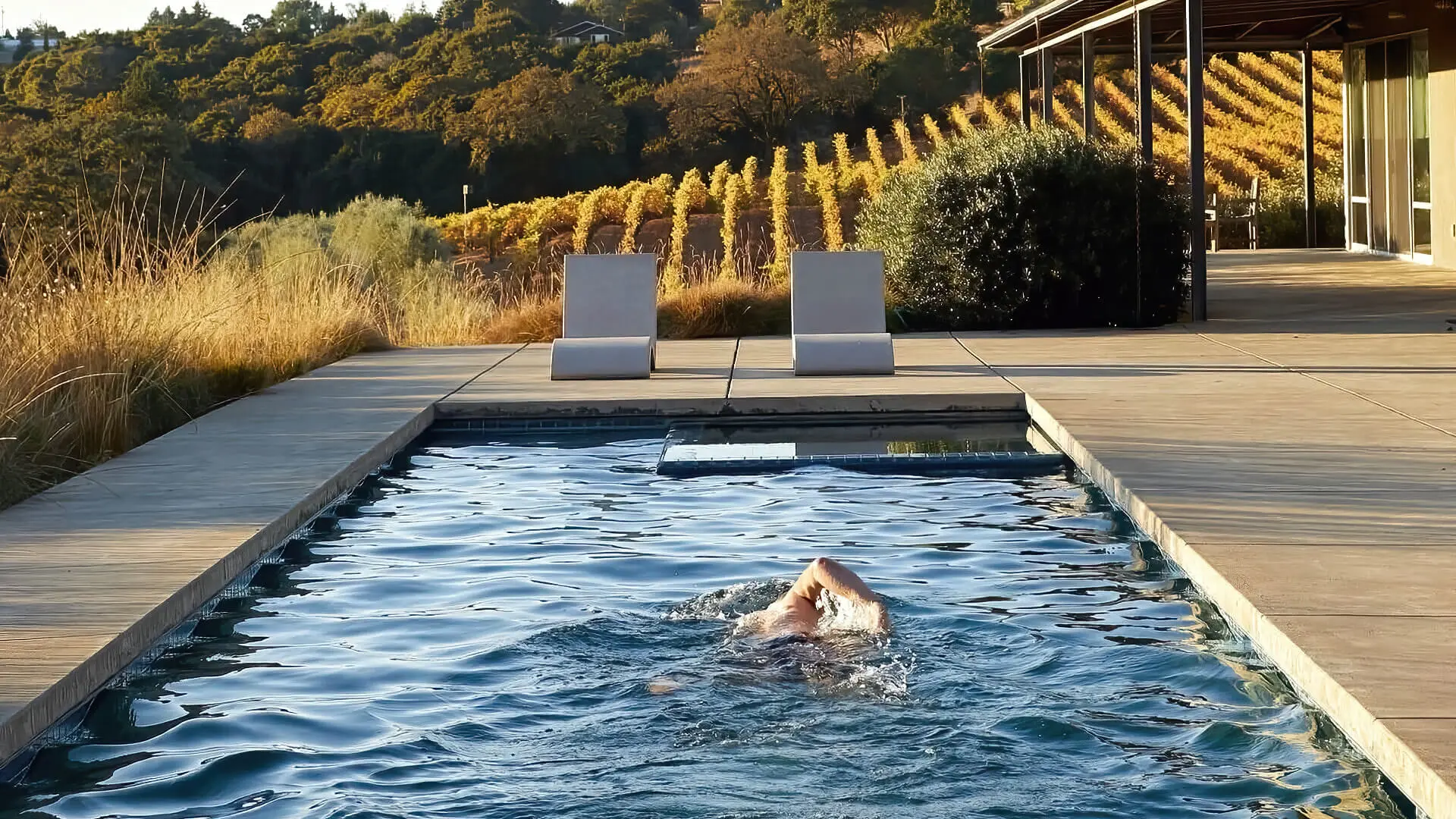 As you're planning to build a lap pool in your backyard, it's essential to keep its ideal lap pool sizes and other factors in mind. And in this informational guide, we will discuss each of them in detail so that you have the pool of your dreams.
Without further ado, let's dive in by answering how long is a lap pool.
What Is A Lap Pool Anyway?
Lap pools are narrow, long, rectangular swimming pools installed primarily in-ground, but you can also build them above ground. As the name suggests, these are designed for swimming laps and need to be longer.
Now, the length of a lap pool is generally 40 feet, but it can reach up to 75 feet, and the width usually varies between 6 and 10 feet. Experts reveal that the lap pool needs to have a minimum depth of 3-½ feet so that the feet and hands of swimmers don't touch the ground. And if you flip turns at the end of each lap like an Olympic swimmer, the depth should be at least 4 feet.
While you can utilise them for recreational purposes and family playtime, they are not equipped with the features of traditional in-ground pools. Plus, they won't have a broad set of steps or shallow end for kids to jump around- there might be some narrow ladders for a swimmer to get in and out.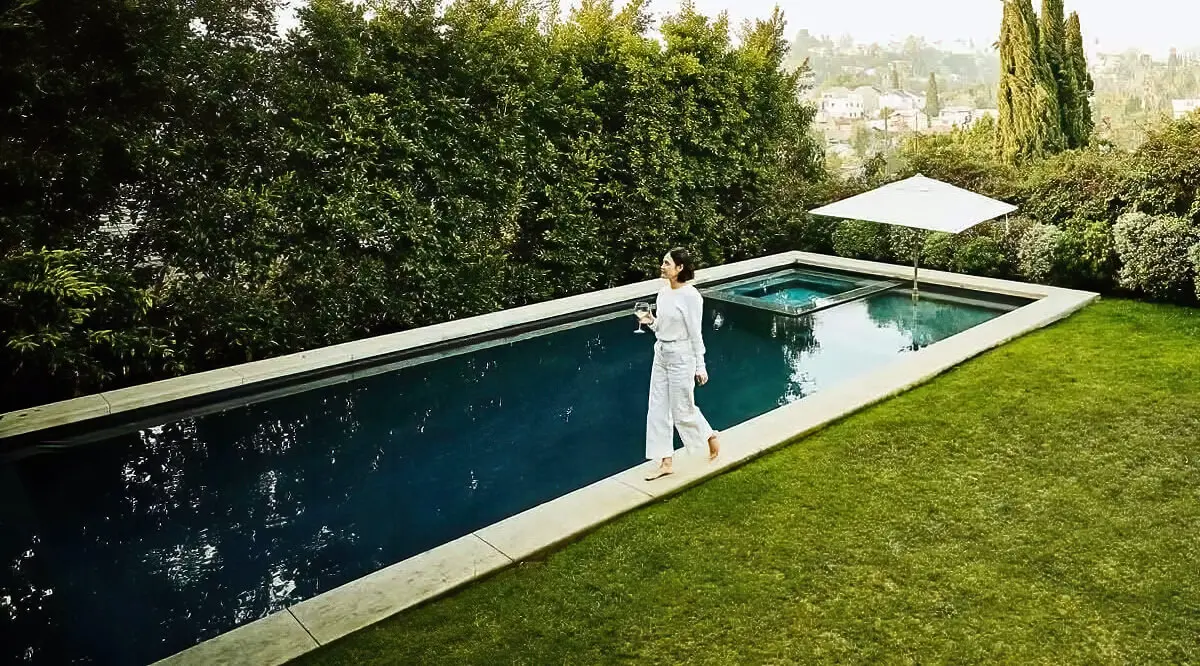 Early Designs Of Lap Pools
Ancient Romans and Greeks built rectangular-shaped pools for nautical games, athletic training and military exercises. However, Russian emperors built private pools, known as piscinas, to breed fish.
While pools served several purposes for different civilisations, Cleo Baldon designed lap pools in 1970. Her designs changed the fitness scene, and people started using lap pools for training and exercising.
What Is Baldon's Design?
Baldon revealed that her inspirations behind a lap swimming pool were long, narrow irrigation trenches in her homelands. Although her mother didn't allow her to swim in these trenches, she made some beautiful pools for swimming laps in and enjoying.
Based on her design, these pools usually have a maximum width of 8-9 feet and a minimum length of 45 feet. This design allows anyone to comfortably stretch their hands and legs to execute almost any swimming stroke.
However, kids' optimal length, width, and depth should be 3 feet, 4 feet, and 5 feet, respectively. These pool dimensions are excellent for them to begin their swimming training.
The maintenance of a lap pool is similar to that of a traditional one. Still, it can also be used as a spool if a machine generating artificial current is installed inside it. It helps swimmers train well when performing strokes against a continuous water flow, improving their toning and strokes.
What To Consider Before Building A Lap Pool?
It would be best if you considered a few important factors before building a lap pool, which include: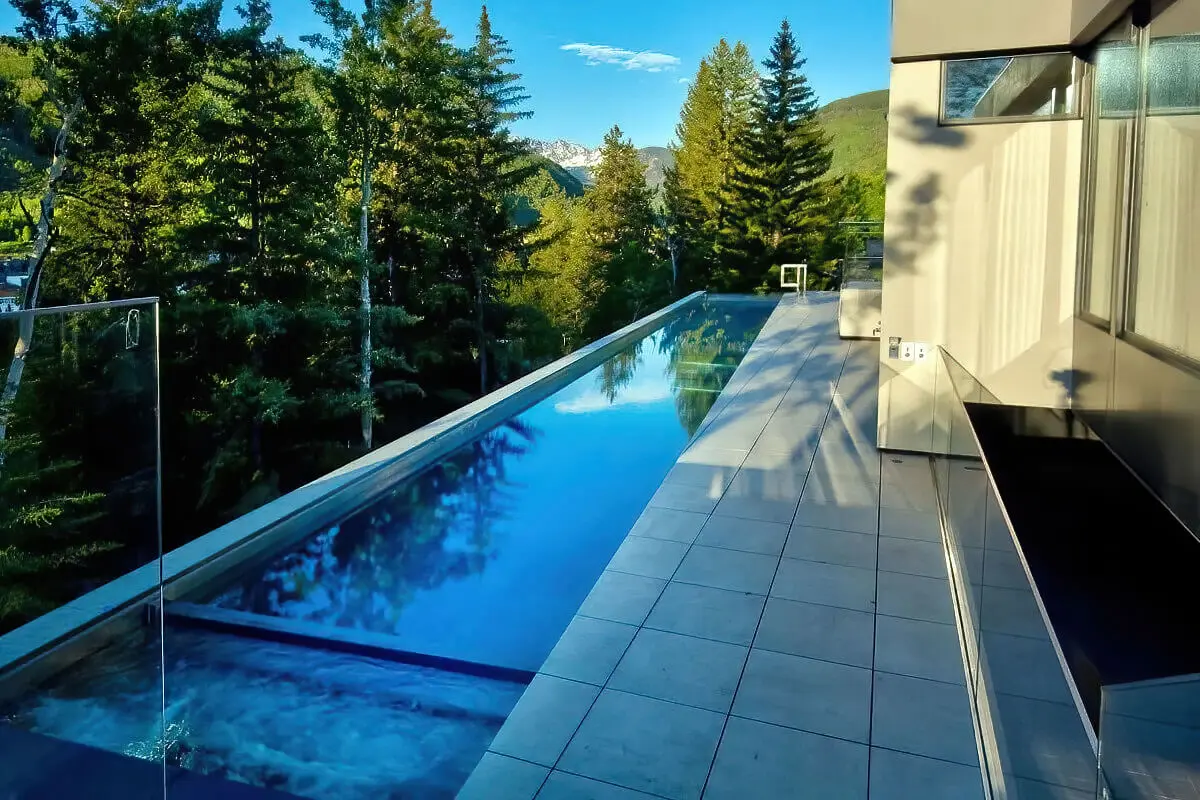 A. If It's Being Built For Swim Laps
If you use your lap pool only for swim laps, it's convenient to have narrow stairs to get inside the pool.
B. Extra Features
If your lap pool has adequate room, you can consider making some additions. For example, you can add an integrated spa for a more wholesome experience. Besides, having a hot tub in your backyard can let you relax after a hard day at work.
C. The Pool Design
It's also crucial that your lap pool looks good, so designing the deck surround will be good. You can use materials like concrete, wood, tile, or paving.
Any swimming pool needs a standard width of 4-8 feet along the sides. This helps keep debris out of the water, permits easy access and ensures water doesn't splash out of the pool, and you won't have to break a sweat to maintain it.
Also, decide what purpose you will use the lap pool for and when to use it (day or night), as this will help you figure out if it needs a heating unit.
Designing Your Lap Pool
Once your lap pool is installed, you must maintain and clean it regularly. You can use a hand vacuum or a robot pool cleaner or hire a professional pool builder to do it for you. The latter can be costly, but you can't afford health issues due to the dirty pool water.
Also, we'd like to mention that the cost involved in installing a lap pool is almost similar to a traditional in-ground pool. Like traditional pools, the final price may vary depending on the pool material used. Concrete is the most expensive option, while vinyl is the most affordable.
Whether you need to install, maintain or renovate a lap pool in Sydney, we are here. With years of experience, we design and build modern, stylish, and functional pools, swim spas, and fences. We would be excited to assist you on this new adventure so get in touch with us today!
That's it for today. Keep a watch on this space for more informative content. Bye!