Building a hot tub in the backyard with a theme in mind can be rewarding.
But there are several things you need to consider before purchasing a spa. Of course, which hot tub you select depends on the size and type of backyard. It also differs depending on the vision you have for the tub. You may want the hot tub to look like a pond straight out of a tropical forest, or you would prefer a modern enclosure with sleek details.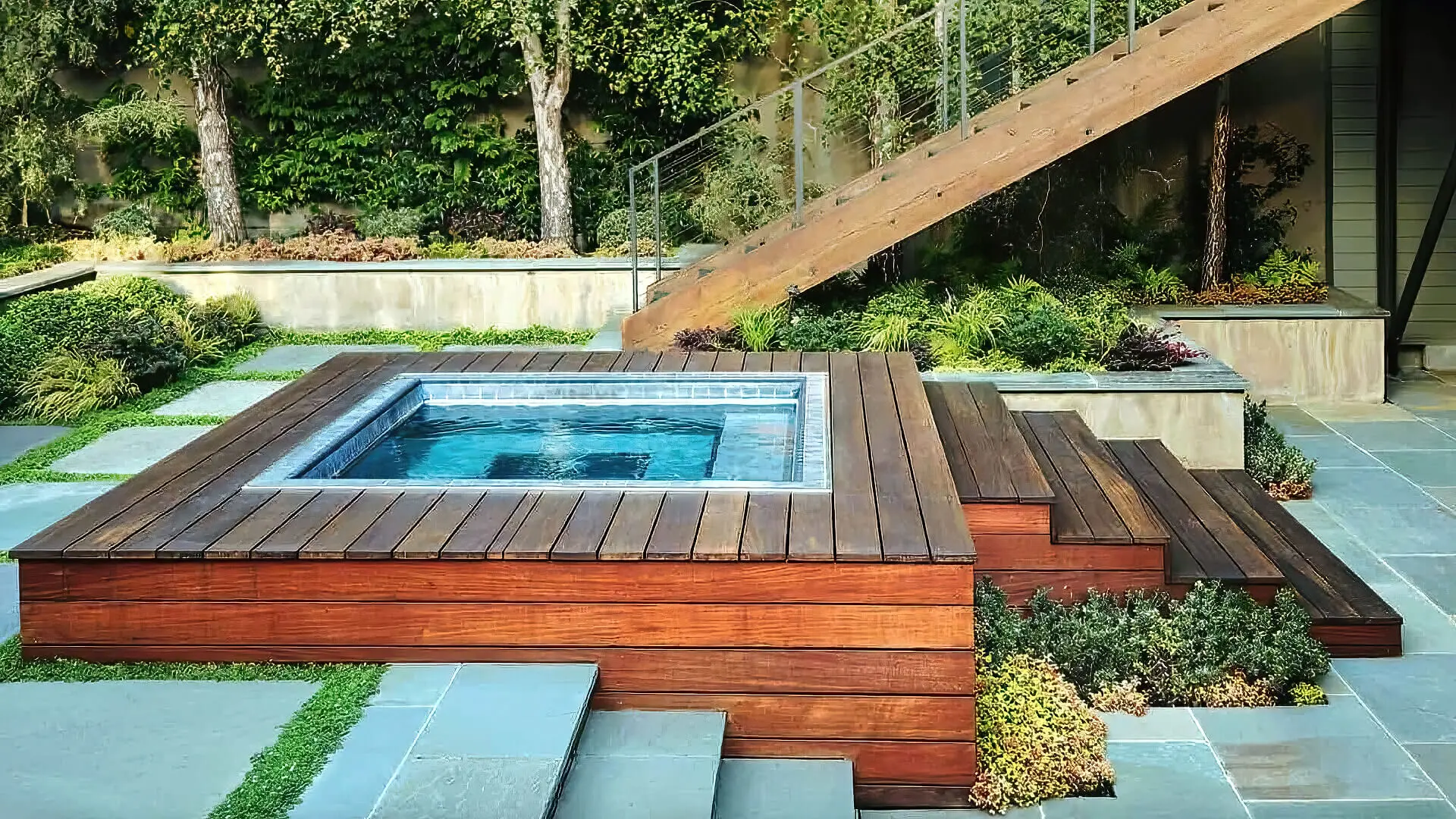 No matter the inspiration, we think you can surely get a few ideas from the hot tub designs we have compiled today. So, without further ado, let's take a look at some hot tub deck ideas for a relaxing backyard-
9 Hot Tub Ideas For A Relaxing Backyard
1. Hot Tub With Seating Area
One lovely idea you could incorporate is dividing the backyard deck into two adjacent sections- one for lounging and sunbathing, the other for a hot tub. The benefit of installing a backyard deck is that it gives you the illusion of using a swimming pool and ample outdoor space to place outdoor tables.
You could use this backyard area to host parties with family members since a spacious wooden deck will make the perfect platform for lounging.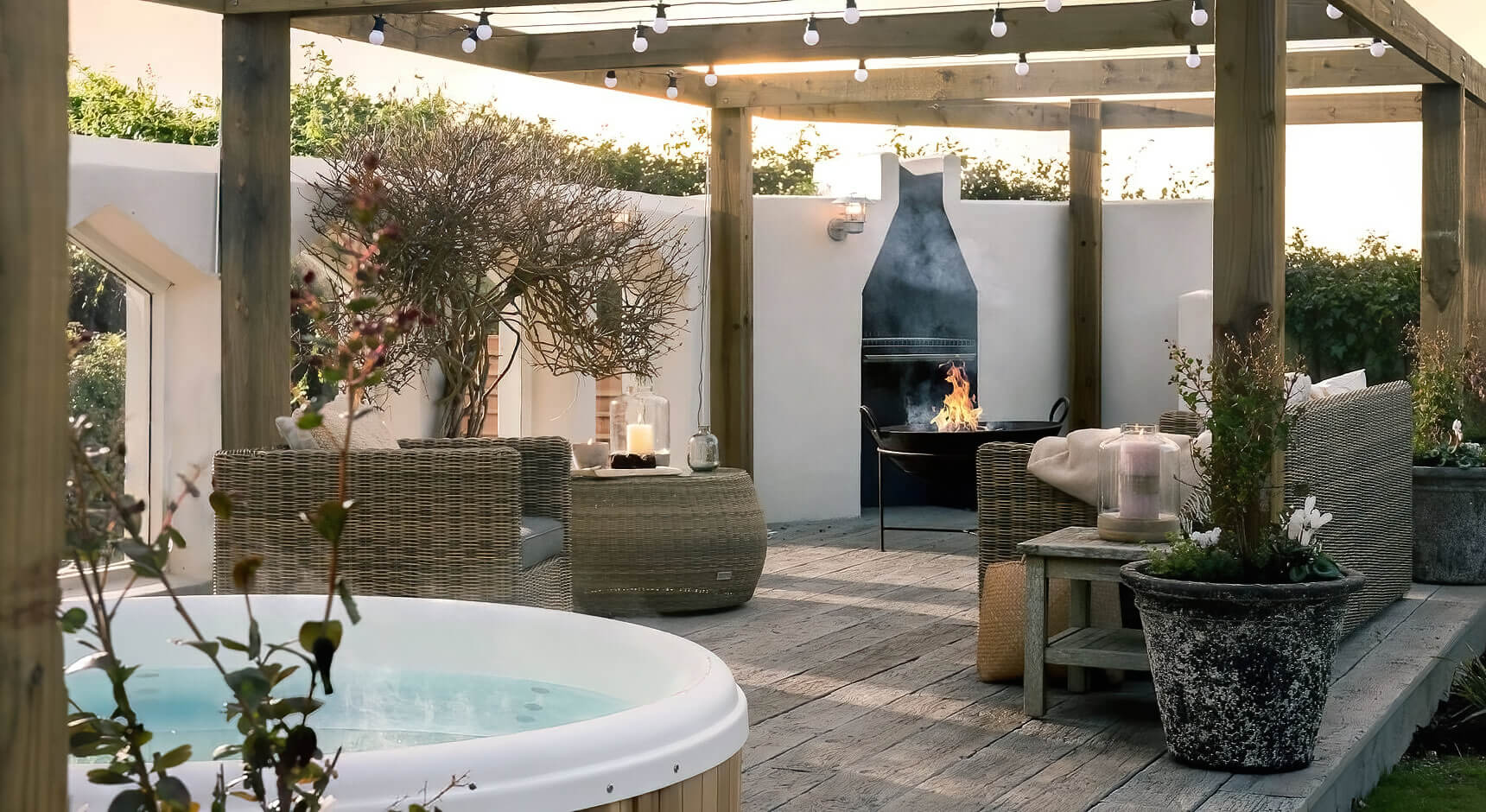 2. Stone Tub
Of course, we're not suggesting you build a new hot tub using stone, but you sure can surround the area with stones. Not everyone resonates with the ultra-modern look of hot tubs; thus, they may hesitate to install one in their backyard. However, adding natural stones in neutral colours amps up the rustic appeal of the yard.
Also, the circular platform surrounding the tub can allow you and your guests to sit and relax outside the water. Alternatively, this space can also be a convenient place to set down cocktails and finger food.
3. Hot Tub In The Garden
If you are looking for a calming spot among the trees to relax and unwind, try placing your hot tub on a deck in the garden. To conceal the lower portion of the tub, you can use the sunken effect to resemble a natural pool.
The elegant hot tub decks could be surrounded by grass, lush bushes, and flowers to give the feeling of a pool surrounded by greenery. Also, you can section off the pool by building a small wall of flowers and trees for improved privacy.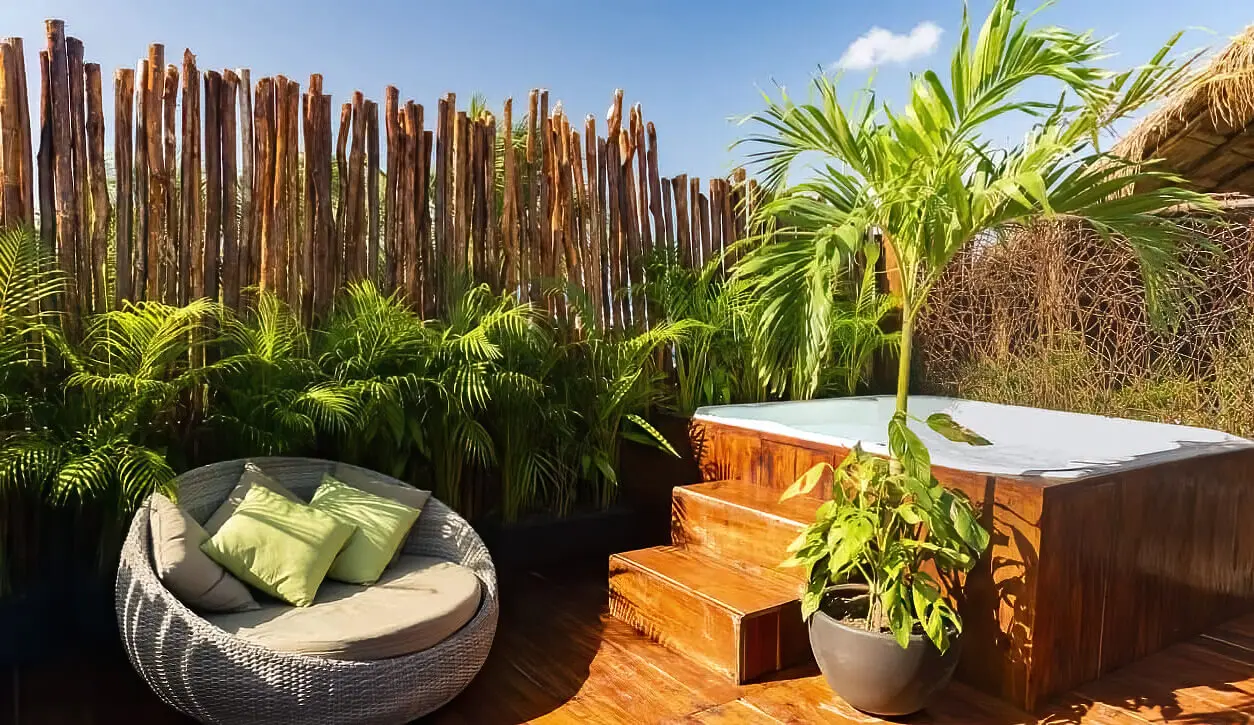 4. Hot Tub With Built-In Bar
Relax with friends and family while enjoying a few drinks next to the hot tub with a built-in bar feature. This structure makes for the ultimate socialising spot allowing guests to slip into the warm tub or pop out to grab a cocktail. And, all this without having to go far from the party!
If you are worried about rains or breezy weather disrupting your plans, add a temporary canopy to keep the outdoor soiree alive.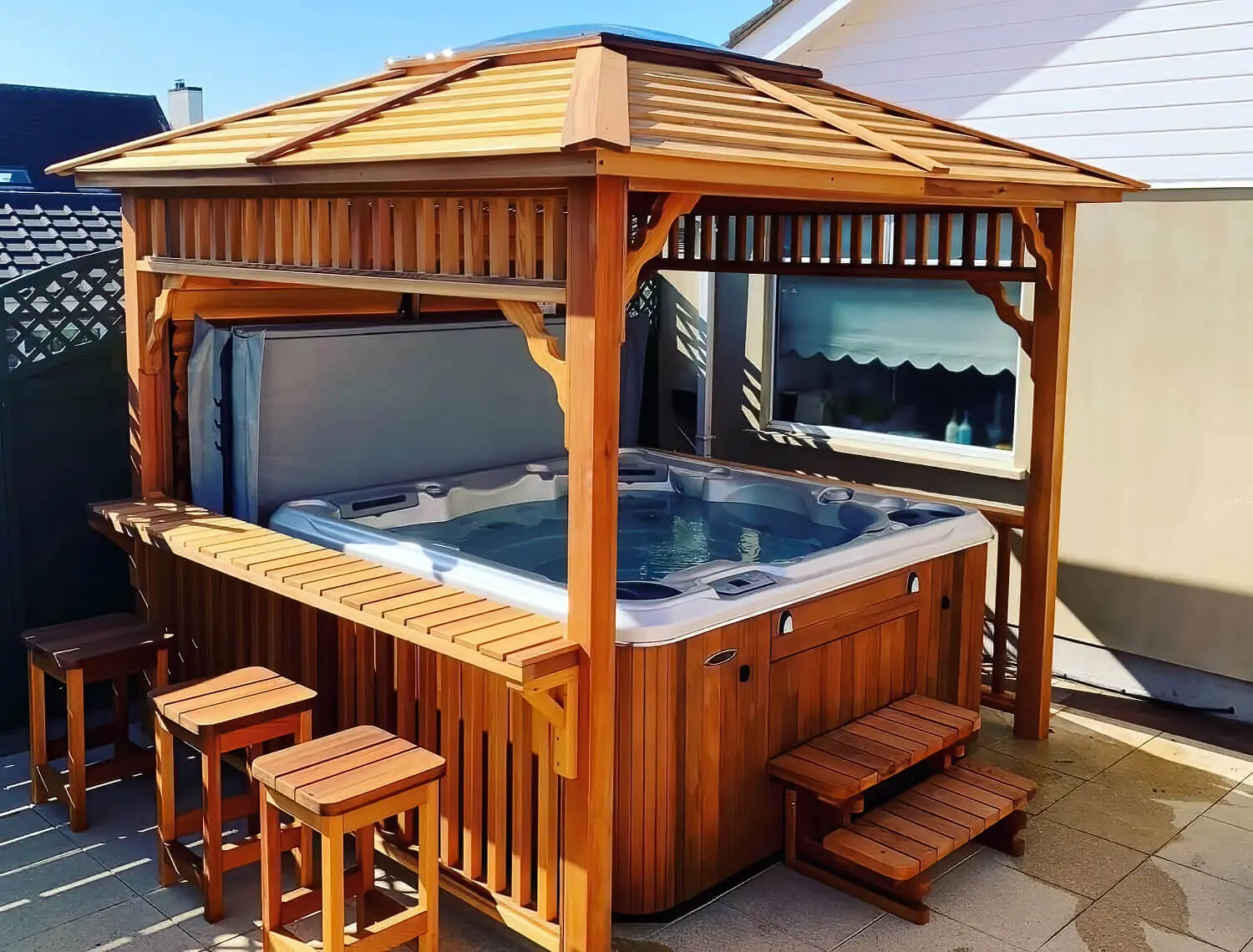 5. Hot Tub Next To The Pool
What do you do when you want to install a hot tub but already have a backyard pool? Why not integrate the two and place them next to each other for two different water experiences? Enjoy swimming laps in your pool, and then bring up your body temperature by relaxing in the hot tub adjacent to it.
However, where you place the tub is paramount because you don't want the two water bodies to clash in the yard. So, plan similar designs for both so that the structures look harmonious next to each other.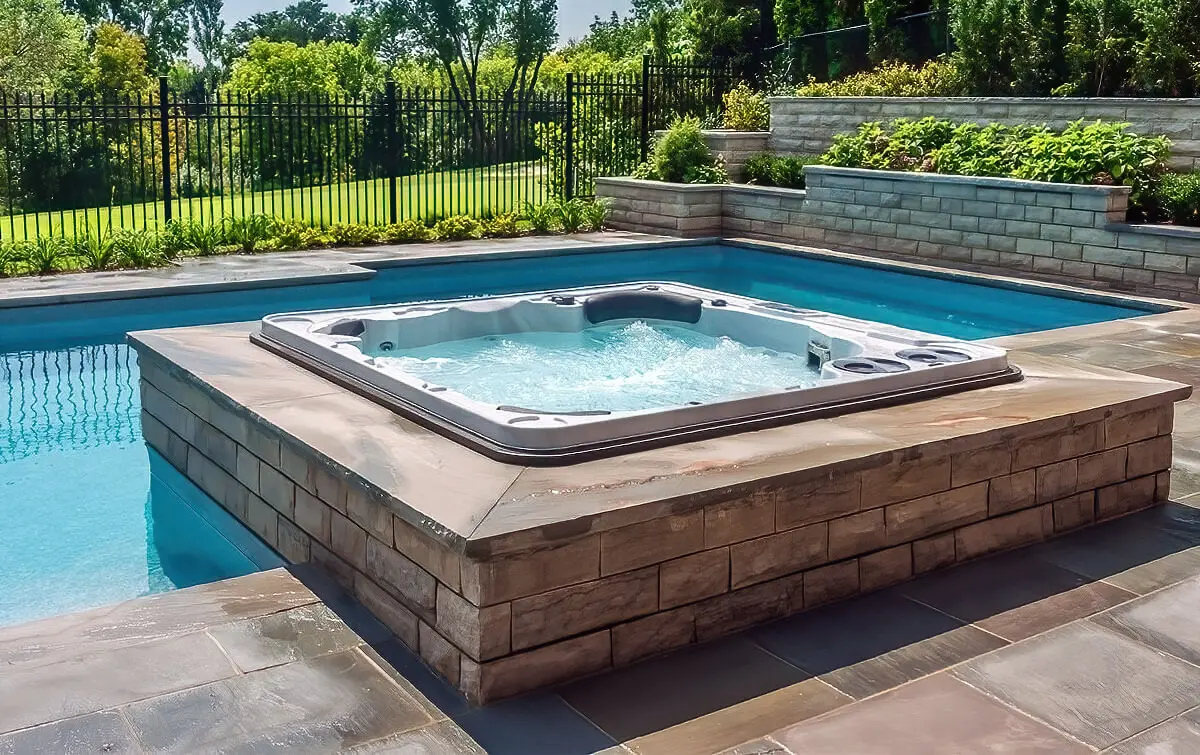 6. Hot Tub Gazebo
One way to make a private deck area is by creating a roof for the hot tub. You may not need an elevated deck because the area under the gazebo can be the sitting area. A wooden structure with a roof for shade and concealed portion for privacy can be the perfect calming corner of your backyard.
Consider installing a tinted glass wall on the exterior side of the pavilion to prevent neighbours and passersby from viewing your cozy tub.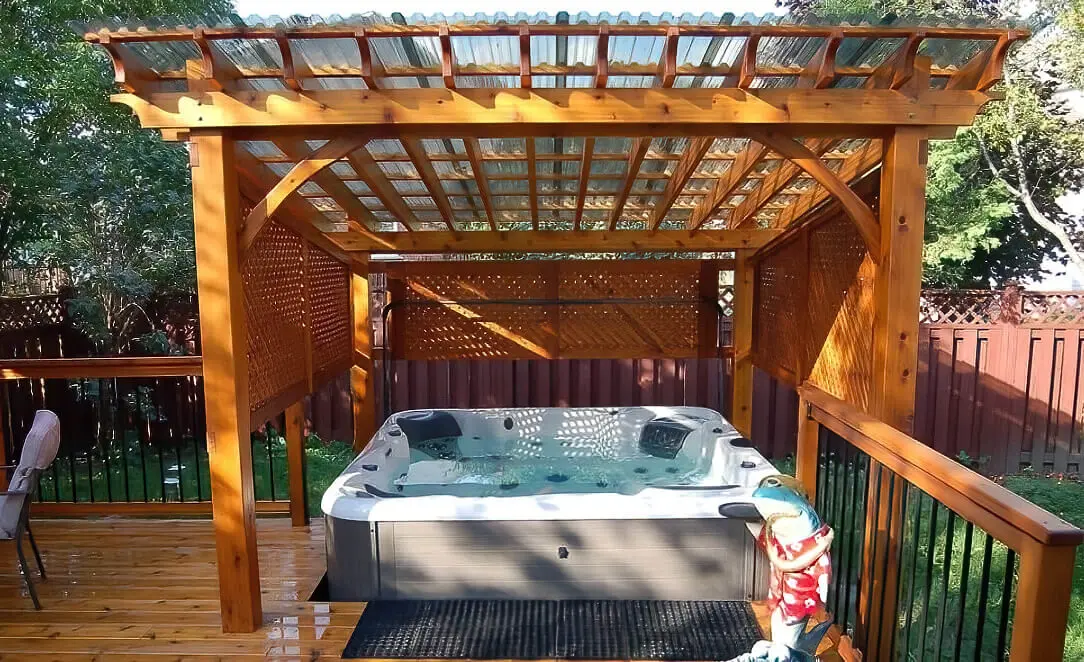 7. Composite Sun Decks
While most people prefer to use wooden decks for their hot tubs, composite sun decks are also a popular option these days. They are much sturdier than regular wooden decks but are also easier to maintain and clean. Besides, the material is much more resistant to water, sun, and insects, making it ideal for an outdoor deck.
Pick a cozy corner of your backyard to create a composite hot tub deck with ample shade.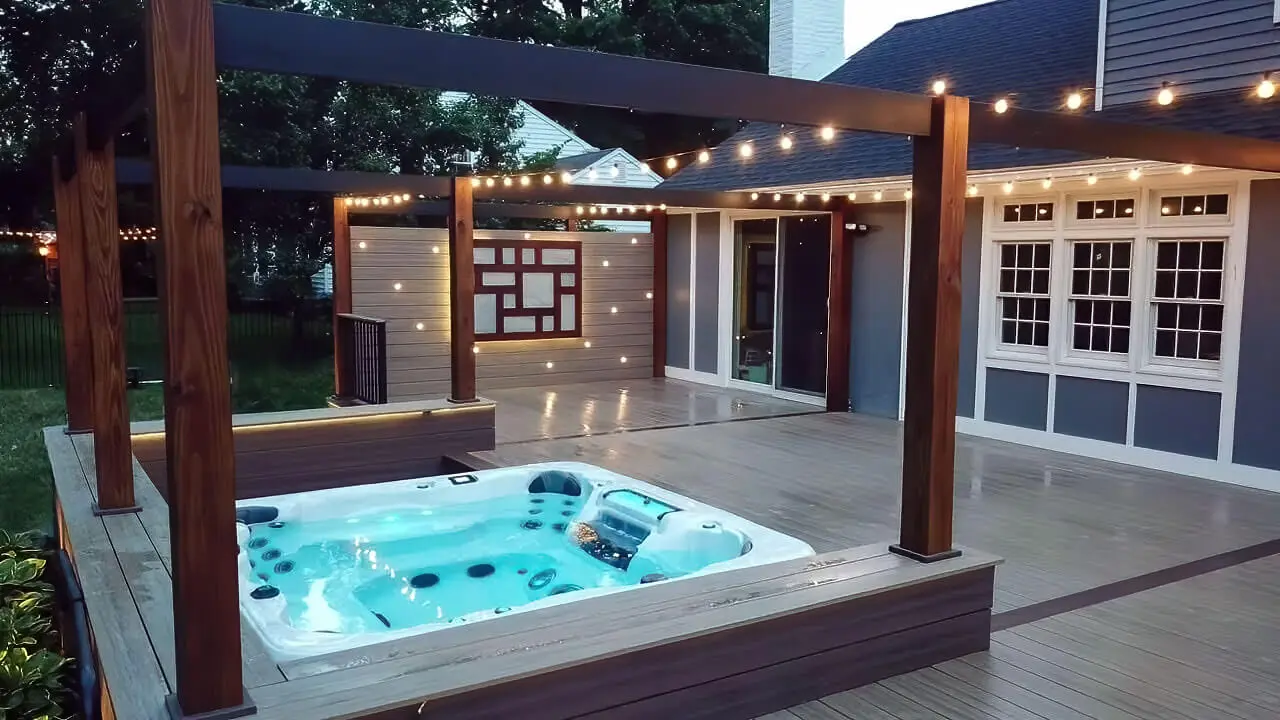 8. Cedar Hot Tub
If you are on the lookout for a warm, rustic, and off-the-grid hot tub, a wooden cedar tub might be needed. Any underused backyard could do with a wooden makeover, and cedar is the perfect wood to accompany a warm and homey water tub. The structure will be sturdy and resistant to water damage with cedar wood fencing and deck.
Further, surround the tub with flowers, bamboo, and lush trees to bring the area to life!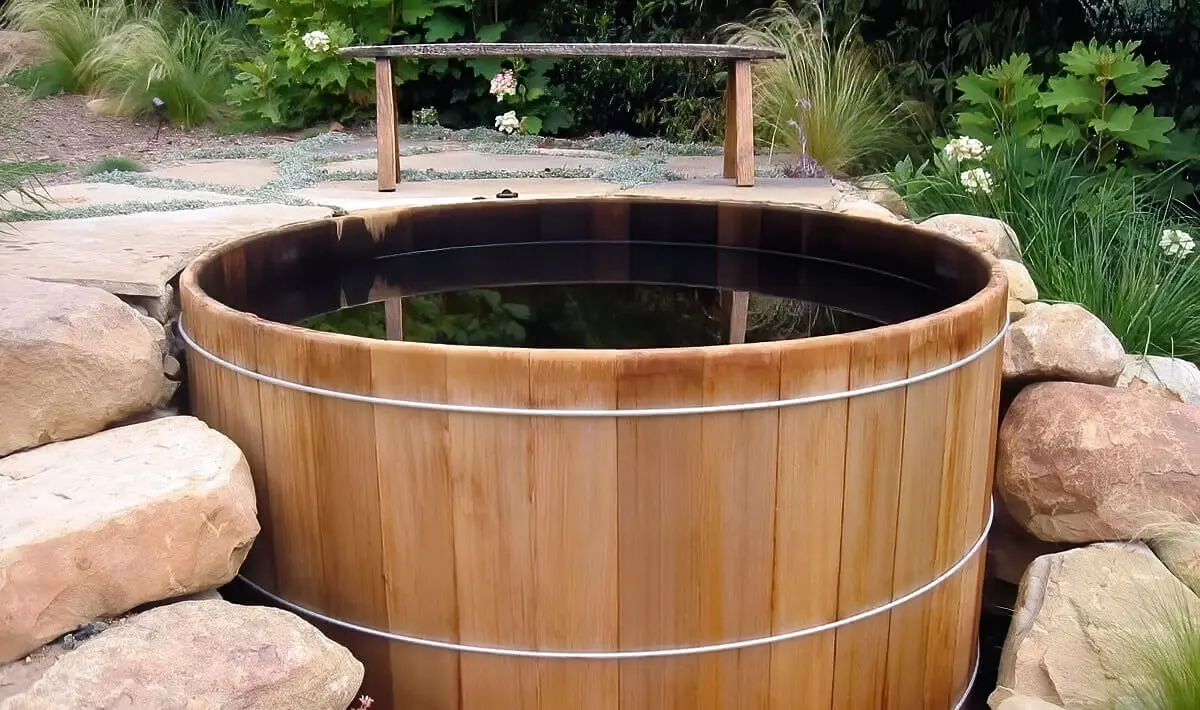 9. Hot Tub Enclosure
Create a perfect getaway in your backyard with a private hot tub enclosure tucked in a cozy corner. You can begin by building an elevated deck with a canopy to cover the structure. The hut-like section offers maximum privacy and keeps the area warm on a breezy day.
Experiment with designs to allow flexibility in opening and closing the main door and windows.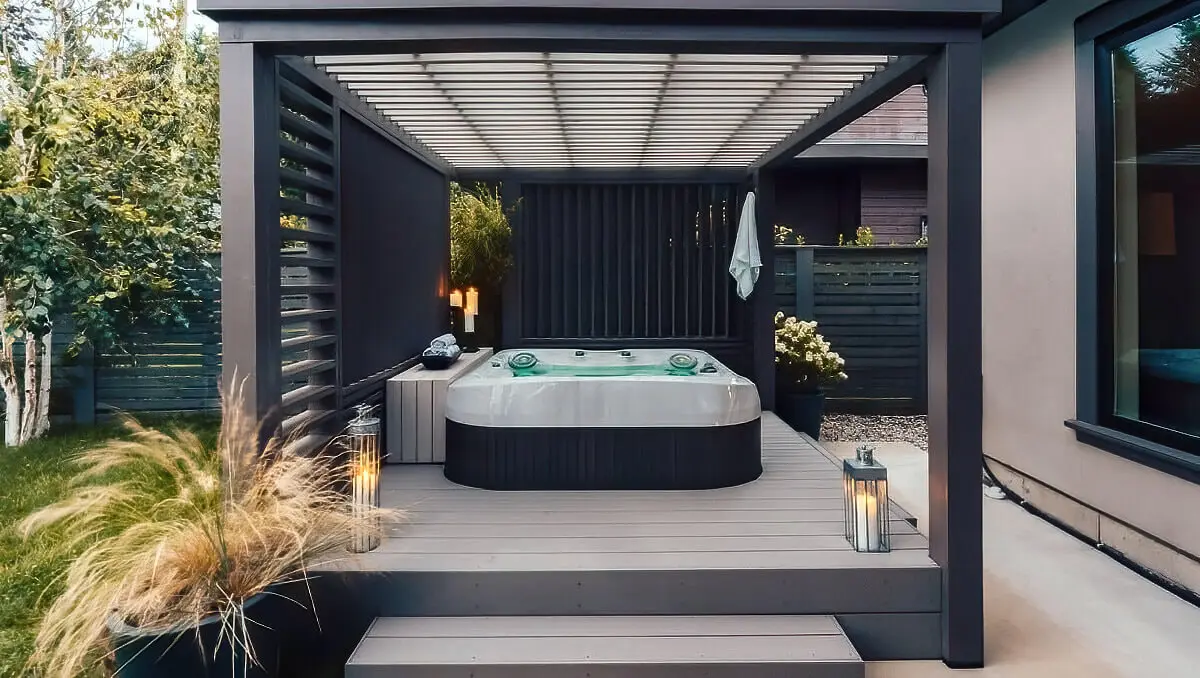 Creating The Backyard Of Your Dreams
There are no hard and fast rules about designing the backyard for a hot tub. But we recommend you take a few moments to consider the theme you want to portray. Also, you must decide on the size depending on how you plan to use the tub.
A smaller, sheltered enclosure makes sense if you want to invest in a hot tub for some much-needed me-time. However, if entertaining guests and fun celebrations are the number one reason, go for a larger tub with spacious decks.
For any assistance choosing a hot tub or installation, please contact The Pool Co team. We have years of experience designing, installing and renovating spas across Sydney.